Despite a global economic recession and ongoing concerns about the impacts of climate change, last year's global carbon emissions were the second highest on record, according to the Global Carbon Project (GCP). Emissions in 2009 were just below the record emissions of 2008. In addition, 2009 emissions were higher than predicted, falling by only 1.3% from 2008 to 2009, instead of the predicted 2.8%.
While carbon emissions dropped in much of the industrialized world due to faltering economies, they rose during 2009 in the developing world's growing economies, such as China (up by 8%), India (up 6%), and South Korea (up 1%). Carbon intensity, which measures the amount of carbon emitted relative to global GDP, also did not improve as much as forecasters hoped. On average, carbon intensity has improved by 1.7% a year, however in 2009 it only improved by 0.7%.
Experts also predicted that this year, 2010, could become the new record holder for carbon emissions, despite the slow economic uptick from the recession.
In good news, emissions from deforestation have fallen by 25% since 2000, largely due to declining rainforest destruction in places like Brazil.
Currently, atmospheric concentrations of carbon dioxide have hit 387 parts per million (ppm), rising over 100 ppm since the advent of the Industrial Revolution.
Scientists overwhelming agree that climate change is caused by humans burning fossil fuels and felling forests. The worldwide phenomena is expected to lead to rising sea levels, widespread species extinction, worsening droughts in some areas and floods in others, increasing incidents of severe weather, melting poles, and expanding desertification, among many other impacts.
Officials from around the world are meeting next week at the UN Climate Change Conference in Cancun, however many doubt a global agreement will be reached at the meeting.
Related articles
Cancún Climate Summit: Time for a New Geopolitical Architecture
(11/22/2010) As we approach crucial climate change negotiations in Cancún, Mexico the key question on many people's minds is this: what nation or nations will have the courage to stand up to the United States, which still represents the key obstacle to a binding agreement on global warming? If it looked unlikely that the U.S. would reduce carbon emissions before, the recent midterm elections have made such a possibility seem even more remote: many incoming Republican legislators simply deny that global warming exists.
It's not just size that matters: how population affects climate change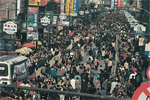 (11/11/2010) As the world's population increases, a surge in the number of older adults and the movement of people from the countryside to crowded cities will significantly affect levels of carbon dioxide emissions by 2050, according to a sweeping study published in the 11 October issue of the Proceedings of the National Academy of Sciences. A significant but attainable slowing of the planet's growing population could achieve up to 29 percent of the total decrease in emissions needed to stave off the harmful consequences of climate change by 2050, according to the study.
US elects barrage of climate change deniers, threatening support for green energy
(11/03/2010) The US midterm election, which won Republicans the House but safeguarded the Senate for Democrats, has brought in a number of self-proclaimed climate change deniers, ending any likelihood that an energy bill will be passed over the next two years and essentially stumbling the White House's strategy on climate change. Newly elected Republican Senators Rand Paul of Kentucky and Marc Rubio of Florida, both members of the nascent Tea Party, have stated they do not believe in climate change despite that scientists overwhelming agree the Earth is warming due to human impacts.