A tsunami has killed more than 100 people in Indonesia following an earthquake on the same fault line that triggered the massive 2004 Indian Ocean tsunami.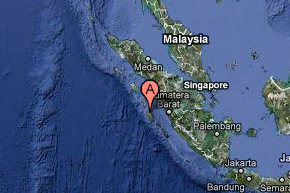 The 7.7-magnitude earthquake sent 10-foot (3-meter) waves some 2,000 feet inland along parts of Mentawai Islands, off the Indian Ocean side of Sumatra. At least 113 are confirmed dead and 150 to 500 are reported missing, according to the Associated Press. Thousands more a homeless.
The tsunami stirred up memories of the 2004 disaster, which killed over 230,000 people in 14 countries. The bulk of the victims were in Sumatra.
The Mentawai Islands are a popular surf spot for foreign tourists.
International Federation of Red Cross and Red Crescent Societies