An Australian senator introduced a legislation that would require manufacturers to specify whether palm oil has been used in their food products, reports the Australian Associated Press. Presently food labeling laws in Australia allow companies to list palm oil as "vegetable oil" on packaging even though it comes from a palm tree.
The Food Standards Amendment Bill , introduced by Senator Nick Xenophon, would enable consumers to choose whether they want to buy products containing palm oil, which, as a cheap oil, is increasing used in processed foods but has been linked to deforestation in Indonesia and Malaysia, putting endangered species like orangutan at greater risk. The bill, however, would allow manufacturers who use palm oil produced in accordance with social and environmental criteria to specify "CS palm oil", for "certified sustainable palm oil", on their packaging. The labeling could encourage buyers to support greener palm oil production.
| | |
| --- | --- |
| | Oil palm seed. Palm oil is used widely in processed foods. By virtue of its high yield, palm oil is a cheaper substitute than other vegetable oils. Photo by: Rhett A. Butler. |
"Even if Australian consumers want to boycott palm oil, current labeling laws make it virtually impossible to do so," Xenophon said in a statement posted on his web site.
"Consumers should have the information they need to ensure that what they eat in their homes won't end up leaving Orang-utans without homes."
Some palm oil producers in the past have called such initiatives "discriminatory". They note that palm oil is a highly productive source of oil that has boosted income generated from rainforest areas in Indonesia and Malaysia.
Another food goliath falls to palm oil campaign
(09/22/2010) One of the world's biggest food makers, General Mills, has pledged to source only sustainable and responsible palm oil within five years time. With this announcement, General Mills becomes only the most recent food giant to pledge to move away from problematic sources of palm oil, which is used in everything from processed foods to health and beauty products. Nestle made a similar pledge earlier this year after a brutalizing social media campaign that lasted for months while Unilever, the world's biggest palm oil buyer, has been working closely with green groups for years.
Burger King drops palm oil supplier linked to Borneo rainforest destruction
(09/02/2010) Burger King announced it would no longer source palm oil from Sinar Mas, an Indonesian conglomerate, after an independent audit showed one of the company's subsidiaries had destroyed rainforests and carbon-dense peatlands in Borneo and Sumatra, according to a statement on the fast food chain's Facebook page.
Rapid growth of palm oil industry tramples indigenous peoples' rights, says report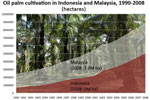 (08/30/2010) Rapid expansion of oil palm plantations across Southeast Asia have run roughshod over customary tenure systems, resulting in exploitation of local communities, conflict, and outright human rights abuses, reports a new assessment of the palm oil sector by the Forest Peoples Programme (FPP), an international indigenous rights group.
Fraud allegations against Indonesian palm oil giant widen, tarnishing auditors and sustainable palm oil initiative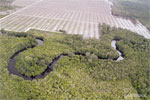 (08/19/2010) Sinar Mas, an Indonesian conglomerate whose holdings include Asia Pulp and Paper, a paper products brand, and PT Smart, a palm oil producer, was sharply rebuked Wednesday over a recent report where it claimed not to have engaged in destruction of forests and peatlands. At least one of its companies, Golden Agri Resources, may now face an investigation for deliberately misleading shareholders in its corporate filings.