The United States Export-Import Bank (Ex-Im Bank) voted on Wednesday to seek a final review of a $900m loan for a controversial 3,960 MW coal-fired power plant in India, reports Pacific Environment, a San Francisco-based environmental group.
The Sasan coal-fired Ultra Mega Power and Mine Project is one of nine "Ultra Mega Power Plants" being pursued by the Indian government. Each plant is roughly equivalent of eight average U.S. coal fired power plants and will generate 26 to 27 million tons of carbon dioxide annually, or about 1.7 percent of India's total greenhouse gas emissions.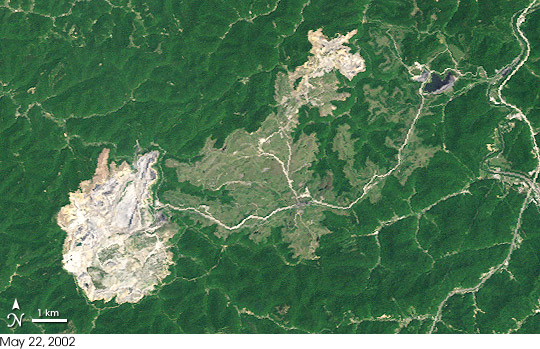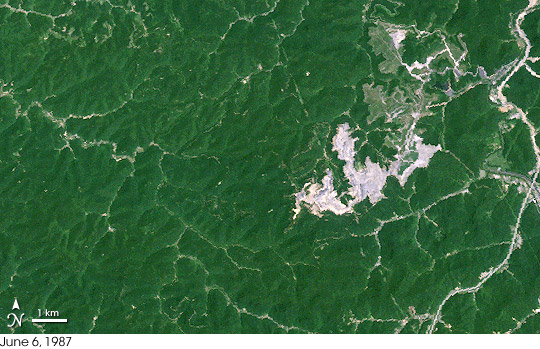 Landsat satellite data collected in 1987 (base image) and 2002 show the growth of the Hobet-21 mountaintop mine in the Mud River watershed of West Virginia. The mine expanded across thousands of acres and produced one of the state's longest valley fills when rock and dirt were placed into Connelly Branch. The center portion of the mine site had been partially reclaimed with grass (light green) as of 2002. [NASA images by Jesse Allen, based on data provided by the Global Land Cover Facility (GLCF).]
The move was condemned by Doug Norlen, Policy Director for Pacific Environment.
"The Bank's board bowed to political pressure and in so doing wastes public financing to worsen their fossil fuel binge," he said, noting that a recent Government Accountability Office report shows that 95 percent of Ex-Im's energy portfolio is based on fossil fuels.
The investment trend looks to continue. The agency is now looking to fund the 4,800 MW Kusile coal project in South Africa. The plant would generate 36.8 million tons of carbon dioxide annually, increasiny emissions from South Africa's energy sector by nearly 13 percent and the country's overall emissions by 9.7%.
"These public financing decisions will literally determine our future," said Norlen. "We can either help lead the world in a clean energy economy, or deepen the climate change crisis we are already in."
Pacific Environment and its coalition partners, including Friends of the Earth and the Sierra Club, are calling upon the Export-Import Bank to halt funding of fossil fuels projects overseas and instead focus on clean energy.
"Addressing climate change by developing and exporting tomorrow's clean energy technologies strengthens the US economy," said John Coequyt, Director of International Programs at the Sierra Club.
"Continuing to finance outdated technologies that destroy our environment also destroys our chances for clean energy job creation. It only serves to cripple our competitiveness in the long run."
A recent study the World Wildlife Fund found that for every million dollars invested in energy projects, 13.5 jobs are created in the clean tech export sector. For the same amount of spending in the oil and gas and coal industries, only 3.7 and 4.9 jobs are created respectively.
Related articles
Bill Gates: ban coal and invest in clean energy technology
(02/12/2010) The planet needs "energy miracles" to overcome the dual challenges of meeting energy demand and addressing climate change, said Microsoft founder Bill Gates during a speech Friday at the TED Conference in Long Beach, California.
Scientists call for an end to mountaintop removal mining in the US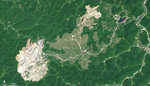 (01/07/2010) A group of scientists have called for the Obama Administration to place a moratorium on infamous mountain top mining due to "growing scientific evidence" of severe environmental degradation and serious impacts on human health, including cancer. The article, published in Science, is written by a dozen influential scientists, including hydrologists, ecologists, and engineers.
US subsidies of oil and coal more than double the subsidies of renewable energy
(09/21/2009) During the fiscal years of 2002-2008 the United States handed out subsidies to fossil fuel industries to a tune of 72 billion dollars, while renewable energy subsidies, during the same period, reached 29 billion dollars.