Sauropod babies for breakfast
A fossilized snake has been discovered inside a titanosaur nest in India, leading researchers to conclude that the snake fed on newly-hatched dinosaur babies, rather than their eggs like modern snakes.
Paleontologist and snake expert Jason Head says that the snake, known as Sanajeh indicus, lacked the wipe-jaws needed to swallow eggs, but just-hatched baby titanosaurs would have been perfect prey for the 3.5 meter (nearly 12 feet) long serpent. Titanosaurs belong to the sauropods, long-necked herbivorous dinosaurs which includes the world's largest animals to ever walk the land.
"Living primitive snakes are small animals whose diet is limited by their jaw size, but the evolution of a large body size in Sanajeh would have allowed it to eat a wide range of prey, including dinosaur hatchlings," Head explains. "This is the first direct evidence of feeding behavior in a fossil primitive snake, and shows us that the ecology and early evolutionary history of snakes were much more complex than we would think just by looking at modern snakes today."
When the fossils were first discovered in Gujarat (a state in western India) in 1987, the fossilized snake was missed.. It was Jeff Wilson in 2001 who first discovered that not only was the nest full of fossilized baby sauropods, but also a snake in the midst of a meal.
"I saw the characteristic vertebrae of a snake beside the dinosaur eggshell and larger bones, and I knew it was an extraordinary specimen … even if I couldn't put the whole story together at that point. I just knew we needed to examine it further," Wilson says of the discovery.
"The eggs were laid in loose sands and covered by a thin layer of sediment. We think that the hatchling had just exited its egg, and its movement attracted the snake," explains Dhananjay Mohabey from the Geological Survey of India who originally discovered the fossils.
Head adds that "it would have been a smorgasbord. Hundreds or thousands of defenseless baby sauropods could have supported an ecosystem of predators during the hatching season."
The researchers speculate that the snake was devouring babies when it was fatally interrupted.
"Burial was rapid and deep," says geologist Shanan Peters who also studied the nest. "Probably a pulse of slushy sand and mud released during a storm caught them in the act."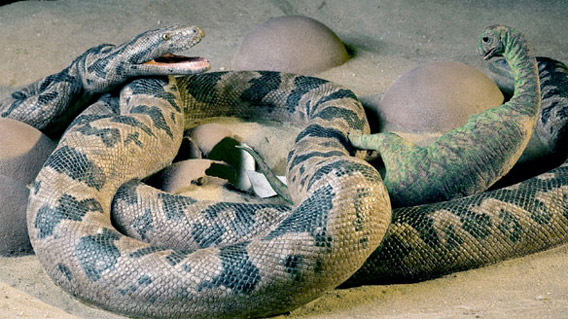 Life-size reconstruction of the moment captured by the fossils. Sculpture by Tyler Keillor and original photography by Ximena Erickson; image modified by Bonnie Miljour.
Related articles
First footage captured of giant sea serpent of the deep: the oarfish
(02/09/2010) Scientists have captured what they believe to be the first footage ever of the oarfish, the species likely responsible for legends told of sea serpents.
Photos: New tropical frog undergoes remarkable transformation

(02/01/2010) Nature never runs out of surprises. Exploring Sudest Island off of Papua New Guinea, researchers discovered a new species of frog that drastically changes its appearance from juvenile to adulthood, a transformation that has never been seen in another frog.The new species, named Oreophryne ezra, is shiny black with bright yellow spots. Yet when it matures, the frog becomes rose-colored and even its eyes change from black to blue.
Photos: Gelatinous Blobfish in danger
(01/26/2010) A species dubbed "the world's most miserable-looking fish" is at risk of extinction due to poor fishing practices, reports The Daily Telegraph.

(01/13/2010) A number of media outlets are reporting a new type of depression: you could call it the Avatar blues. Some people seeing the new blockbuster film report becoming depressed afterwards because the world of Avatar, sporting six-legged creatures, flying lizards, and glowing organisms, is not real. Yet, to director James Cameron's credit, the alien world of Pandora is based on our own biological paradise—Earth. The wonders of Avatar are all around us, you just have to know where to look.
Scientists discover that bats practice oral sex
(10/28/2009) The short-nosed fruit bat Cynopterus sphinx is the first bat species to have been observed engaging in oral sex.
Will jellyfish take over the world?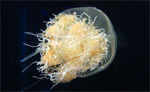 (06/16/2009) It could be a plot of a (bad) science-fiction film: a man-made disaster creates spawns of millions upon millions of jellyfish which rapidly take over the ocean. Humans, starving for mahi-mahi and Chilean seabass, turn to jellyfish, which becomes the new tuna (after the tuna fishery has collapsed, of course). Fish sticks become jelly-sticks, and fish-and-chips becomes jelly-and-chips. The sci-fi film could end with the ominous image of a jellyfish evolving terrestrial limbs and pulling itself onto land—readying itself for a new conquest.
Frogs species discovered living in elephant dung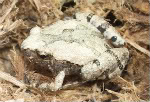 (06/10/2009) Three different species of frogs have been discovered living in the dung of the Asian elephant in southeastern Sri Lanka. The discovery—the first time anyone has recorded frogs living in elephant droppings—has widespread conservation implications both for frogs and Asian elephants, which are in decline. "I found the frogs fortuitously during a field study about seed dispersal by elephants," Ahimsa Campos-Arceiz, a research fellow from the University of Tokyo, told Monagaby.com.
Monstrous prehistoric snake provides glimpse of warmer tropical forests
(02/04/2009) On Wednesday scientists announced the discovery of the world's largest snake, a prehistoric beast which preyed on giant turtles and crocodile-like reptiles in South America after the demise of the dinosaurs. As amazing as the discovery is, its greatest importance may be the clues it provides conservationists about the future of tropical forests under various global warming scenarios.
World's largest snake discovered: prehistoric serpent was twice the size of an anaconda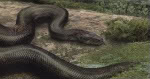 (02/04/2009) Paleontologists have recently uncovered the world's largest snake announces a paper in Nature. Measuring an astonishing 42 to 45 feet, the Titanoboa cerrejonensis makes the anaconda look diminutive. In fact the prehistoric serpent even makes once-ridiculous horror movie snakes appear conservative. "Truly enormous snakes really spark people's imagination, but reality has exceeded the fantasies of Hollywood," said Jonathan Bloch, one of the leaders of the party that discovered the prehistoric serpent. "The snake that tried to eat Jennifer Lopez in the movie Anaconda is not as big as the one we found."
Python explodes after swallowing 6-foot alligator in Florida Everglades
(10/05/2005) The National Park Service released photos that show the carcass of an American alligator that was almost swallowed by a Burmese python.