An iceberg the size of Luxembourg broke off from Antarctica after it was hit by another iceberg, reports Reuters. The separation could impact ocean circulation and affect marine life say researchers.



The 78-km-long and 39-km-wide iceberg broke off from Mertz Glacier, which drains the East Antarctic ice sheet, earlier this month when another 97-km-long iceberg (known as "B9B") collided with the tongue of the glacier. Researchers are now tracking its movement and hoping to monitor the impact on the marine environment. Icebergs can affect so-called "deep water formation", which drive ocean currents, as well as sea ice formation, which has repercussions for marine-life ranging from krill to penguins.
Scientists with LEGOS in Toulouse, France, note that the free-floating iceberg may disrupt the emergence of large area of ice-free areas—termed polynyas—during winter months. Polynyas "constitute places of high biodiversity and food concentration for birds and marine mammals, in particular emperor penguins the only birds to reproduce during winter in Antarctica," according to a statement released by LEGOS.



Rob Massom, a senior scientist at the Australian Antarctic Division and the Antarctic Climate and Ecosystems Cooperative Research Center in Hobart, Tasmania, who is involved with the monitoring told Reuters the calving isn't directly linked to climate change, but is "related to the natural processes occurring on the ice sheet."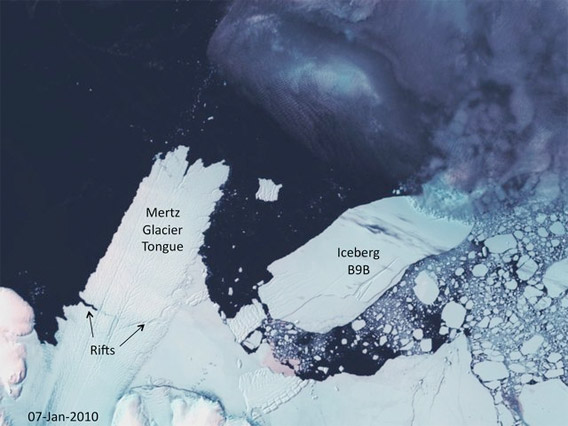 B9B approaches the Mertz Glacier tongue on 7 January 2010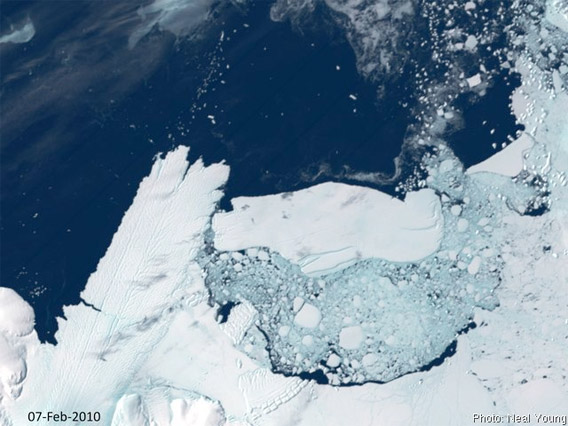 Iceberg B9B makes contact with the Mertz Glacier tongue on 7 February 2010.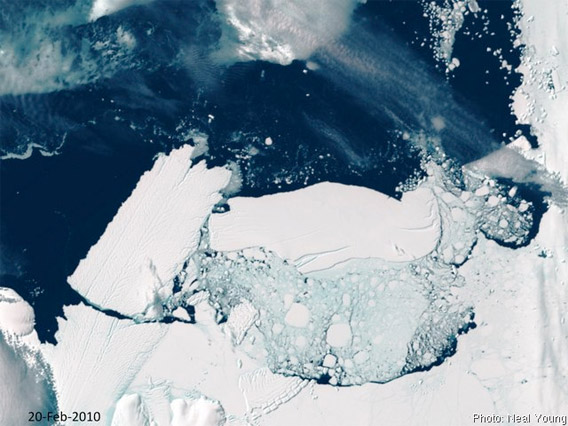 The Mertz Glacier tongue breaks off on 20 February 2010. Photos by Neal Young
Related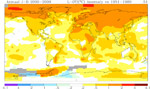 James Inhofe is not a climatologist: a journalist's perspective

(02/25/2010) As a child when I came down with pneumonia my parents did not rush me to see a policeman, a cattle rancher, or a local businessman. Instead they took me to see a medical doctor—someone who had studied that science for at least twelve years—and I was quickly given injections and put on antibiotics. Thanks to my parents' ability to tell the difference between experts and non-experts, I survived.
Climate change melting southern Antarctic Peninsula ice shelves

(02/23/2010) The US Geological Survey (USGS) has found that every ice front in the southern part of the Antarctic Peninsula—the coldest part—has been retreating overall for the past sixty years with the greatest changes visible since 1990.