Stephen P. Hubbell has won the 2009 Eminent Ecologist Award. Hubbell is a staff scientist at the Smithsonian Tropical Research Institute (STRI) and professor of ecology and evolutionary biology at UCLA.
Hubbell developed the Unified Neutral Theory of Biodiversity and Biogeography, which is a general theory to explain the diversity of life. Until Hubbell no one had attempted to explain diversity and abundance of species at such a scale.
"The fact that the Neutral Theory is refutable—that it could be tested—has fundamentally advanced the science of ecology," said Stuart Davies, director of Center for Tropical Forest Science.
Hubbell has also impacted tropical ecology in the field. In 1979 Hubbell set off an experiment to gather data on trees in large tracts of forest. This, he argued, was the only way to test ideas related to diversity. The study began at STRI's site on Barro Colorado Island in Panama, but has since expanded into 20 countries around the world. Due to its size the on-going study provides data on global, rather than just regional, change.
"Steve Hubbell's brilliant idea was to map thousands of individuals of each tree species in a forest because ecology is ultimately about space," Davies said.
In 1990 Hubbell founded the National Council on Science and the Environment, which currently has 10,000 members. The organization's goal is to continually improve the science behind environmental decision-making.
At the age of 67, Hubbell has written 160 paper and three books.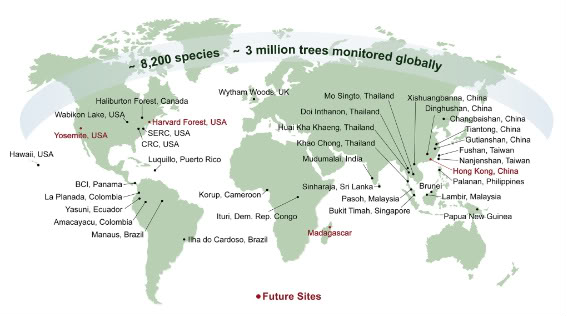 Large forest tracts monitored worldwide.

Related articles
Extinction risk for Amazonian plants may be lower than previously estimated
(07/06/2009) Five to nine percent of the Amazon's 40,000 known species of plants will be at risk of extinction by 2050 should current deforestation trends continue, report researchers writing in the Proceedings of the National Academy of Sciences. The estimates are sharply lower than the 20 to 33 percent predicted in other studies.
Trees in trouble: massive die-offs predicted with global warming
(04/13/2009) An experimental study of pinon pines at Biosphere 2 in Arizona shows that an increase in temperature makes the species more susceptible to die-off during drought. When temperatures were increased by 4 degrees Celsius (7.2 degrees Fahrenheit), the piñon pines died 28 percent faster than trees which experienced drought-conditions at current temperatures, according to a new study published in Proceedings of the National Academy of Sciences (PNAS).
Plant communities changing across the globe, says scientist Sasha Wright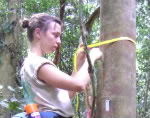 (03/29/2009) Having studied plant communities across three continent and within widely varied ecosystems—lowland tropics, deciduous forests, grasslands, and enclosed ecosystems on hill-tops—graduate student Sasha Wright has gained a unique understanding of shifts in plant communities worldwide as they respond to pressures from land use and global climate change. "Plant communities are certainly changing," Wright told Mongabay.com in a March 2009 interview. "These changes are undoubtedly affected by an increased occurrence of extreme weather events, temperature fluctuations, atmospheric CO2 concentrations, human land use, and in some cases urbanization of populations."