A newly discovered carnivorous plant in the central Philippines is large enough to catch a rat, according to a story by the BBC. Nepenthes attenboroughii, named after naturalist and broadcast David Attenborough, is a member of the pitcher plant family, so-called because it is shaped like a large pitcher. The plant preys on insects and animals that fall into its gaping maw.
"The plant is among the largest of all carnivorous plant species and produces spectacular traps as large as other species which catch not only insects, but also rodents as large as rats," Stewart McPherson of Red Fern Natural History Productions told the BBC.
The species was first noted by a group of missionaries in 2000. Seven years later experts went in search of the species.
"At around 1600 metres above sea level, we suddenly saw one great pitcher plant, then a second, then many more," Stewart McPherson told the BBC. "It was immediately apparent that the plant we had found was not a known species."
The expedition also found another pitcher plant species, Nepenthes deaniana, that hadn't been recorded in the wild for a century.
Related articles
Photos: hundreds of new species discovered in Himalayan region, threatened by climate change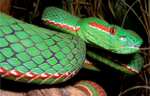 (08/10/2009) Scientists from a variety of organizations have found over 350 new species in the Eastern Himalayas, including a flying frog, the world's smallest deer, and a gecko which has walked the earth for 100-million-years, according to a new report by the World Wildlife Fund (WWF). The report, entitled Where World's Collide, warns that these rare biological treasures, as well as numerous other species, are threatened in the Eastern Himalayas by climate change.
(04/15/2009) A California researcher has named a new species of lichen after President Barack Obama. Kerry Knudsen of the University of California-Riverside (UCR) named the lichen Caloplaca obamae.
Photos: Google Earth used to find new species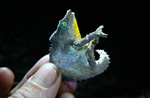 (12/22/2008) Scientists have used Google Earth to find a previously unknown trove of biological diversity in Mozambique, reports the Royal Botanic Gardens in Kew. Scouring satellite images via Google Earth for potential conservation sites at elevations of 1600 meters or more, Julian Bayliss a locally-based conservationist, in 2005 spotted a 7,000-hectare tract of forest on Mount Mabu. The scientifically unexplored forest had previously only been known to villagers. Subsequent expeditions in October and November this year turned up hundreds of species of plants and animals, including some that are new to science.