Fires set by developers in Sumatra are causing a choking haze to spread across the island and over to Malaysia, reducing visibility and raising health concerns, reports Reuters.
NASA fire hotspot data shows dozens of fires currently burning across Sumatra and Peninsular Malaysia. More than 2,600 fire hotspots in Sumatra's Riau province alone so far this year.
Though open burning is illegal in Indonesia and Malaysia, fire is widely used by plantation managers and farmers to clear land for new plantings. Without safeguards, fires often spread into adjacent forests and peatlands, where they can burn uncontrolled until rains arrive, usually in September. In dry years, like those of the 1982-83 and 1997-1998 el Niñe events, burning can last for months, releasing vast stores of carbon dioxide into the atmosphere. Emissions from fires in those years amounted to more than 10 percent of global pollution.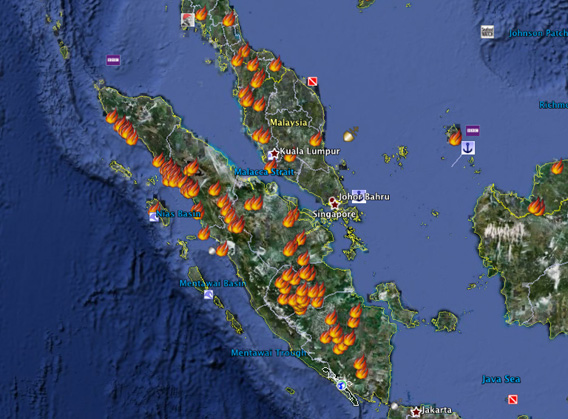 Fire Information for Resource Management System (FIRMS) integrates remote sensing and GIS technologies to deliver global MODIS hotspot/fire locations to natural resource managers and other stakeholders around the World. FIRMS is funded by NASA and builds on Web Fire Mapper, a web mapping interface that displays hotspots/fires detected by the MODIS Rapid Response System and delivers near real-time hotspot/fire information. Click image to enlarge.

"There is a potential for the number of fire spots to rise and haze conditions to worsen if there is no rain," Blucer Dolok Saribu, head of the meteorology, climatology and geophysics agency in Riau's provincial capital of Pekanbaru, told Reuters.
Reducing the occurrence of fires in Indonesia is a hot political topic in the region. Several countries, although not Indonesia, have ratified the 1998 ASEAN Agreement on Transboundary Haze Pollution, a pact that would create and implement a coordinated regional fire-fighting plan. Indonesian ministers have expressed hope that the agreement could be signed before the current session of parliament expires at the end of September.