Global warming causes increase in tropical rainfall
Global warming causes increase in tropical rainfall

mongabay.com
August 27, 2007
Climate change appears to be resulting in higher levels of rainfall in the tropics, reports NASA.



Using a 27-year-long global record of rainfall from satellite and ground-based instruments — the longest and most complete data record available — scientists found that the rainiest years in the tropics between 1979 and 2005 have mostly occurred since 2001. The rainiest year was 2005, followed by 2004, 1998, 2003 and 2002. The researchers said 2006 may tie 2005 as the rainiest year since 1979.



When we look at the whole planet over almost three decades, the total amount of rain falling has changed very little. But in the tropics, where nearly two-thirds of all rain falls, there has been an increase of 5 percent," said Guojun Gu, lead author of the study published in the Aug. 1, 2007 issue of the American Meteorological Society's Journal of Climate and a research scientist at Goddard Space Flight Center.



Gu and colleagues found most of the increase was concentrated over tropical oceans. Precipitation over land decreased slightly.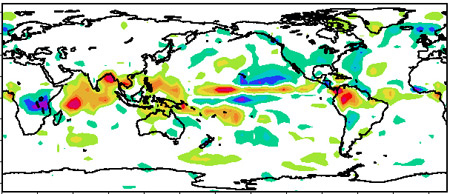 Over the 27 years between 1979 and 2005 some areas of the tropics experienced an increase in rainfall of as much as 0.5 millimeters per day per decade (red areas). Overall, tropical rainfall increased 5 percent during this period. Credit: Guojun Gu, NASA

The trend of increasing rainfall over the tropics was clearer once NASA scientists removed the effects on rainfall of major volcanic eruptions and El Niño from the data record. This figure shows how much each year's tropical rainfall differed from the long-term average rainfall over the entire 27-year period. Credit: Guojun Gu, NASA


Scientists expect climate warming to produce an accelerated recycling of water between land, sea and air by boosting evaporation rates.
"A warming climate is the most plausible cause of this observed trend in tropical rainfall," said co-author Robert F. Adler, senior scientist at Goddard's Laboratory for Atmospheres.


The researchers also found that El Niño years had little effect on rainfall, with slightly more rain falling over oceans than usual. Meanwhile the two volcanic eruptions that occurred during the period appeared to reduce tropical rainfall by about 5 percent during the two years following each eruption
This article is based on a news release from NASA.