Apple comes up a bit short on eco-credentials of new iMac
mongabay.com
August 10, 2007
While Apple has touted the environmental attributes of its newest iMac, critics say the new computer failed to live up to the company's goals for the use of mercury, reports the San Jose Mercury. In May, Apple said it would eventually replace mercury-containing fluorescent backlights in its LCD monitors with LEDs backlights, but the new computers don't use the new technology. The company said it still face technological hurdles in rolling out the new LCDs.
Nevertheless, the new iMacs are certainly less-power hungry and "greener" than previous models. Jettisoning the plastic computer casing, the new iMacs are enclosed in "highly recyclable" aluminum and glass, said CEO Steve Jobs. Further, the new computers use one-third less energy than prior models are and packing is more compact, meaning that more computers can be shipped in a typical unit of cargo.


In May, facing criticism from environmentalists, Jobs posted an open letter on the Apple web site. In it he said that Apple now recycles nearly 10 percent of its e-waste (defined as weight recycled as a percentage of past sales), up from 1.5 percent in 2002, and hopes to reach 28 percent by 2010. He blamed lack of communication for perceptions that the company was not doing more to reduce the impact of its products the environment.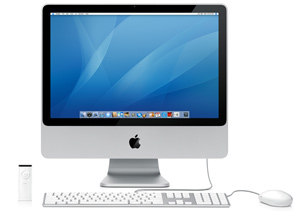 ---