Massive coral bleaching in Madagascar
Massive coral bleaching in Madagascar
Blue Ventures
October 6, 2006
Marine Expedition in Madagascar Discovers Severe Damage to Coral Reefs from Rising Sea Temperatures
A new survey of reefs along Madagascar's southwestern coast found massive damage from coral bleaching, including some reefs that lost up to 99 percent of their coral cover.
But the survey team, led by the conservation groups Blue Ventures and the Wildlife Conservation Society (WCS) and funded by Conservation International (CI), also found some signs of hope. Scientists discovered several small reefs with corals that appeared to be resilient to rising sea temperatures and could ultimately be used to reseed damaged reefs. These resilient reefs may also provide valuable information about how to protect corals from future damage.
"This survey shows how important it is to locate and protect areas of resilient corals," said Alasdair Harris, research director of Blue Ventures. "As climate change poses an increasing threat to our marine habitats, these resilient areas could hold the key to ensuring the continued existence of coral reefs around the world and the marine species that rely upon them for survival."
Bleached coral in Madagascar. Courtesy of Blue Ventures.

CORAL BLEACHING

Coral bleaching is associated with a variety of physiological stresses, the most important of which is elevated sea surface temperatures. Bleaching causes coral to expel symbiotic zooxanthellae algae living in their tissues — algae that provide corals with nourishment. Losing their algae leaves coral tissues devoid of color, and thus appearing to be bleached. Corals can recover from short-term bleaching, but prolonged bleaching (over a week) can cause irreversible damage and subsequent death.

The first coral bleaching on record occurred in 1979. Since then, there have been six events (not counting 2005), each of which has been progressively more frequent and severe. In the El Niño year of 1998, when tropical sea surface temperatures were the highest yet in recorded history, coral reefs around the world suffered the most severe bleaching on record.

Madagascar's reefs escape damage from global warming. A survey of coral along Madagascar's northeast coast suggests that they island's reef may have so far escaped the damaging effects of warmer ocean temperatures attributed to global climate change. Researchers from Conservation International (CI), a leading conservation group, found that the region's coral reefs have avoided the bleaching that has affected other Indian Ocean reefs. The scientists believe that cool water currents from adjacent deep ocean areas have helped offset the warming effects of climate change.
Blue Ventures and the Wildlife Conservation Society will hold a community workshop in Madagascar in October to discuss the urgent need to protect Madagascar's southwestern reefs from further damage. The meeting will look into the creation of a network of marine protected areas to promote the long-term survival of the region's coral reefs. Through a system of connected protected areas, corals will have a better opportunity to grow and spread larvae to reseed damaged reefs in the region.
A number of coral bleaching events — where rising sea temperatures cause corals to turn white and ultimately die — have struck Madagascar's southwest coast over the years, the worst being in 1998 and 2000.
Previous surveys have found that Madagascar's northern coasts escaped damage from these global bleaching events, thanks to cool water currents from nearby deep ocean areas.
Madagascar's southwestern coasts, however, have not been so lucky. In areas where scientists found damaged coral reefs, algae had started to take over the dead reefs, and fish diversity was lower than in areas with healthy corals.
Madagascar's coastal waters are believed to have some of the highest diversity of marine species in the Indian Ocean.
During the survey, scientists recorded 386 species of fish along the southwestern reefs of the Andavadoaka region. Of these, 20 species had never before been recorded for Madagascar and one may be a new discovery to science. The survey team believes that further research may reveal as many as 529 fish species living among these reefs.
The survey team also recorded 164 species of hard coral, including 19 that were previously unknown to inhabit Madagascar's waters. Another four coral species could not be identified and may be new to science.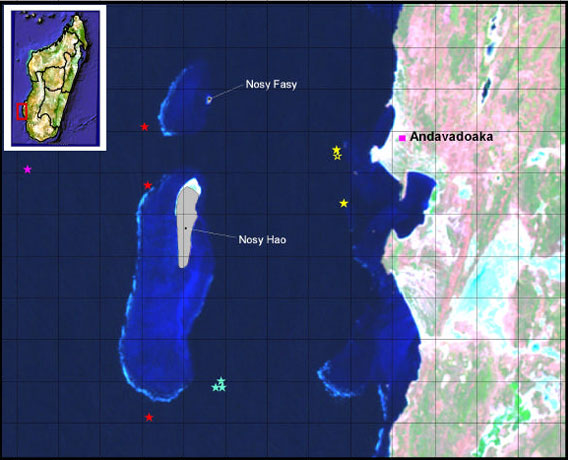 Study site. Image courtesy of WCS



The total number of coral species recorded was significantly lower than those previously found along Madagascar's northwestern coasts. These lower numbers are believed to be a direct result of the mass bleaching events of 1998 and 2000.
"Global warming is a major threat to the world's coral reefs, but there are other more direct threats as well that can be more immediately addressed," said Harris. "Destructive fishing practices and nutrient runoff from villages and resorts are also killing these incredible underwater systems that provide vital resources for the people of Madagascar."
Overfishing and nutrient runoff have decreased the number of plant-eating species living within the coral reefs, allowing damaging algae to grow on corals already stressed by rising sea temperatures. By increasing the number of herbivores, damaging algae can be controlled and coral settlement and growth can increase.
Harris said it is urgent that government agencies, NGOs and local villages work together to create marine protected areas to prevent overfishing and other activities that are damaging coral reefs and the many marine resources they provide. The development of alternative and sustainable incomes — such as ecotourism — will also assist local villages that are currently dependent on these dwindling marine resources.
Scientists will present the findings of their survey at the October meeting in Madagascar, and hope it will be used by the government in its plan to expand the amount of protected areas in Madagascar, including increasing the total size of the country's protected marine habitats from 2,000 square kilometres to 10,000 square kilometres.


Read the report [PDF].



This is a modified news release from Blue Ventures.
.