News articles on Burundi

---
Mongabay.com news articles on Burundi in blog format. Updated regularly.





10 African countries to develop satellite-based deforestation tracking systems with help of Brazil

(07/30/2012) Ten tropical African countries will receive training and support to develop national forest monitoring systems, reports the United Nations. Brazil, which has an advanced deforestation tracking system, will guide the initiative in partnership with the Central Africa Forests Commission (COMIFAC) and the UN Food and Agriculture Organization (FAO).


Photos: the aye-aye of frogs rediscovered after 62 years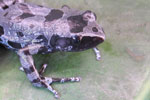 (03/27/2012) A pair of researchers have rediscovered a long-lost frog in the tiny African country of Burundi. Known as the Bururi long-fingered frog (Cardioglossa cyaneospila), the species hadn't been seen for over 60 years—since the Soviet Union tested its first nuclear weapon in 1949—but was rediscovered in Bururi Forest Reserve.


Deforestation increases in the Congo rainforest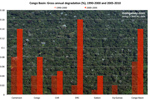 (03/20/2012) Deforestation in the Congo Basin has increased sharply since the 1990s, reports an extensive new assessment of forests in the six-nation region. Released by the Central African Forests Commission (COMIFAC) and members of the Congo Basin Forest Partnership, The State of the Forest finds that the region's annual gross deforestation rate doubled from 0.13 percent to 0.26 percent between the 1990s and the 2000-2005 period. Gross degradation caused by logging, fire, and other impacts increased from 0.07 percent to 0.14 percent on an annual basis. Despite the jump, rates in the Congo Basin remain well below those in Latin America and Southeast Asia, but the region is seen as a prime target for future agroindustrial expansion.


Rwanda and Burundi agree to protect rare forest area

(09/15/2008) Rwanda and Burundi have agreed to protect a large tract of tropical mountain forest that is home to chimpanzees, rare owl-faced monkeys, and other wildlife.


Deforestation rates jump in Uganda and Burundi, fall in Rwanda

(01/25/2006) Tropical deforestation rates have skyrocketed in Uganda and Burundi, while declining significantly in Rwanda according to mongabay.com's analysis of data from the Food and Agriculture Organization (FAO) of the United Nations.