News articles on avoided deforestation

---
Mongabay.com news articles on avoided deforestation in blog format. Updated regularly.





Peru has massive opportunity to avoid emissions from deforestation


(11/10/2014) Nearly a billion tons of carbon in Peru's rainforests is at risk from logging, infrastructure projects, and oil and gas extraction, yet opportunities remain to conserve massive amounts of forest in indigenous territories, parks, and unprotected areas, finds a study published this week in Proceedings of the National Academy of Sciences (PNAS).


Leaders pledge to end deforestation by 2030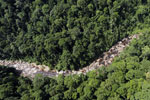 (09/24/2014) Dozens of companies, non-profit organizations, and governments pledged to work together to halve forest loss by 2020 and end it altogether by 2030. If implemented, the commitment could reduce annual carbon dioxide emissions by 4.5-8.8 billion tons annually, equivalent to removing a billion cars from the world's roads.


World's rainforests could be mapped in 3D at high resolution by 2020 for under $250M


(09/05/2014) Mapping the world's tropical forests with a fleet of airplanes outfitted with advanced LiDAR could rapidly and accurately assess global forest carbon stocks for a fraction of the cost of a typical Earth observation satellite mission — and far less than field-based sampling — argues a new paper published in Carbon Balance and Management.


Despite early headwinds, Indonesia's biggest REDD+ project moves forward in Borneo


(06/26/2014) Just over a year ago, the Indonesian government officially approved the country's first REDD+ forest carbon conservation project: Rimba Raya, which aims to protect more than 64,000 hectares of peat forest in Central Kalimantan. The approval came after years of delays from the Ministry of Forestry and a substantial reduction in the project's concession area. But InfiniteEarth, the firm behind the project, pressed on. Now a year later, Rimba Raya's is not only still in business, but is scaling up its operations.


Logging, fires take a hidden toll on Amazon rainforest


(05/28/2014) Selective logging and small sub-canopy fires are degrading vast areas of rainforest across the Brazilian Amazon, contributing to largely hidden carbon emissions, argues a study published today in Global Change Biology. The research found stark differences in carbon storage between primary forests, selectively logged forests, logged and burned forests, and regrowing or secondary forests.


U.N.: We can save world's forests at a fraction of cost of fossil fuels subsidies


(03/21/2014) Investing $30 billion a year in forest conservation — less than seven percent of the $480 billion spent annually on fossil fuels subsidies — could help stop deforestation while accelerating a transition toward a greener global economy, asserts a new report published by the International Resource Panel (IRP) and the UN REDD Programme.


West Sumatra joins Indonesia's REDD+ program

(03/12/2014) West Sumatra has officially joined Indonesia's effort to cut forest loss as a pilot province under the country's REDD+ program.


Microsoft buys Madagascar carbon credits

(02/15/2014) Technology giant Microsoft has bought the first carbon credits generated under a rainforest conservation project in Madagascar, reports Wildlife Conservation Society (WCS), which organized and backed the initiative.


Reduced impact logging failing to cut emissions in Indonesia


(02/10/2014) Advocates for reduced impact logging in tropical forests often make a case that better forest management cuts carbon emissions relative to traditional forms of timber harvesting. While the argument for altering logging approaches to limit forest damage makes intuitive sense, a new study suggests that the carbon benefits may not bear out in practice.


Next big idea in forest conservation? Incentivizing keeping primary forests intact


(02/07/2014) Much of Dr. Corey Bradshaw's work has a singular aim: to keep primary habitats and functioning ecosystems intact. According to Bradshaw, the existing system of carbon trading rules needs to be changed so that primary forests are given a higher value than other forms of land use. 'Nothing, can replace primary vegetation, both in terms of biodiversity value and other ecosystem services.'


REDD+ could fail without near-term financial support


(02/06/2014) An ambitious plan to save the world's tropical forests by valuing them for the carbon the store may fail to reduce deforestation unless governments and multilateral institutions significantly scale up financial commitments to the program, argues a new report published by the Global Canopy Programme, the Amazon Environmental Research Institute, Fauna & Flora International, and UNEP Finance Initiative.


Rainforest news review for 2013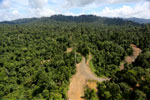 (12/26/2013) 2013 was full of major developments in efforts to understand and protect the world's tropical rainforests. The following is a review of some of the major tropical forest-related news stories for the year. As a review, this post will not cover everything that transpired during 2013 in the world of tropical forests. Please feel free to highlight anything this post missed via the comments section at the bottom. Also please note that this review focuses only on tropical forests.


Indonesia appoints head of REDD+ agency to implement forest conservation plan


(12/20/2013) Indonesia has selected the first chief of its new REDD+ agency: Heru Prasetyo, an administrator and former private sector management consultant, reports Indonesian President Susilo Bambang Yudhoyono's office. Prasetyo will take up the challenging task of implementing Indonesia's REDD+ program, which aims to steer the Southeast Asian nation away from business-as-usual management of its fast dwindling forests. The REDD+ program is part of the broader government plan to cut Indonesia's greenhouse has emissions by at least 26 percent from a projected 2020 baseline.


REDD+ program to cut deforestation gets final approval in Warsaw


(11/22/2013) Negotiators in Warsaw have reached formal agreement on Reducing Emissions from Deforestation and Degradation (REDD+), a program that aims to compensate tropical countries for protecting their forests. After seven years of discussions, countries approved the final REDD+ text on Friday at the COP17.


Govts pledge $280M to slow deforestation for agriculture


(11/21/2013) The governments of Norway, Britain and the United States pledged $280 million toward a new initiative that aims to reduce emissions associated with forest conversion for agriculture, reports Reuters. The money will come out of previously committed funds for climate change. The initiative, called the BioCarbon Fund Initiative for Sustainable Forest Landscapes and administered by the World Bank, focuses on the 80 percent of deforestation that is driven by agriculture.


REDD+ carbon market stabilizes, but risk of supply glut looms


(11/13/2013) The market for carbon credits generated under projects that reduce emissions from deforestation and forest degradation (REDD) showed signs of stabilizing in 2012 after a sharp drop in 2011, finds Forest Trends' new assessment of the global forest carbon market. The report shows that offsets representing 8.6 million metric tons of carbon dioxide were transacted in 2012, a 16 percent increase over 2011. But the average value of each credit dipped 8 percent from $8.50 to $7.80. Nonetheless the activity suggests the market of REDD+ credits may have stabilized after the volume fell 62 percent between 2010 and 2011.


With training, local communities can accurately and cost-effectively measure forest carbon

(10/29/2013) Provided two to three days of training, forest communities can accurately and cost-effectively measure biomass and other data needed to assess REDD+ projects, finds a new study published in the journal Ecology and Society.


3 Peruvian states join sub-national push for REDD+

(10/11/2013) An initiative that is developing a framework for REDD+ programs at state and provincial levels gained three more members last week.


Credits from first African government-backed REDD+ project go on sale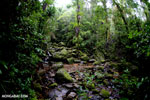 (09/17/2013) Carbon credits generated from protecting thousands of hectares of endangered rainforest in northeastern Madagascar have now been certified for sale, reports the Wildlife Conservation Society (WCS), the project's main organizer. The development represents the first time that credits generated by African government-owned project have been put on the voluntary carbon market.


Amazon rainforest tribe sells REDD+ credits to Brazilian cosmetics giant

(09/10/2013) The Paiter-Suruí, a rainforest tribe that in June became the first indigenous group to generate REDD+ credits under the Verified Carbon Standard (VCS), has now closed their first deal. As reported by Ecosystem Marketplace, Brazilian cosmetics giant Natura Cosméticos has purchased 120,000 tons of carbon offsets from the the Surui Forest Carbon Project in Rondônia, Brazil.


Indonesia finally establishes REDD+ agency to tackle deforestation


(09/07/2013) Indonesia has finally established an agency to implement the country's Reducing Emissions from Deforestation and Degradation (REDD+) program. The REDD+ agency, established by a decree from President Susilo Bambang Yudhoyono on Friday, is a ministry-level body that will coordinate a national REDD+ strategy between various ministries that influence and control land use policy across the sprawling archipelago.


UN REDD program failing to build capacity for indigenous people in Panama

(08/22/2013) The U.N.'s Reducing Emissions from Deforestation and Degradation (UN-REDD) program may be faltering in Panama due to its failure to build capacity for indigenous people who should play a central role in the initiative, argue researchers writing in the journal Nature.


California's next innovation: performance-based rainforest conservation (Commentary)


(07/22/2013) Californians are known as innovation leaders, and once again, we are on the verge of demonstrating critical leadership. Only this time it isn't about the Internet, social networking, reality television, venture capital or electric cars. It is about stopping tropical deforestation and supporting local communities. 'What!?' you say? How is the great state of California, home of bankrupt and massive, thirsty desert cities and Silicon Valley, a place that elected such juggernauts of history as Ronald Reagan and Arnold Schwarzenegger, about to lead in avoiding tropical deforestation?


Developer of Indonesia's first REDD+ project confirms status of forest conservation initiative

(07/19/2013) Infinite Earth, the developer behind Indonesia's first approved REDD+ project, has refuted an NGO's claims that the project has not been approved by the Indonesian government.


Panel lays out best practices for REDD+ credits in California's carbon market

(07/19/2013) A panel of scientific experts has released a final report outlining how carbon credits generated from tropical forest conservation could be used under California's cap-and-trade system while minimizing risks to forest-dependent communities and wildlife.


Billions lost to corruption in Indonesia's forest sector, says report


(07/17/2013) Corruption and mismanagement in Indonesia's forest sector have cost the government billions of dollars in losses in recent years, including over $7 billion in losses from 2007-2011, Human Rights Watch said in a report released yesterday. The report also blasted the country's 'green growth' strategy, saying that despite recent reforms, Indonesia's forestry policies as they are implemented today continue to allow widespread forest clearing and threaten the rights and livelihoods of forest-dependent communities.


Australia terminates landmark REDD+ project in Borneo

(07/03/2013) Australia is ending its major forest restoration project in Indonesian Borneo, reports the Sydney Morning Herald.


Indonesia's first REDD project finally approved

(05/30/2013) Rimba Raya, the world's largest REDD+ project, has finally been approved by the Indonesian government and verified under the Verified Carbon Standard (VCS), a leading certification standard for carbon credits.


Indigenous carbon conservation project gets verification, will start generating credits

(05/30/2013) An effort by an Amazonian tribe to protect their rainforest home against encroachment and illegal logging has finally been validated and verified under a leading carbon accounting standard, enabling it to begin selling carbon credits.


Market for REDD+ carbon credits declines 8% in 2012

(05/30/2013) The market for carbon credits generated from projects that reduce deforestation and forest degradation — a climate change mitigation approach known as REDD+ — dipped eight percent in 2012 according to an annual assessment of the global voluntary carbon market.


Fighting deforestation—and corruption—in Indonesia


(04/11/2013) The basic premise of the Reducing Emissions from Deforestation and Degradation (REDD+) program seems simple: rich nations pay tropical countries for preserving their forests. Yet the program has made relatively limited progress on the ground since 2007, when the concept got tentative go-ahead during U.N. climate talks in Bali. The reasons for the stagnation are myriad, but despite the simplicity of the idea, implementing REDD+ is extraordinarily complex. Still the last few years have provided lessons for new pilot projects by testing what does and doesn't work. Today a number of countries have REDD+ projects, some of which are even generating carbon credits in voluntary markets. By supporting credibly certified projects, companies and individuals can claim to "offset" their emissions by keeping forests standing. However one of the countries expected to benefit most from REDD+ has been largely on the sidelines. Indonesia's REDD+ program has been held up by numerous factors, but perhaps the biggest challenge for REDD+ in Indonesia is corruption.


Improving the rigor of measuring emissions from deforestation, agriculture


(04/03/2013) While much has been written about the potential of reducing greenhouse gas emissions by protecting tropical forests, a proposed program to do just that has been challenged by a number of factors, including concerns about the accuracy of measuring for carbon reductions. Failure to properly account for carbon could undermine the effectiveness of the Reducing Emissions from Deforestation and Degradation (REDD+) program as a tool for mitigating climate change and securing benefits for local people. To help address the technical issues that underpin carbon measurement, the University of California, San Diego (UC San Diego) and the World Wildlife Fund (WWF) have launched a new Certificate in Advanced Terrestrial Carbon Accounting.


Disney buys $3.5M in REDD credits from rainforest conservation project in Peru

(03/20/2013) The Walt Disney Company has purchased $3.5 million dollars' worth of carbon credits generated via rainforest conservation in Peru, reports Point Carbon.


The need to jump-start REDD to save forests


(03/08/2013) At least US$7.3 billion has been pledged for REDD+ over the period from 2008 to 2015, with $4.3 billion pledged for REDD+ readiness during the fast-start period alone (2010-2012). In addition to these funds, private investors, private foundations, and others have been channeling financial support to developing countries for REDD+ and related programs for several years now.


A promising initiative to address deforestation in Brazil at the local level


(03/05/2013) The history of the Brazilian Amazon has long been marked by deforestation and degradation. Until recently the situation has been considered out of control. Then, in 2004, the Brazilian government launched an ambitious program to combat deforestation. Public pressure—both national and international—was one of the reasons that motivated the government to act. Another reason was that in 2004, deforestation contributed to more than 55 percent of Brazil's total greenhouse gas emissions, making Brazil the fourth-largest greenhouse gas emitter in the world.


Large blocks of Sumatra's endangered rainforest may be put up for mining, logging


(01/28/2013) The Indonesian province of Aceh on the western tip of the island of Sumatra may be preparing to lift the protected status of key areas of lowland rainforest potentially ending its bid to earn carbon credits from forest conservation and putting several endangered species at increased risk, according to reports.


Experts outline how REDD+ credits could fit into California's cap-and-trade program

(01/27/2013) Carbon credits generated by forest conservation activities in tropical countries could play a role in California's cap-and-trade program, helping mitigate climate change and providing benefits to local communities, said a panel of experts on Friday.


World Bank REDD+ forest carbon fund gets $180m injection

(01/11/2013) The World Bank's forest carbon fund got a $180 million injection from Finland, Germany and Norway, reports Point Carbon.


The year in rainforests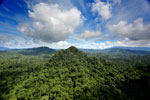 (12/31/2012) 2012 was another year of mixed news for the world's tropical forests. This is a look at some of the most significant tropical rainforest-related news stories for 2012. There were many other important stories in 2012 and some were undoubtedly overlooked in this review. If you feel there's something we missed, please feel free to highlight it in the comments section. Also please note that this post focuses only on tropical forests.


Norway to send Guyana $45m for maintaining low deforestation rate

(12/24/2012) Norway will pay Guyana $45 million for maintaining its low deforestation rate under a climate partnership between the two countries.


DR Congo gets first validated and verified REDD+ project

(12/20/2012) The Democratic Republic of the Congo (DRC) has its first Reducing Emissions from Deforestation and Degradation (REDD+) project validated and verified under the Verified Carbon Standard (VCS).


Indonesia's big REDD+ project announcement "premature", but moving forward

(12/18/2012) The Indonesian government's announcement at climate talks in Doha that it had approved the country's forest conservation project under its Reducing Emissions from Deforestation and Degradation (REDD+) program was premature, argues a new report from an Indonesian environmental group.


Brazil sues to block unlicensed REDD deal between Irish company and indigenous group

(12/17/2012) Brazil's Attorney General Office has filed a lawsuit against an Irish company and an indigenous group for unlicensed sales of carbon credits generated from an reducing emissions from deforestation and degradation (REDD+) project, reports Reuters Point Carbon.


Norway payments to Brazil for reducing deforestation reach $670 million

(12/06/2012) Norway will deposit another $180 million into Brazil's Amazon Fund after the Latin American giant reported a third straight annual drop in deforestation, reports Bloomberg. The payment comes despite a high-profile dispute over who verifies reductions in emissions from deforestation — Norway believes emissions reductions should be measured by an independent third party, but Brazil disagrees. The disagreement sidelined discussions over the REDD+ mechanism during climate talks in Doha, pushing negotiations over the program out another year.


REDD+ negotiations in Doha at impasse, potentially delaying decisions on safeguards another year


(12/03/2012) Negotiations over a program that would pay tropical countries for reducing greenhouse gas emissions from deforestation and degradation — or REDD+ — are stuck at an impasse over how emissions reductions would be verified, reports Ecosystem Marketplace. The disagreement, which has been characterized as a standoff between Brazil, which is potentially a beneficiary of REDD+, and Norway, which is the world's largest funder of tropical forest conservation, could push any final decisions on REDD+ out another year.


Indonesia lost 8.8m ha of forest in the 2000s, generating 7 billion tons of CO2

(12/02/2012) Indonesia's greenhouse gas emissions from deforestation could have been reduced by hundreds of millions of tons had a moratorium on new concessions in high carbon forest areas and peatlands been implemented earlier, reported a researcher presenting at a forests conference on the sideline of climate talks in Doha.


5 years in, debates over REDD+ continue


(11/28/2012) An initiative that aims to slow global warming by paying developing countries to protect and better manage their forests is expected to be an important storyline during climate talks in Doha this week and next. REDD+ (Reducing Emissions from Deforestation and Degradation), as the mechanism is known, has grown in complexity since it gained momentum during the 2005 climate talks in Montreal, but is arguably moving forward faster than other areas of climate negotiations. Still, many elements of REDD+ continue to be as hotly debated today as they were five years ago when it got the conceptual OK from the U.N. These include the process for establishing baselines to measure reductions in emissions, safeguards to protect against adverse outcomes for biodiversity and forest-dependent communities, and financing and markets.


Colombia gets world's first VCS validated and verified REDD project on collective lands

(11/16/2012) A conservation project in Colombia has broken new ground in the world of forest carbon credits. The project, run as partnership between an Afro-indigenous community and a Colombian company, is the first REDD+ project certified under the Verified Carbon Standard (VCS) in Colombia. More importantly, it is also the first certified REDD+ project on community-owned, collectively-titled land.


REDD+ must consider biodiversity, forest livelihoods to have any chance of success

(11/16/2012) Safeguarding biodiversity is a critical component in any plan to mitigate climate change through forest protection, argues a comprehensive new assessment published by the International Union of Forest Research Organizations (IUFRO), the world's largest network of forest scientists.


Agriculture causes 80% of tropical deforestation


(09/27/2012) Agriculture is the direct driver of roughly 80 percent of tropical deforestation, while logging is the biggest single driver of forest degradation, says a new report funded by the British and Norwegian governments. The report presents an overview of drivers of deforestation to inform policymakers involved in developing the REDD+ mechanism, an international program that aims to reduce emissions from deforestation and forest degradation.


Commentary: Protecting the people, not the polluters, says Greenpeace

(09/27/2012) Greenpeace is dedicated to ending deforestation and preventing catastrophic climate change. We are often recognized for putting our lives and freedoms on the line to accomplish these goals. In the U.S. alone, Greenpeace is campaigning to save ancient forests, speaking out against the coal industry; mobilizing millions to save the arctic from new oil drilling; and pushing key industries to commit to renewable energy.


Commentary: Greenpeace report threatens climate change mitigation and tropical forests

(09/25/2012) From 2008 through 2010, deforestation in the states of the Brazilian Amazon declined steeply, lowering reductions in CO2 emissions to the atmosphere by approximately 1.5 billion tons. During this same period, the 30 nations that participate in the world's largest carbon market—the European Union's "Emissions Trading Scheme" (EU ETS)—reduced emissions by about 1.9 billion tons (Figure 1). There is an important difference between these two extremely important steps towards emissions reductions. The first was achieved through climate-related donations of approximately US$ 0.47 billion. The second involved financial transactions of US$ 411 billion—roughly 875 times more money. Greenpeace's new report , Outsourcing Hot Air, could help to slow—or reverse—the progress of tropical states and provinces around the world in reducing emissions from deforestation and forest degradation (REDD).


Greenpeace targets forest carbon offsets in California's cap-and-trade

(09/25/2012) California's inclusion of forest conservation-based carbon offsets in its climate change legislation may not lead to net reductions in greenhouse gas emissions and could exacerbate social conflict in places like southern Mexico, argues a report released Monday by Greenpeace. But the activist group faced sharp criticism from backers of California's initiative.


Greenpeace calls for global REDD standards to reduce negative impacts of forest carbon projects

(06/26/2012) Greenpeace has launched a consultation process to establish global standards for Reducing Emissions from Deforestation and Degradation (REDD+) projects.


Deforestation accounts for 10 percent of global carbon emissions, argues new study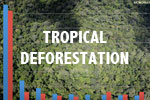 (06/21/2012) Tropical deforestation accounted for 10 percent of global carbon dioxide emissions between 2000-2005 — a substantially smaller proportion than previously estimated — argues a new study published in Science. The paper estimates gross carbon emissions from deforestation at 810 million metric tons (with a 90 percent confidence interval of 0.57-1.22 billion tons) per year from 2000-2005, significantly below earlier calculations. Brazil and Indonesia accounted for 55 percent of gross emissions from tropical deforestation during the study period, while dry forests accounted for 40 percent of tropical forest loss but amounted to only 17 percent of emissions.


In Rio, 5 big companies to launch initiative to boost demand for REDD+ carbon credits

(06/16/2012) Five large corporations have launched an effort to boost demand for carbon credits from 'high quality' Reducing Emissions from Deforestation and Degradation (REDD+) projects in tropical countries.


For Earth Day, 17 celebrated scientists on how to make a better world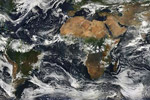 (04/22/2012) Seventeen top scientists and four acclaimed conservation organizations have called for radical action to create a better world for this and future generations. Compiled by 21 past winners of the prestigious Blue Planet Prize, a new paper recommends solutions for some of the world's most pressing problems including climate change, poverty, and mass extinction. The paper, entitled Environment and Development Challenges: The Imperative to Act, was recently presented at the UN Environment Program governing council meeting in Nairobi, Kenya.


Amazon tribe becomes first to get OK to sell REDD credits for rainforest conservation

(04/12/2012) An Amazon tribe has become the first indigenous group in the world's largest rainforest to win certification of a forest carbon conservation project, potentially setting a precedent for other forest-dependent groups to seek compensation for safeguarding their native forests.


Global rainforest carbon map released online

(03/18/2012) Researchers have posted carbon stock data for the world's tropical forests on ArcGIS Online, a web-based mapping platform developed by Esri.


10 rules for making REDD+ projects more equitable

(02/02/2012) The International Institute for Environment and Development has published a new report on benefit distribution under Reducing Emissions from Deforestation and Forest Degradation (REDD+) programs. The report includes a top ten list of recommendations to ensure REDD+ works for poor communities that live in and around forests.


Indonesia could earn billions from well-designed deforestation-reduction program, finds study

(01/12/2012) Indonesia could have earned $5 billion in revenue and avoided 1 billion tons of carbon dioxide emissions between 2000 and 2005 had a reducing emissions from deforestation and degradation (REDD+) program been in place, reports an assessment published in the journal Proceedings of the National Academy of Science.


Tool to track U.S. REDD+ finance released

(12/09/2011) A new online tool allows anyone to check U.S. government financial pledges made toward reducing emissions from deforestation and forest degradation (REDD+) programs in developing countries.


Jump-starting REDD finance: $3 billion Forest Finance Facility needed to halve deforestation within a decade

(12/06/2011) How to finance a means to reduce deforestation, which contributes emissions equivalent to the entire transport sector combined, has had some encouragement at the UN Climate meeting in Durban this week. An à la carte approach, where no source is ruled out, is emerging, leaving the door open to private sector finance for the first time. And with progress imminent in two other crucial areas of safeguards and reference levels, REDD+, a novel mechanism to halt deforestation, is once more likely to be the biggest winner.


REDD project gets initial go-ahead in Cameroon

(12/05/2011) The government of Cameroon approved a feasibility assessment for the first REDD+ project in the Central African nation, reports the Global Green Carbon Corporation, which is developing the project.


Protections for indigenous rights, biodiversity weakened in latest REDD+ text

(12/04/2011) Safeguards to ensure forest carbon projects protect biodiversity and respect the rights of local and indigenous communities were weakened in the latest draft text on REDD+ at climate talks in Durban, reports CIFOR, a forest policy and research institution. The draft text, which will now move forward to a plenary session for approval, also dropped any decision on financing of REDD+ projects.


Carbon piracy, lack of recognition of indigenous rights undermining REDD in Peru, alleges report

(11/30/2011) Lack of meaningful consultation with indigenous communities over forest carbon projects is causing social conflict and undermining efforts to responsibly reduce emissions from deforestation and forest degradation in Peru under the REDD mechanism, argues a new report released during international climate talks in Durban.


Forest carbon projects rake in $178 million in 2010


(09/29/2011) Investors funneled $178 million into forest carbon projects intended to mitigate global climate change last year, according to a new report by Forest Trends' Ecosystem Marketplace. By trading a record 30.1 million tons of carbon dioxide equivalent (MtC02e), the market saw a 48 percent rise over 2009—including a rise in private investors over non-profits as well as greater support for the global program Reduced Emissions from Deforestation and forest Degradation (REDD)—shows that the burgeoning market may be beginning to make good on its promise to provide funds to save forests for their ecosystem services with an initial focus on carbon.


Conservationists renew push for 'rainforest bonds'

(09/19/2011) Conservationists are renewing a push for a special class of 'rainforest bonds' to fund efforts to conserve tropical forests.


REDD calculator and mapping tool for Indonesia launched

(07/13/2011) Researchers have launched a new tool to help policy-makers, NGOs, and landowners evaluate the potential benefits and costs of Indonesia's reducing emissions from deforestation and degradation (REDD+) program at provincial and district levels.


Interview with Indonesian climate official on rainforest logging moratorium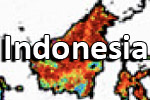 (06/03/2011) In May, Indonesia President Susilo Bambang Yudhoyono issued a presidential instruction laying out the specifications for a two-year moratorium on new concessions in primary forests and peatlands. The moratorium aims to create a window for Indonesia to enact reforms needed to slow deforestation and forest degradation under its Letter of Intent with Norway, which would pay the Southeast Asian nation up to a billion dollars for protecting forests.


REDD should fund efficient stoves, crop yield increases, says study

(05/31/2011) Efforts to reduce greenhouse gas emissions from deforestation and forest degradation (REDD) must incorporate the implementation cost of programs to meet resource demands of local people in order to be successful, argues a new study published in Nature Climate Change.


Lack of clarity complicates Indonesia's logging moratorium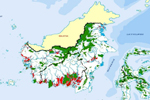 (05/27/2011) Lack of clarity makes it difficult to assess whether Indonesia's moratorium on new logging concessions in primary forest areas and peatlands will actually reduce greenhouse gas emissions from deforestation, according to a new comprehensive assessment of the instruction issued last week by Indonesian President Susilo Bambang Yudhoyono. The analysis, conducted by Philip Wells and Gary Paoli of Indonesia-based Daemeter Consulting, concludes that while the moratorium is "potentially a powerful instrument" for achieving the Indonesian president's goals of 7 percent annual growth and a 26 percent reduction in greenhouse gas emissions from a projected 2020 baseline, the language of the moratorium leaves significant areas open for interpretation, potentially offering loopholes for developers.


Indonesia's moratorium disappoints environmentalists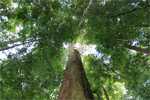 (05/20/2011) The moratorium on permits for new concessions in primary rainforests and peatlands will have a limited impact in reducing deforestation in Indonesia, say environmentalists who have reviewed the instruction released today by Indonesian President Susilo Bambang Yudhoyono. The moratorium, which took effect January 1, 2011, but had yet to be defined until today's presidential decree, aims to slow Indonesia's deforestation rate, which is among the highest in the world. Indonesia agreed to establish the moratorium as part of its reducing emissions from deforestation and degradation (REDD) agreement with Norway. Under the pact, Norway will provide up to a billion dollars in funds contingent on Indonesia's success in curtailing destruction of carbon-dense forests and peatlands.


Indonesia signs moratorium on new permits for logging, palm oil concessions

(05/19/2011) After five-and-a-half months of delay due to political infighting, Indonesian President Susilo Bambang Yudhoyono finally signed a two-year moratorium on the granting of new permits to clear rainforests and peatlands, reports Reuters.


Is Indonesia losing its most valuable assets?


(05/16/2011) Deep in the rainforests of Malaysian Borneo in the late 1980s, researchers made an incredible discovery: the bark of a species of peat swamp tree yielded an extract with potent anti-HIV activity. An anti-HIV drug made from the compound is now nearing clinical trials. It could be worth hundreds of millions of dollars a year and help improve the lives of millions of people. This story is significant for Indonesia because its forests house a similar species. In fact, Indonesia's forests probably contain many other potentially valuable species, although our understanding of these is poor. Given Indonesia's biological richness — Indonesia has the highest number of plant and animal species of any country on the planet — shouldn't policymakers and businesses be giving priority to protecting and understanding rainforests, peatlands, mountains, coral reefs, and mangrove ecosystems, rather than destroying them for commodities?


REDD project developer Carbon Conservation partly acquired by mining company

(05/03/2011) East Asia Minerals Corporation, an Asian mining company, has acquired a 50% stake in Carbon Conservation, a Australian company that developed one of the world's first forest conservation projects funded by carbon credits, for $500,000, according to a press release from the mining company.


Norway: rainforest protection efforts must work through corruption challenge

(04/29/2011) Corruption in poor countries shouldn't deter developed countries from supporting initial efforts to save the world's tropical forests, Norway's environment minister told Reuters.


Tropical countries aim for global forest pact

(04/18/2011) Representatives from more than 30 countries are expected to hammer out a formal agreement for future discussions on forest and climate issues when they meet next month in the Republic of Congo, reports the Wildlife Conservation Society (WCS).


Greenpeace says McKinsey's REDD+ work could encourage deforestation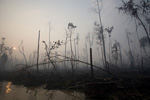 (04/07/2011) One of the world's top consultancies, McKinsey & Co., is providing advice to governments developing 'Reducing Emissions from Deforestation and Degradation' (REDD+) programs that could increase risks to tropical forests, claims a new report published by Greenpeace. The report, Bad Influence – how McKinsey-inspired plans lead to rainforest destruction, says that McKinsey's REDD+ cost curve and baseline scenarios are being used to justify expansion of industrial capacity in Indonesia, Papua New Guinea, Democratic Republic of Congo, and Guyana.


What is the current status of REDD+?


(03/23/2011) The Reducing Emissions from Deforestation and Degradation (REDD) mechanism is supposed to be the great hope for saving the world's forests. Advocates say REDD — now known as REDD+ — could finally create financial incentives for keeping forests standing instead of chopping them down for timber, pulp and paper, cattle, palm oil, and rubber. At the same time, REDD could generate benefits for the rural poor, while safeguarding biodiversity and other ecosystem services. But the devil is in the details. Ensuring that REDD is properly designed, funded, and implemented means that progress has been slower than some supporters have hoped. A poorly designed REDD may be worse than no REDD at all. So where does that leave REDD now? Mongabay asked John-O Niles, the Director of the Tropical Forest Group, for his thoughts on the current status of REDD policy.


PUMA goes carbon neutral by protecting lions in Kenya

(03/23/2011) PUMA, the sporting goods brand, and its parent company PPR will offset their 2010 carbon dioxide emissions by purchasing carbon credits generated through conservation of wildlife habitat in Kenya.


Open source forest accounting methodology for REDD projects developed

(03/17/2011) Avoided Deforestation Partners, a forest conservation group, has coordinated the development of an "open source" forest carbon accounting methodology that could help speed projects aiming to reduce greenhouse gas emissions from deforestation and degradation. The group says the new protocols could substantially reduce the cost of establishing forest carbon conservation projects under the REDD mechanism. Carbon accounting and methodology costs can easily top $100,000, making it difficult for small projects to win certification.


Where is REDD heading? Forest carbon week in review

(03/08/2011) REDD may still be at a standstill in Indonesia, but there is positive news coming out of the United Nations REDD Program. UN-REDD released its five-year strategic plan, and Nigeria is finalizing its readiness proposal to submit to the UN-REDD policy. More news inside this week's Forest Carbon news.


Stopping export logging, oil palm expansion in PNG in 2012 would cost $1.8b, says economist

(03/07/2011) Stopping logging for timber export and conversion of forest for oil palm plantations would cost Papua New Guinea roughly $2.8 billion dollars from 2012 to 2025, but would significantly reduce the country's greenhouse gas emissions, according to a new analysis published by an economist from the University of Queensland.


To succeed, REDD should consider factors outside forest sector

(01/24/2011) Policymakers should not ignore activities outside the forestry sector in efforts to reduce global deforestation, argues a new report published by the International Union of Forest Research Organizations (IUFRO).


With REDD, could financial markets become species' extinction risk?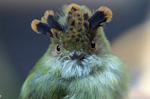 (01/06/2011) The emergence of a Reducing Emissions from Deforestation and Degradation (REDD) mechanism for protecting forests could introduce new risks for biodiversity by linking conservation finance to exotic financial derivatives, warn researchers writing in the journal Conservation Letters. Jacob Phelps, Edward L. Webb, and Lian P. Koh argue that REDD could effectively link the fate of some species to the short-term whims of the carbon market. Conservation projects funded primarily by REDD are most at risk of being undermined by declining in carbon prices or changing investor preference. The authors add that the short-term nature of REDD—which is seen as a stop gap measure of at most 30 years—may fail deliver benefits over the time-scale need to safeguard biodiversity.


Borneo province selected for Indonesia's first pilot under REDD program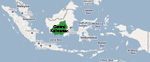 (12/30/2010) Indonesian President Susilo Bambang Yudhoyono has selected Central Kalimantan as the pilot province for the country's Reducing Emissions from Deforestation and Forest Degradation (REDD+) program, according to the President's office on climate change. Central Kalimantan was selected over eight other forested provinces, including Aceh, Jambi, Riau, and South Sumatra on the island of Sumatra; West Kalimantan and East Kalimantan on the island of Borneo; and Papua and West Papua in Indonesian New Guinea. Central Kalimantan was chosen due to its high rate of forest conversion, large expanses of peatlands and rainforests, the advanced state of carbon conservation test projects, and political interest in reducing deforestation and degradation.


Will Indonesia's big REDD rainforest deal work?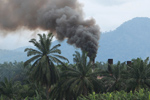 (12/28/2010) Flying in a plane over the Indonesian half of the island of New Guinea, rainforest stretches like a sea of green, broken only by rugged mountain ranges and winding rivers. The broccoli-like canopy shows little sign of human influence. But as you near Jayapura, the provincial capital of Papua, the tree cover becomes patchier—a sign of logging—and red scars from mining appear before giving way to the monotonous dark green of oil palm plantations and finally grasslands and urban areas. The scene is not unique to Indonesian New Guinea; it has been repeated across the world's largest archipelago for decades, partly a consequence of agricultural expansion by small farmers, but increasingly a product of extractive industries, especially the logging, plantation, and mining sectors. Papua, in fact, is Indonesia's last frontier and therefore represents two diverging options for the country's development path: continued deforestation and degradation of forests under a business-as-usual approach or a shift toward a fundamentally different and unproven model based on greater transparency and careful stewardship of its forest resources.


Map: 15 million sq km of land suitable for forest restoration

(12/22/2010) 1.5 billion hectares (5.8 million square miles) of land are suitable for forest restoration, according a new analysis by the Global Partnership on Forest Landscape Restoration, a partnership between the World Resources Institute, South Dakota State University, and IUCN.


Prominent indigenous leader gets death threats in Guyana

(12/17/2010) Environmental groups have written to Guyana president Bharrat Jagdeo over recent threats against Tony James, the President of the Amerindian Peoples Association in Guyana.


California approves cap-and-trade under global warming law

(12/17/2010) The California Air Resources Board voted 9-1 to adopt cap and trade regulations for AB32, California's 2006 climate law. The move, which establishes the first compliance carbon trading system in the United States, opens the door for carbon offsets generated via forest conservation projects.


New data shows REDD+ is succeeding


(12/15/2010) Amid the whirlwind of climate change news before and after the Cancún climate conference, including a landmark agreement on REDD+ (reducing emissions from deforestation, and related pro-forest actions), an important story seems to have passed by with little notice. Over the past two months, several new analyses have given clear evidence that deforestation has gone down over the past several years. In fact, the drop is quite impressive, and shows that of all the approaches to avoiding the worst consequences of global warming, reducing tropical deforestation is the one that has contributed by far the most to date.


World leaders: take action now to save forests

(12/10/2010) Gathering at a side event hosted by Avoided Deforestation Partners, global leaders called on delegates meeting at U.N. climate talks in Cancun to come to a formal decision on REDD+, a mechanism that could compensate developing countries for reducing emissions from deforestation and degradation. REDD+ is one of the few areas where negotiations have been progressing.


Guyana: where's the money pledged for saving rainforests?

(12/09/2010) Funds ostensibly set aside to reward tropical countries for protecting their rainforests are being held up, threatening to exhaust the political capital needed to advance the proposed reducing emissions from deforestation and degradation (REDD) mechanism before it even gets off the ground, warned the president of Guyana during a lively panel organized by Avoided Deforestation Partners on the sidelines of UN climate talks in Cancun, Mexico.


Amazon tribe establishes first indigenous forest carbon fund

(12/04/2010) A half-century ago, Brazil's Suruí people knew little of the world beyond their cluster of villages – and nothing of the European settlers who dominated their continent. By 2006, that world beyond had engulfed them – a fact their young chief, Almir Narayamoga Suruí, saw all too clearly the first time he logged onto Google Earth.


Rainforest protection should focus on boosting resilience to climate change

(12/02/2010) Efforts to protect tropical forests under the proposed reducing emissions from deforestation and degradation (REDD) program should focus on conserving large-scale moisture gradients and areas that provide connectivity between major ecozones in order to reduce the impacts of climate change on ecosystem function and the compounding effects of deforestation, argue scientists writing in the journal Nature.


Leading model undervalues true cost of reducing deforestation, says report

(11/25/2010) A widely used representation of greenhouse gas emissions abatement costs doesn't reflect the true costs of forest conservation, making the proposed reducing emissions from deforestation and degradation (REDD) mechanism seem cheaper than it actually is, argues a new report from the Rainforest Foundation UK.


Indonesia's forest protection plan at risk, says report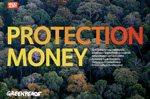 (11/25/2010) Industrial interests are threatening to undermine Norway's billion dollar partnership with Indonesia, potentially turning the forest conservation deal into a scheme that subsidizes conversion of rainforests and peatlands for oil palm and pulp and paper plantations, logging concessions, and energy production, claims a new report from Greenpeace.


Stymied by lack of global climate deal, states develop own low carbon accord

(11/17/2010) California and other states launched an international initiative that will work toward reducing greenhouse gas emissions and transitioning toward a low carbon economy in the absence of a global climate deal.


Deforestation jumps, but Guyana nonetheless qualifies for REDD payment

(11/07/2010) Guyana's deforestation rate over the past 12 months was roughly three times the average annual rate over the prior 20 year period, but was still well below the baseline under the recent $250 million forest conservation partnership with Norway, according to a new report released by Guyana Forestry Commission's REDD+ Monitoring Reporting and Verification System (MRVS).



Page 1 | Page 2 | Page 3 | Page 4 | Page 5