News articles on Panama

---
Mongabay.com news articles on Panama in blog format. Updated regularly.






Scientists raise population estimate for world's most endangered sloth

(07/01/2015) There may be more pygmy sloths than believed, according to a new paper in the Journal of Mammalogy. Scientists originally estimated a population of less than 500 pygmy sloths on Escudo de Veraguas Island off the coast of Panama, the only place in the world where these diminutive sloths survive.
Borneo's rainforest may get high-tech 3D scan to boost conservation
(05/04/2015) Conservation efforts in Borneo's embattled rainforest may get a boost with the launch of the newest version of an advanced airplane-based monitoring and assessment system. On Friday, the Carnegie Institution officially unveiled the latest upgrade of the Carnegie Airborne Observatory, an airplane equipped with technologies that enable scientists to conduct extremely high resolution scans of forest structure, biomass, and biological diversity. The platform has generated a wealth of information in places where it has been flown before.
Meet Biomuseo: the world's first biodiversity museum
(03/12/2015) Biomuseo, designed by internationally renowned architect, Frank Gehry, is the first museum in the world dedicated to biodiversity. Opened in October 2014, the museum is located at the end of the Amador Causeway in Panama City, facing the Pacific Ocean at the entrance of the Panama Canal.
Rainforest loss increased in the 2000s, concludes new analysis
(02/25/2015) Loss of tropical forests accelerated roughly 60 percent during the 2000s, argues a paper published in the journal Geophysical Research Letters. The findings contradict previous research suggesting that deforestation slowed since the 1990s. The study is based on a map of 1990 forest cover developed last year by Do-Hyung Kim and colleagues from the University of Maryland. The map, which includes 34 countries that contain 80 percent of the world's tropical forests, enabled the researchers to establish a consistent baseline for tracking forest cover change across regions and countries over time.
Ocelots live in super densities on Barro Colorado Island

(12/18/2014) By comparing camera trapping findings with genetic samples taken from feces, biologists have determined that the density of ocelots on Barro Colorado Island in Panama is the highest yet recorded. There are over three ocelots per every two square kilometers (0.77 square miles) on the island.
New poison dart frog needs immediate conservation plan
(12/15/2014) It was a surprising discovery in an unlikely location. In a leaf litter nearly four inches deep under a dense canopy of rainforest trees, researchers Marcos Ponce and Abel Batista with the Universidad Autónoma de Chiriquí worked to complete an inventory of endangered species in Panama's Isthmian-Atlantic moist forest. But they were both completely unsuspecting of what they were about to find: a new poison dart frog.
Leaf bacteria are important to tree health, may help forests adapt to climate change
(11/13/2014) Leaves are vital trees organs that support many important functions. A recent study published in PNAS found that each tree species in tropical rainforests possesses distinctive bacterial communities – called microbiomes – on their leaves. Understanding how leaf microbiomes vary among species may in the future be applied for maintaining healthy forests and predicting how forests will react to climate change.
Indigenous uprising earned tribe territories, but greatest challenges lie ahead
(11/06/2014) In 1925, Nele Kantule led a revolution that would make Guna Yala an independent and sovereign indigenous territory within Panama. Since then, the Guna have maintained a way of life that has allowed them to preserve their natural resources and mainland forest to an exceptional degree. But today, like many indigenous groups around the world, the Guna face some of their greatest challenges yet: the impacts of climate change, encroaching outside influences, and a younger generation that many elders feel is drifting from its roots.
Between the Forest and the Sea: The Yarsuisuit Collective - Part II
(10/31/2014) In this multimedia piece by SRI fellow Bear Guerra, we follow Andrés de León and the Yarsuisuit collective, a group of men who grow and harvest food sustainably in the Guna mainland forest. They also run a store on the island of Ustupu that helps support their families, serving as a model for the wider community.
Between the forest and the sea: life and climate change in Guna Yala - Part I
(10/27/2014) The island-dwelling Guna people of Panama are one of the most sovereign indigenous communities in the world, but now severe weather and sea level rise are causing regular flooding on many of the islands, and will likely force the Guna to have to abandon their island homes for the mainland. This multimedia piece offers an introduction to everyday life and customs in Guna Yala and touches upon the uncertain future the Guna are now facing thanks to the impacts of climate change.
REDD+ versus indigenous people? Why a tribe in Panama rejected pay for their carbon-rich forests
(09/04/2014) There isn't a word or phrase in the Kuna language for "carbon trading," and much less for something as complex as REDD+. Standing for Reducing Emissions from Deforestation and Degradation, REDD+ is the worldwide UN-backed climate change mitigation scheme that relies on carbon trading within forest landscapes to fund forest conservation programs. And yet, since 2008, the Kuna people have been hearing lots about it and referring to it often in their private conversations.
Attack of the killer vines: lianas taking over forests in Panama
(07/14/2014) A worrying trend has emerged in tropical forests: lianas, woody long-stemmed vines, are increasingly displacing trees, thereby reducing forests' overall ability to store carbon. The study, recently published in Ecology, found several detrimental effects of increased liana presence.
Connecting forests, saving species: conservation group plans extensive wildlife corridor in Panama
(05/16/2014) With the cooperation of hundreds of ranchers and researchers, Azuero Earth Project aims to replant a swath of tropical dry forest, connecting the dry tropical forest on the coast to cloud forest further inland. The trees along the 140-kilometer (80-mile) wildlife corridor will create a continuous habitat for the Critically Endangered Azuero spider monkey (Ateles geoffroyi azuerensis) and improve the soil for people who farm and ranch along the way.
3 environmental reporting prize winners to explore drivers of deforestation, community forestry, and sustainable seafood in China
(03/19/2014) Mongabay.org, the non-profit arm of environmental science web site Mongabay.com, has selected winners of three environmental reporting prizes under its Special Reporting Initiatives (SRI) program. The three prizes, which were launched in January, explore the impacts of rising human consumption on forest and marine ecosystems. The winners, selected from more than 150 applicants by a panel of issue-area experts, include Robert S. Eshelman, Ruxandra Guidi and Bear Guerra, and Dominic Bracco II and Erik Vance.
The next best thing: how well do secondary forests preserve biodiversity?
(01/23/2014) Secondary forests, which are areas that were previously cleared of old-growth cover, now comprise the majority of the forested areas in the United States, Europe, and elsewhere. A heavily debated issue is to what extent secondary forests are able to contribute to the preservation of biodiversity. In an article published in PLOS ONE, a group of researchers from the Smithsonian Tropical Research Institute led by Michiel van Breugel evaluated the biodiversity preservation potential of secondary forests.
For agoutis, the night is fraught with peril
(01/15/2014) In a study recently published in the online Animal Behavior journal, scientists from the US and the Netherlands have examined the impact of predation patterns on prey's food foraging habits. The two-year long study on Barro Colorado Island, Panama, focused on the predator-prey relationship between the Central American agouti (Dasyprocta punctata), a common rainforest rodent, and the ocelot (Leopardus pardalis).
Rainforest news review for 2013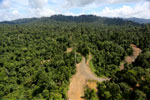 (12/26/2013) 2013 was full of major developments in efforts to understand and protect the world's tropical rainforests. The following is a review of some of the major tropical forest-related news stories for the year. As a review, this post will not cover everything that transpired during 2013 in the world of tropical forests. Please feel free to highlight anything this post missed via the comments section at the bottom. Also please note that this review focuses only on tropical forests.
Journalists win environmental news reporting prizes
(12/10/2013) Mongabay's internship program has benefited from the hard work and great environmental reporting of more than 30 writing interns since the program's inception in July 2012. This year, Mongabay asked this pool of contributing authors to submit their most compelling piece out of over 150 articles. The submissions were then reviewed by a panel.
Recovering forests 'heal' themselves by speeding up nitrogen fixation
(10/08/2013) Nitrogen is colorless, odorless and tasteless, but all life on earth depends on it. Without it, our bodies cannot synthesize the nucleic acids that make up our DNA, or the protein-forming amino acids that are the very building blocks of our cells. Problematically, atmospheric nitrogen is relatively inert or nonreactive. This has created a unique biological dependency on a process called nitrogen fixation—where inert nitrogen from the atmosphere is converted into more reactive ammonia, a major component of soil fertilizers.
Attempt to export nearly-extinct pygmy sloths sets off international incident in Panama
(09/20/2013) Last Monday, the police officer on morning duty at Isla Colón International Airport, Panama noticed some foreigners loading crates with what appeared to be animals on a private jet. Finding this suspicious, he alerted his supervisor. Within minutes the local police chief, the mayor of Bocas, the director of the regional office of the National Environmental Authority (ANAM), community leaders and heads of local conservation organizations were informed about the incident. Little by little, a crowd of concerned citizens from Bocas town gathered around what turned out to be eight pygmy sloths – some of the rarest mammals on Earth
Scientists outline how to save nearly 70 percent of the world's plant species

(09/05/2013) In 2010 the Convention on Biological Diversity (CBD) pledged to set aside 17 percent of the world's land as protected areas in addition to protecting 60 percent of the world's plant species—through the Global Strategy for Plant Conservation (GSPC)—by 2020. Now a new study in Science finds that the world can achieve both ambitious goals at the same time—if only we protect the right places. Looking at data on over 100,000 flower plants, scientists determined that protecting 17 percent of the world's land (focusing on priority plant areas) would conserve 67 percent of the world's plants.
Researchers produce the most accurate carbon map for an entire country
(07/22/2013) Researchers working in Panama have produced the most accurate carbon map for an entire country. Using satellite imagery and extremely high-resolution Light Detection and Ranging (LiDAR) data from airplane-based sensors, a team led by Greg Asner produced a detailed carbon map across the Central American country's forests. The map reveals variations in forest carbon density resulting from elevation, slope, climate, vegetation type, and canopy coverage.
Why Panama's indigenous pulled out of the UN's REDD program

(06/25/2013) This week in Lombok, Indonesia, the Policy Board of the United Nations climate change program known as UNREDD is addressing the first major test of the 2007 UN Declaration on the Rights of Indigenous Peoples of the United Nations, which recognizes the right of Indigenous People to stop projects in their territories that could endanger their traditions and livelihoods. The National Coordinating Body of the Indigenous People of Panama pulled out of UNREDD's national program in February and have called on the United Nations to close the program.
Frankenfish or scientific marvel?: giant GM salmon await U.S. approval

(05/07/2013) It is hard to think of a more unlikely setting for genetic experimentation or for raising salmon: a rundown shed at a secretive location in the Panamanian rainforest miles inland and 1,500m above sea level. But the facility, which is owned by an American company AquaBounty Technologies, stands on the verge of delivering the first genetically modified food animal—a fast-growing salmon—to supermarkets and dinner tables.
Indigenous protester killed by masked assailants in Panama over UN-condemned dam
(03/25/2013) A Ngäbe indigenous Panamanian, Onesimo Rodriguez, opposing the Barro Blanco hydroelectric dam project was killed last Friday evening by four masked men. His body was then thrown into a nearby stream where it was discovered the following day. Onesimo Rodriguez was attacked with a companion in Las Nubes, after they had attended a demonstration in Cerro Punta, Bugaba, against the dam. His companion, whose identity is being withheld for security reasons, received serious injuries but managed to escape and is having his injuries tended to by the local indigenous community.
Panama's indigenous people drop REDD+

(03/19/2013) The National Coordinator of Indigenous Peoples in Panama (COONAPIP) has announced it is withdrawing from the United Nation's REDD+ program following a series of disagreements. The exit of COONAPIP from the negotiating table with UN officials and the Panamanian government will likely be a blow to the legitimacy of REDD+ in the central American country. REDD, or Reducing Emissions from Deforestation and Degradation, is a program to reduce emissions by safeguarding forests.
Rainforests teem with insects, most of which are unknown, finds study

(12/13/2012) Researchers in Panama have published the results of the most comprehensive survey of arthropods in a small area of tropical rainforest. At a high level, the findings surprise no one: the Panamanian rainforest is full of insects, spiders, and crustaceans. Yet the results also show how little is known about this large group of organisms — 60-70 percent of the species are thought to be new to science.
Scientists name new snake species to criticize mine plans in Panama (photos)
(09/18/2012) While scientists increasingly name new species after celebrities in order to gain much-needed attention for the world's vanishing biodiversity, researchers describing a new snake species from Panama have taken a different route. Dubbing the new serpent, Sibon noalamina ('no to the mine!' in Spanish), the scientists are hoping the multicolored snake's unusual name will draw attention to mining and deforestation issues in Panama's remote Tabasará mountains.
Indigenous groups in Panama wait for UN REDD to meet promises
(08/30/2012) A dispute over the implementation of REDD+ (Reducing Emissions from Deforestation and Degradation) in Panama has pitted the United Nations (UN) against the nation's diverse and large indigenous groups. Represented by the National Coordinator of Indigenous Peoples in Panama (COONAPIP), indigenous groups charge that the UN has failed to meet several pledges related to kick-starting REDD+ with their support, including delaying a $1.79 million payment to the group to begin REDD+-related activities. The on-going dispute highlights the perils and complexities of implementing REDD+, especially concerns that the program might disenfranchise indigenous groups who have long been the stewards of their forest territories.
Less than 100 pygmy sloths survive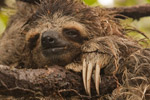 (05/24/2012) The pygmy three-toed sloth (Bradypus pygmaeus) is one of the world's most endangered mammals, according to a detailed survey of the population, which found less than 100 sloths hanging on in their island home. Only described by researchers in 2001, the pygmy sloth lives on a single uninhabited island off the coast of Panama. But human impacts, such as deforestation of the island's mangroves, may be pushing the species to extinction.
New frog species leaves scientists' fingers yellow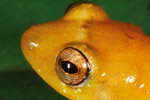 (05/22/2012) A beautiful, yellow frog species has been discovered in western Panama, according to a new paper in ZooKeys. Scientists were surprised when handling the new species to find their fingers stained bright yellow by its skin, but even after laboratory research the purpose of this dye remains a mystery. The new species, named Diasporus citrinobapheus, is a member of the large rain frog family, whose members skip the tadpole stage and instead are born directly from eggs as tiny froglets.
Picture of the day: cookies and cream moth?

(11/01/2011) This moth species from Panama has not yet been identified by mongabay.com. Moths makes up the bulk of the insect-family Lepidoptera, which also includes butterflies.
Panama canal drives forest conservation, offers insight on value of ecosystems
(09/26/2011) As demonstrated by growing enthusiasm for conserving forests and the rise of the Reducing Emissions from Deforestation and Degradation (REDD+) program, the public is increasingly aware of the role forests play in delivering ecosystems services — like clean air and water — that benefit mankind. Yet, science still lags conventional wisdom — researchers have yet to fully quantify much of what healthy forests provide. Bridging this gap is key to unlocking the full value of protecting and restoring tropical forests. The ambitious Agua Salud Project in Panama is attempting to do just that.
Animal picture of the day: the Jesus Christ lizard

(08/01/2011) The basilisk lizard walks on water. To escape danger the lizard will race across a stream, sprinting, literally, off the water's surface. But despite its nickname of 'Jesus Christ lizard' this is not a miracle, but adaptation.
Scientists scramble to save dying amphibians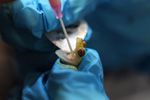 (04/28/2011) In forests, ponds, swamps, and other ecosystems around the world, amphibians are dying at rates never before observed. The reasons are many: habitat destruction, pollution from pesticides, climate change, invasive species, and the emergence of a deadly and infectious fungal disease. More than 200 species have gone silent, while scientists estimate one third of the more than 6,500 known species are at risk of extinction. Conservationists have set up an an emergency conservation measure to capture wild frogs from infected areas and safeguard them in captivity until the disease is controlled or at least better understood. The frogs will be bred in captivity as an insurance policy against extinction.
Treasure chest of wildlife camera trap photos made public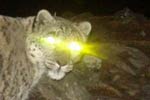 (02/27/2011) Photos taken by camera traps have not only allowed scientists to study little-seen, sometimes gravely endangered, species, they are also strangely mesmerizing, providing a momentary window—a snapshot in time—into the private lives of animals. These are candid shots of the wild with no human in sight. While many of the photos come back hazy or poor, some are truly beautiful: competing with the best of the world's wildlife photographers. Now the Smithsonian is releasing 202,000 camera trap photos to the public, covering seven projects in four continents. Taken in some of the world's most remote and untouched regions the automated cameras have captured such favorites as jaguars, pandas, and snow leopards, while also documenting little-known and rare species like South America's short-eared dog, China's golden snub-nosed monkey, and Southeast Asia's marbled cat.
Italy and Panama continue illegal fishing, says new report

(01/15/2011) On Wednesday, the National Oceanic and Atmospheric Administration (NOAA) issued its biennial report identifying six countries whose fisheries have been engaged in illegal, unreported, or unregulated (IUU) fishing during the past two years. The report comes at a time when one-fifth of reported fish catches worldwide are caught illegally and commercial fishing has led to a global fish stock overexploitation of an estimated 80 percent.
30 frog species, including 5 unknown to science, killed off by amphibian plague in Panama

(07/19/2010) With advanced genetic techniques, researchers have drawn a picture of just how devastating the currently extinction crisis for the world's amphibians has become in a new study published in the Proceedings of the Nation Academy of Sciences (PNAS). Studying frog populations using DNA barcoding in Panama's Omar Torrijos National Park located in El Copé researchers found that 25 known species and 5 unknown species have vanished since 1998. None have returned.
Two new frogs discovered in Panama amidst amphibian plague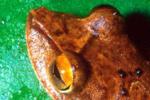 (06/06/2010) Researchers working to save Panama's frogs from a fatal disease have stumbled on two species unknown to science. In Omar Torrijos National Park they found a bigger version of a common species, which is now known to be a unique species, and near the Colombian border they discovered a new frog that has been named after Spanish for DNA. Both frogs were discovered while researchers searched for frog populations in chytridiomycosis-infected areas. The highly contagious disease chytridiomycosis has devastated frog species worldwide and is believe to be at least in part responsible for some 100 extinctions of amphibians.
Forgotten Species: the marooned pygmy three-toed sloth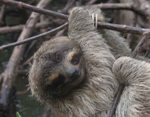 (03/16/2010) Many people consider tropical islands mini-paradises: sanctuaries cut-off from the rest of the world. Some species flourish on islands for the same reason. With few predators and a largely consistent environment, once a species has comfortably adapted to its habitat there's little to do but thrive. That is until something changes: like humans showing up. Changes in confined island ecosystems often have large and rapid impacts, too fast and too big for marooned species to survive.
Developer uses cover of national holiday to clear rainforest near Colon, Panama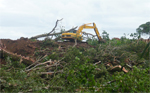 (11/06/2009) On Tuesday, November 3rd, while Panamanians celebrated Independence Day Holidays, heavy machinery unexpectedly entered and began cutting down tropical forest and mangroves near Galeta outside of Colon, Panama, report local sources. mongabay.com confirmed that the latest clearing has been carried out "almost in secret during national holidays so there would be no reaction from the public or the media." The clearing, conducted by a transportation cooperative called Serafin Niño, from Colon, is occurring in the buffer zone of the Galeta Protected Landscape and near Galeta Point Marine Laboratory, a facility of the Smithsonian Tropical Research Institute. The land will likely be used to store transportation equipment that moves cargo to and from the ports of Colon and the Free Zone.
The faster, fiercer, and always surprising sloth, an interview with Bryson Voirin

(10/25/2009) Sloths sleep all day; they are always slow; and they are gentle animals. These are just some of the popular misconceptions that sloth-scientist and expert tree-climber, Bryson Voirin, is overturning. After growing up among the wild creatures of Florida, spending his high school years in Germany, and earning a Bachelors degree in biology and environment at the New College of Florida, Voirin found his calling. At the New College of Florida, Voirin "met Meg Lowman, the famous canopy pioneer who invented many of the tree climbing techniques everyone uses today."
Concerns over deforestation may drive new approach to cattle ranching in the Amazon
(09/08/2009) While you're browsing the mall for running shoes, the Amazon rainforest is probably the farthest thing from your mind. Perhaps it shouldn't be. The globalization of commodity supply chains has created links between consumer products and distant ecosystems like the Amazon. Shoes sold in downtown Manhattan may have been assembled in Vietnam using leather supplied from a Brazilian processor that subcontracted to a rancher in the Amazon. But while demand for these products is currently driving environmental degradation, this connection may also hold the key to slowing the destruction of Earth's largest rainforest.
Extinction debt can last millions of years

(07/29/2009) Extinction can be set in motion millions of years before a species' actual demise, suggesting that present-day drivers of habitat destruction and degradation may have already doomed many species to eventual extinction, report researchers writing in Proceedings of the Royal Society B online.
Saving one of the last tropical dry forests, an interview with Edwina von Gal
(06/29/2009) Often we hear about endangered species—animals or plants on the edge of extinction—however we rarely hear about endangered environments—entire ecosystems that may disappear from Earth due to humankind's growing footprint. Tropical dry forests are just such an ecosystem: with only 2 percent of the world's tropical dry forest remaining it is one of the world's most endangered ecosystems. A newly established organization, the Azuero Earth Project, is working not only to preserve some of the world's last tropical dry forest on the Azuero peninsula in Panama, but also to begin restoration projects hoping to aid both the forest's viability and the local people. Edwina von Gal, a landscape designer, is one of the founders of the Azuero Earth Project, as well as president of the organization.
First-ever photo of jaguar on Barro Colorado Island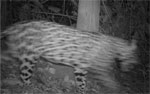 (05/04/2009) Researchers have captured the first-ever photo of a jaguar on Barro Colorado Island, a key tropical forest research site in Panama, reports the Smithsonian Tropical Research Institute (STRI). The picture was snapped by a camera trap set up by Montclair State University zoologist Jackie Willis and her husband Greg. The pair have been using the traps — which use infrared to detect and photograph passing wildlife — for animal surveys on Barro Colorado since 1994.
Plant communities changing across the globe, says scientist Sasha Wright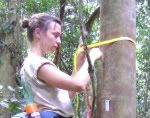 (03/29/2009) Having studied plant communities across three continent and within widely varied ecosystems—lowland tropics, deciduous forests, grasslands, and enclosed ecosystems on hill-tops—graduate student Sasha Wright has gained a unique understanding of shifts in plant communities worldwide as they respond to pressures from land use and global climate change. "Plant communities are certainly changing," Wright told Mongabay.com in a March 2009 interview. "These changes are undoubtedly affected by an increased occurrence of extreme weather events, temperature fluctuations, atmospheric CO2 concentrations, human land use, and in some cases urbanization of populations."
Mass amphibian die-offs affect ecosystems

(10/19/2008) Large-scale die-offs of amphibians due to the outbreak of a killer fungal disease is impacting the forest ecosystem in which they live, reports a new study published in the journal Ecosystems.
Armageddon for amphibians? Frog-killing disease jumps Panama Canal

(10/12/2008) Chytridiomycosis — a fungal disease that is wiping out amphibians around the world — has jumped across the Panama Canal, report scientists writing in the journal EcoHealth. The news is a worrying development for Panama's rich biodiversity of amphibians east of the canal.
Carbon market may fund dam in Panama that threatens natural reserve

(09/01/2008) The UN's Clean Development Mechanism (CDM) — a scheme that provides funds to projects that reduce emissions in developing nations — may be used to finance a hydroelectric dam in Panama which, according to environmentalists, threatens a biologically rich World Heritage site and an indigenous tribe, the Ngobe.
Researchers discover "artistic" moth in Panama

(07/29/2008) Researchers have discovered a new species of Bagworm Moth that wraps its eggs individually in "beautiful cases" fashioned from its golden abdominal hairs, according to a new paper published in the Annals of the Entomology Society of America. The behavior is unique among insects.
Climate change will increase the erosion of coral reefs

(07/28/2008) Coral reefs are particularly susceptible to climate change. Warming waters have been shown to bleach coral, killing off symbiotic algae that provide them with sustenance, and often leading to the death of the coral itself. Much attention has been placed on bleaching coral, but now scientists have discovered an additional danger to coral reefs in a warming world: erosion.
Cache of rare and undiscovered species under threat in Panama

(04/21/2008) Rare and previously undiscovered species are under threat by loggers, ranchers, and poachers in an isolated patch of cloud forest in Panama, a prominent group of scientists has warned. The group, the Association for Tropical Biology and conservation (ATBC), has called on the Panamanian government to immediately provide protected-area status to the region.
Bats protect crops from insects

(04/04/2008) Bats eat as many insects at night as birds do during the day, according to research published in the journal Science.
The Panamanian golden frog declared extinct by BBC Natural History crew

(02/04/2008) A national symbol of Panama has been declared extinct by BBC filmmakers. The crew was in Panama to film the unique frog for David Attenborough's most recent series on reptiles and amphibians, entitled Life in Cold Blood. The filmmakers achieved their objective and captured the golden frog on film, including rarely seen behvaior.
Scientists discover four species of anole lizards in 24 hours in Panama

(01/13/2008) In January of 2006 a biological expedition uncovered four anole species in a single day. Dr. Gunther Koehler, a member of the expedition, described the discoveries as "a once in a life time experience; during expeditions before, we had found new species, one at a time--but four species within 24 hours, that was incredible!"
Two new species of salamander discovered in Panama

(09/09/2007) Scientists have discovered two new species of salamanders from the mountainous Costa Rica-Panama border region. The findings, published by David B. Wake, Jay M. Savage, and James Hanken in the journal Copeia, push the number of salamanders known in the region to 24, making it a hotspot in terms of salamander biodiversity.
Groups demand AES withdraw from Panama dam projects

(08/23/2007) More than 50 green groups demanded Thursday that AES Corporation withdraw from three controversial hydroelectric projects that are threatening La Amistad International Park in Panama. Environmentalists say the dams threaten to displace wildlife and local communities -- the Naso and Ngobe people -- in the World Heritage site.
Low deforestation countries to see least benefit from carbon trading

(08/13/2007) Countries that have done the best job protecting their tropical forests stand to gain the least from proposed incentives to combat global warming through carbon offsets, warns a new study published in Tuesday in the journal Public Library of Science Biology (PLoS). The authors say that "high forest cover with low rates of deforestation" (HFLD) nations "could become the most vulnerable targets for deforestation if the Kyoto Protocol and upcoming negotiations on carbon trading fail to include intact standing forest."
Set back for AES on rainforest dam project in Panama

(06/26/2007) The World Heritage Committee moved to assess threats to La Amistad International Park, a World Heritage site shared by Panama and Costa Rica, from AES Corporation's planned construction of four hydroelectric dams on the park's border. The decision was based on an April 2007 petition from the Center for Biological Diversity and more than 30 other organizations in the United States, Panama, and Costa Rica.
Can cattle ranchers and soy farmers save the Amazon?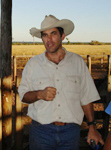 (06/06/2007) John Cain Carter, a Texas rancher who moved to the heart of the Amazon 11 years ago and founded what is perhaps the most innovative organization working in the Amazon, Alianca da Terra, believes the only way to save the Amazon is through the market. Carter says that by giving producers incentives to reduce their impact on the forest, the market can succeed where conservation efforts have failed. What is most remarkable about Alianca's system is that it has the potential to be applied to any commodity anywhere in the world. That means palm oil in Borneo could be certified just as easily as sugar cane in Brazil or sheep in New Zealand. By addressing the supply chain, tracing agricultural products back to the specific fields where they were produced, the system offers perhaps the best market-based solution to combating deforestation. Combining these approaches with large-scale land conservation and scientific research offers what may be the best hope for saving the Amazon.
Rural population decline may not slow deforestation
(06/03/2007) A new paper shoots down the theory that increasing urbanization will lead to increasing forest cover in the tropics. Writing in the July issue of the journal Biotropica, Sean Sloan, a researcher from McGill University in Montreal, argues that anticipated declines in rural populations via urbanization will not necessarily result in reforestation--a scenario put forth in a controversial paper published in Biotropica last year by Joseph Wright of the Smithsonian Tropical Research Institute in Panama and Helene Muller-Landau of the University of Minnesota. Wright and Muller-Landau said that deforestation rates will likely slow, then reverse, due to declining rural population density in developing countries.
Globalization could save the Amazon rainforest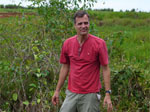 (06/03/2007) The Amazon basin is home to the world's largest rainforest, an ecosystem that supports perhaps 30 percent of the world's terrestrial species, stores vast amounts of carbon, and exerts considerable influence on global weather patterns and climate. Few would dispute that it is one of the planet's most important landscapes. Despite its scale, the Amazon is also one of the fastest changing ecosystems, largely as a result of human activities, including deforestation, forest fires, and, increasingly, climate change. Few people understand these impacts better than Dr. Daniel Nepstad, one of the world's foremost experts on the Amazon rainforest. Now head of the Woods Hole Research Center's Amazon program in Belem, Brazil, Nepstad has spent more than 23 years in the Amazon, studying subjects ranging from forest fires and forest management policy to sustainable development. Nepstad says the Amazon is presently at a point unlike any he's ever seen, one where there are unparalleled risks and opportunities. While he's hopeful about some of the trends, he knows the Amazon faces difficult and immediate challenges.
Colorful marine creatures discovered off Panama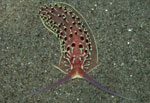 (05/31/2007) Researchers have discovered five new species of sea slug off the coast of Central America. Surveys have found that the region, known as the Tropical Eastern Pacific, is characterized by large numbers of endemic and previously unknown species. The Smithsonian Tropical Research Institute (STRI) reports that recent expeditions have turned up 5 new species of nudibranchs--a group of mollusks lacking outer shells. The discoveries are important because nudibranchs have developed "sophisticated chemical defense mechanisms" which can help with the development of novel medicinal products.
Climate change could dramatically change forests in Central America
(05/02/2007) Drought could cause dramatic shifts in rainforest plant communities in Central America, reports a new study published in the May 3 issue of Nature. The research shows that many rainforest plants are ill-equipped to deal with extended dry periods, putting them at elevated risk from changes in climate projected for the region.
AES Corp seeks to flood rainforest World Heritage site
(04/23/2007) American power company AES Corporation seeks to flood sections of Panama's La Amistad World Heritage site, alleges a coalition of more than 30 environmental groups that today filed a petition against the electric utility.
Higher temperatures slow tropical tree growth
(04/23/2007) Climate change may be reducing growth rates of tropical rainforest trees, a development that could have widespread impacts for biodiversity, forest productivity, and even climate change itself, according to new research published in Ecology Letters.
Caribbean coral reefs result of mass extinction, rise of isthmus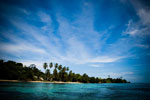 (03/12/2007) Extinctions that resulted from the formation of the Panamanian isthmus were delayed two million years according to a new study by researchers at the Smithsonian Tropical Research Institute, Scripps Institution of Oceanography and London's Natural History Museum. The findings may have implications for global species extinction and evolution.
Panama Canal port projects threaten mangroves
(03/06/2007) Port development and land speculation in Panama is turning some of the Caribbean's most productive mangrove forests into landfill. The landfill would be used for container storage near the city of Colon, at the mouth of the Panama Canal. But local scientists say the transformation could have unintended environmental consequences.
Indigenous populations deforested New World rainforests before European contact
(02/28/2007) Indigenous populations used fire to clear large areas of tropical forest well before the arrival of Europeans reports a new study published in Annals of the Missouri Botanical Garden. The research has important implications for understanding the impact of present forest development on biodiversity and forest regeneration in the tropics.
HSBC gives Smithsonian $8 million to study global warming impact on forests

(02/12/2007) HSBC, one of the world's largest banks, today announced an $8 million grant to the Smithsonian Tropical Research Institute (STRI) to fund the world's largest field experiment on the long-term effects of climate change on forest dynamics. The grant will enable STRI to expand the research capability of its Center for Tropical Forest Science, a network of tropical forest research stations across 20 sites in 17 countries.
Bioprospecting links health and biodiversity conservation in Panama

(12/07/2006) The difference between bioprospecting and biopiracy as at times controversial, but a program run by the Smithsonian Tropical Research Institute (STRI) suggests that training professionals in high-biodiversity regions can help bring benefits to local populations while promoting biodiversity conservation. The program, called the International Cooperative Biodiversity Groups (ICBG), is profiled in the December issue of the journal BioScience.
Avoided deforestation could send $38 billion to third world under global warming pact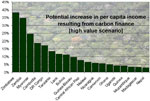 (11/01/2006) Avoided deforestation will be a hot point of discussion at next week's climate meeting in Nairobi, Kenya. Already a coalition of 15 rainforest nations have proposed a plan whereby industrialized nations would pay them to protect their forests to offset greenhouse gas emissions. Meanwhile, last month Brazil -- which has the world's largest extent of tropical rainforests and the world's highest rate of forest loss -- said it promote a similar initiative at the talks. At stake: potentially billions of dollars for developing countries. When trees are cut greenhouse gases are released into the atmosphere -- roughly 20 percent of annual emissions of such heat-trapping gases result from deforestation and forest degradation. Avoided deforestation is the concept where countries are paid to prevent deforestation that would otherwise occur. Policymakers and environmentalists alike find the idea attractive because it could help fight climate change at a low cost while improving living standards for some of the world's poorest people and preserving biodiversity and other ecosystem services. A number of prominent conservation biologists and development agencies including the World Bank and the U.N. have already endorsed the idea.
Carbon trading could save rainforests

(04/12/2006) A new rainforest conservation initiative by developing nations offers great promise to help slow tropical deforestation rates says William Laurance, a leading rainforest biologist from the Smithsonian Tropical Research Institute in Panama, in an article appearing Friday in New Scientist.
Does tropical biodiversity increase during global warming?

(03/30/2006) Forest fragmentation may cause biodiversity loss lasting millions of years according to a new study published in the March 31, 2006 issue of the journal Science. Using cores drilled through 5 kilometers of rock in eastern Colombia and western Venezuela, Carlos Jaramillo of the Smithsonian Tropical Research Institute (STRI) in Panama and a team of researchers derived a fossil pollen record for a 72 million-year period with samples ranging from 10 to 82 million years ago.
Fungus may be devastating amphibian populations worldwide

(02/06/2006) Her most likely culprit is a hugely infectious disease caused by a fungus. In just four months -- from mid-September of 2004 to mid-January of 2005 -- Lips and her colleagues saw more than half the amphibian population of El Cope, Panama, sicken and die from this disease.
Male lizard color may result from female preference

(12/27/2005) The anole lizard's dewlap -- a flap of skin that hangs beneath its chin -- plays an important role in species recognition, territorial defense and courtship. According to the Smithsonian Tropical Research Institute (STRI), a leading research institution in Panama, male slender anoles (Norops limifrons) exhibit variation in dewlap color ranging from orange dewlaps in Gamboa populations, white with an orange spot on Barro Colorado Island, and mixed populations in Soberania.
Rainforests worth $1.1 trillion for carbon alone in Coalition nations

(11/29/2005) If a coalition of developing countries has its way, there could soon be new forests sprouting up in tropical regions. The group of ten countries, led by Papua New Guinea, has proposed that wealthy countries pay them to preserve their rainforests. The Coalition for Rainforest Nations argues that all countries should pay for the benefits -- from carbon sequestration to watershed protection -- that tropical rainforests provide.
Bioprospecting in Panama

(04/20/2005) Coiba, an island 12 miles off the coast of Panama and once a notorious penal colony, may be hiding big secrets in its reefs, among them, a possible cure for malaria.