The global road network covers close to 40 million miles, and is projected to grow by 60 percent by 2050.
The field of road ecology, which has emerged over the past two decades, has looked at a variety of roads' negative consequences, such as roadkill, contamination runoff, and forest and habitat fragmentation.
As scientists continue to add to our understanding of the evolutionary dynamics that lead to adaptation and maladaptation in road-adjacent populations, our ability to predict and in turn reduce negative road effects will also increase, the authors argue.
Roads have been described as "an enormous net over the land" and "the largest human artifact on earth." There are more than four million miles of roads in the United States alone, according to the U.S. Federal Highway Administration, and they have had an enormous impact on local ecosystems.
But according to a paper published last month in the journal Frontiers in Ecology and the Environment, even as evolutionary studies have come to the fore in many fields of conservation, "road ecology" is rarely examined from an evolutionary perspective.
"This is surprising," write the authors of the paper, biologists with Dartmouth College in Hanover, New Hampshire and Providence College in Providence, Rhode Island, "because roads are pervasive landscape features that generate intense natural selection. The biological outcomes from these selection pressures — whether adaptive or maladaptive — can have profound consequences for population persistence."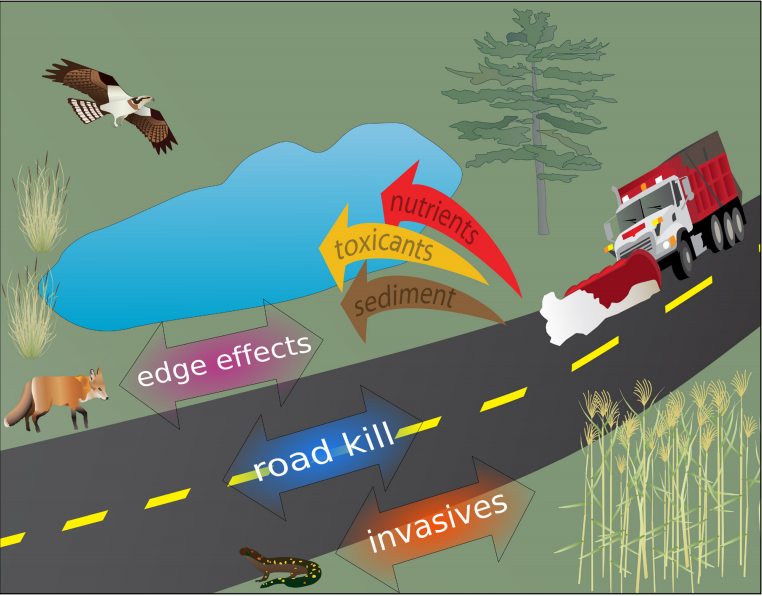 The field of road ecology, which has emerged over the past two decades, has looked at a variety of roads' negative consequences, such as roadkill, contamination runoff, and forest and habitat fragmentation, but hasn't examined as thoroughly what role these effects may play in driving natural selection. Noting that the ecological processes of 20 percent of the U.S. landscape have already been impacted by roads — and that the global road network covers close to 40 million miles (64 million kilometers) of Earth's surface, a figure projected to grow by 60 percent by 2050 — the authors of the paper argue that "neglecting evolutionary change in response to habitat modification prevents critical insights into a suite of complex, conservation-relevant responses."
After looking at numerous previous studies on the impacts of roads, the researchers determined that "road-adjacent populations quickly become differentiated from nearby populations in their capacity to tolerate negative road effects." A liverwort (Marchantia polymorpha) was found in 1972 to have evolved higher lead tolerance compared to its relatives that live farther away from roads, for instance, and similar adaptations have since been observed in ribort plantain (Plantago lanceolata) and a common grass (Festuca rubra). In the 80s, a study found that road-adjacent populations of another common grass (Anthoxanthum odoratum) had not only developed an increased tolerance to road salt, but also evolved to have differences in fertility, flowering date, and morphology — all in the space of just a few decades.
Vertebrates aren't immune from these pressures, either. A 2013 study found that cliff swallows (Petrochelidon pyrrhonota) responded to road-induced mortality over the course of just thirty years by developing shorter wings, which probably allow for greater maneuverability and vertical takeoff in order to evade oncoming traffic.
But not all species are able to adapt to life beside the road, instead becoming "maladapted" and evolving lower tolerances to negative road effects. Another 2013 study found that wood frogs (Rana sylvatica) living in a roadside pond had a 29 percent lower survival rate compared to non-adjacent populations. Yet, at the same time, other species living in identical habitat have managed to adapt: roadside populations of spotted salamanders (Ambystoma maculatum) exhibited a survival advantage of 25 percent over nearby populations farther from the road.
"It is striking to consider that across such different organisms — grasses, swallows, amphibians — roads have similar capacity to cause divergent evolution among local populations," Steven P. Brady, lead author of the paper and a biologist with the Department of Water and Land Resources in Washington state's King County (he was a post-doctoral fellow in biological sciences at Dartmouth College when the paper was written), said in a statement.
"But what is perhaps most surprising is that some populations appear to be evolving maladaptively right alongside populations that are evolving adaptively. And from what we can tell, such maladaptive outcomes may become increasingly common in response to human-modified environments such as road-adjacent habitats."
Given how quickly species evolve responses to road effects, Brady and his co-author add, an evolutionary perspective is critical, lest differences in tolerance to those road effects go undetected, "making inference not only less precise but in some cases also qualitatively incorrect." They point out in the paper that, for example, wood frogs' maladaptation to living alongside roads would not be detected by traditional ecological studies, which could then lead to conservationists operating on the belief that roads cause a 20 percent reduction in the species' survival, whereas an evolutionary inquiry has shown that roads can lead to a mortality rate as high as 57 percent.
"We have long known that slicing and dicing our planet with roads presents many challenges for plants and animals but we are only now beginning to appreciate that those same challenges can drive evolutionary change over just a few generations," Brady said. "This forces us to reconsider the nature of road effects and the complexity of ways that life responds to them."
As scientists continue to add to our understanding of the evolutionary dynamics that lead to adaptation and maladaptation in road-adjacent populations, our ability to predict and in turn reduce negative road effects will also increase, Brady and his colleague write. "Indeed, studying the mutual interaction between the road network and evolutionary change promises to provide a more thorough understanding of the complex effects that roads exert on our planet, the way that organisms respond, and the strategies necessary to mitigate road effects on natural systems."
CITATION
Brady, S. P., & Richardson, J. L. (2017). Road ecology: shifting gears toward evolutionary perspectives. Frontiers in Ecology and the Environment, 15(2), 91-98. doi:10.1002/fee.1458