New data from Brazil's National Space Research Institute (INPE) suggests a sharp rise in deforestation over last year.
The data is consistent with reports from Imazon, a Brazilian NGO that independently tracks deforestation.
The rise comes after years of declining forest loss in the Brazilian Amazon.
Confirming what civil society groups have been saying for months, new data from the Brazilian government suggests a steep increase in deforestation over the past 12 months.
The satellite data, released on a web site run by National Space Research Institute (INPE), shows that accumulated deforestation detected by the country's short-term forest monitoring system (DETER) has risen by 69 percent, relative to a year ago.
That increase nearly matches the 63 percent rise reported by Imazon, an NGO that runs an independent forest monitoring platform called "SAD".
However both short-term alert systems aren't meant for measuring long-term changes in Amazon forest cover. Official data that is used for comparing year-to-year deforestation is expected to be released in November or December.
In the meantime however, the data is raising concerns that Brazil's recent success in dramatically curbing deforestation in the Amazon may be slowing or even reversing.
Climbing deforestation has been attributed to several factors, including Brazil's flagging economy, which makes forest conversion for agriculture more attractive; the government's steep cuts in funding for programs to reduce deforestation; a renewed push for large-scale infrastructure projects in the Amazon; and relaxation of the country's Forest Code, which governs how much forest must be preserved on private lands.
Nonetheless, Brazil has done more than any country on Earth to reduce rainforest destruction over the past decade. Emissions from all sectors across the Brazilian economy have fallen by about 40 percent since 2005, spurred by an 85 percent cut in carbon dioxide from deforestation.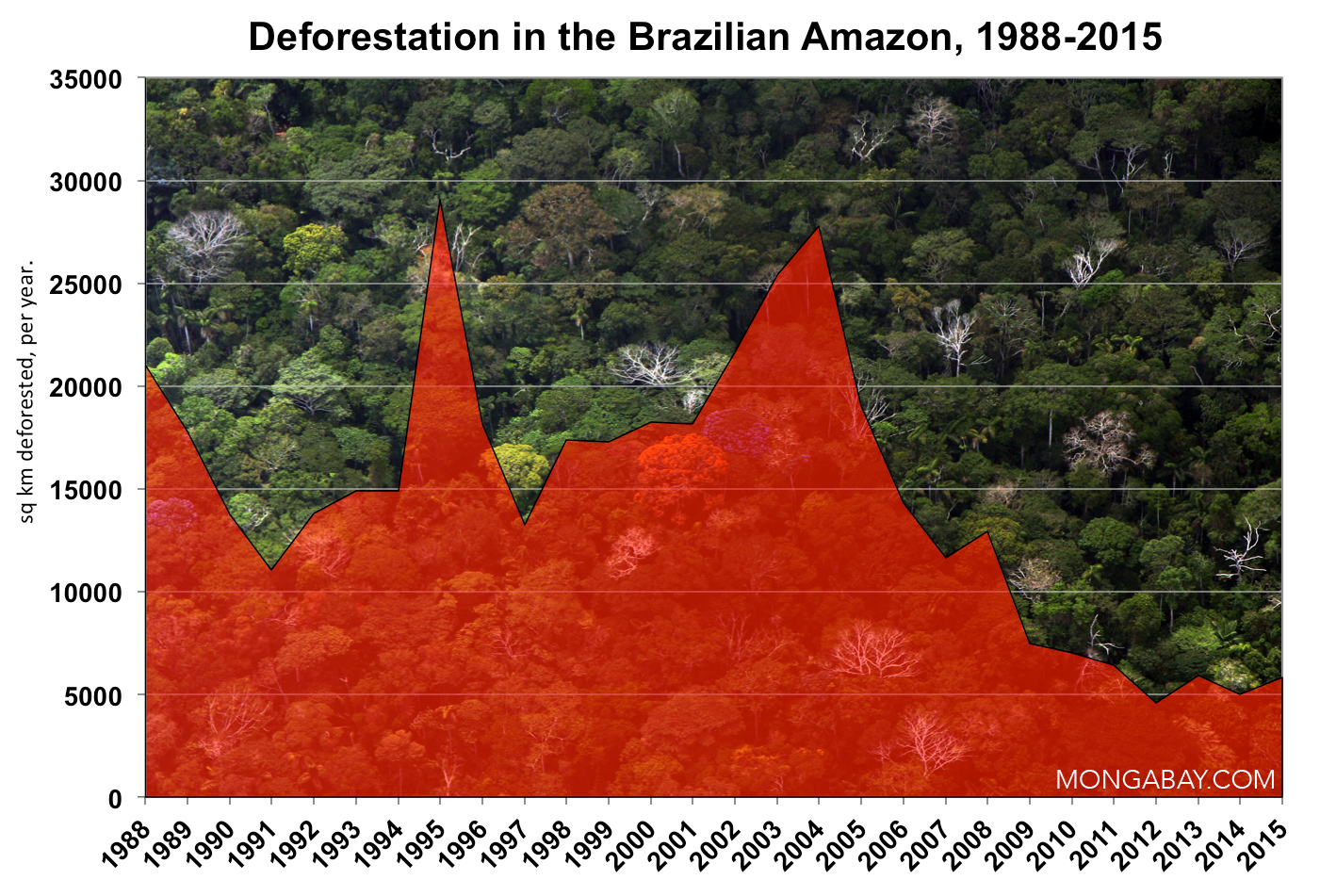 Variance in monthly deforestation