Mongabay.org offers journalists opportunity to report on government muzzling of environmental activists
Mongabay.org recently announced a new Special Reporting Opportunity for journalists to focus on governmental shutdown of environmental groups and NGOs.
As climate change, pollution, and habitat destruction worsen across the globe, environmental groups are responding by ratcheting up the pressure on governments and corporations to act. Groups worldwide are now employing such tactics as social media campaigns, boycotts, protests, and direct non-violent action. Many governments have responded by increasing restrictions on environmental NGOs, including revoking charity status, increasing sentences for protestors, and passing legislation restricting NGO activity. For example, Ecuador has shut down a high-profile indigenous rights group, India's new administration has attempted to cripple Greenpeace, and Peru recently passed a law allowing police exemptions for causing bodily harm or even death, spurred on by the killings of dozens of activists at the hands of police and security forces.
Even wealthy countries once viewed as leaders of environmental protection, such as Australia and Canada, are enacting laws to make environmental protests more difficult. Amid expanding populations and dwindling resources, it's likely the battle between governments and activists will only intensify. Mongabay.org is opening a call for journalists to ask: why and where are governments muzzling environmental activists and groups and how will the environment movement respond?
Journalists are encouraged to apply to report on this story for Mongabay, or reimbursement for up to $3,000 in travel expenses for related reporting for third party outlets, or both. The deadline for submission is Sunday, December 14th and the application process has been simplified from the typical Special Reporting Initiatives application process.
Since its inception in June 2013, Mongabay.org's Special Reporting Initiative program has seen over 15 journalists tackle in-depth reporting on important environmental issues across the globe. The non-profit is excited to extend this opportunity for more writers to report on this topic from multiple angles.
Application Deadline: Sunday, December 14th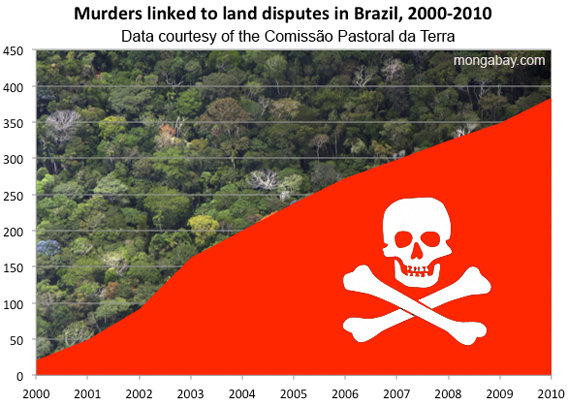 Related articles
Brazilian tribes demarcate territory in bid to block dams
(11/06/2014) Indigenous communities in Brazil have taken the unusual step of demarcating their own land — without the approval of the Brazilian government — in a bid to block two dams they say threaten their territory and traditional livelihoods, report International Rivers and Amazon Watch, advocacy groups that are fighting the projects. Last week the Munduruku people annexed the 178,000-hectare Sawré Muybu territory after authorities failed to recognize their claims.
Bali uprising: Plan to convert protected area into golf courses, mall spurs outrage
(08/16/2014) In a reversal sparking outrage from locals, and concern from environmentalists, the Governor of Bali, Indonesia has given the green light to a controversial development project in Benoa Bay. The plan would convert 700 acres of theoretically protected mangrove and ocean front into a tourist haven of golf courses, hotels, luxury shopping and attractions rumored to include a race track and theme park. The move has sparked a series of protests and demonstrations by local citizens and environmental groups concerned that the development will kill livelihoods and destroy the fragile marine ecosystem.
Photos: Greenpeace stages protest in rainforest destroyed for palm oil
(03/10/2014) On Monday, Greenpeace activists in Indonesia staged a dramatic protest in an area of rainforest freshly cleared for a new oil palm plantation in Central Kalimantan. The demonstration came under the group's campaign to push consumer products giant Proctor & Gamble (P&G) to strengthen its palm oil sourcing policy to include a zero deforestation commitment like those signed recently by Nestle, Neste Oil, and Kellogg's, among others.
Snickers, Twix to be deforestation-free
(03/10/2014) Mars, Inc., the maker of M&M's, Snickers, Twix, and a variety of other food products, has committed to a zero deforestation policy for the palm oil it sources, reports Greenpeace. The policy pledges Mars to only using palm oil produced legally and without conversion of high conservation value areas, peatlands, or high carbon stock areas like tropical rainforests.
The price of gold: winners and losers in Latin America's mining industry
(03/05/2014) On a Friday afternoon in June, the Plaza de Armas in Cajamarca is pulsing with life. It's winter here, and although thick white clouds hover low in the distance, the sun in this northern Peruvian city is warm. Couples sit on benches facing one another. Kids run in the grass between flowerbeds. Men in suits stride along the perimeter. It's an idyllic day. But signs of something more ominous are not far from sight. On the mountainside overlooking the town the words Nova Conga have been carved into the vegetation. It is a constant reminder that beyond the square, hemmed with international hotels and expensive restaurants, there is another reality.