Conservation organizations, government reintroducing wildlife from other countries
The story of Kissama National Park is one of perseverance, vision and disaster in waiting. The only functional national park in Angola, a country wracked by war for decades, Kissama (also called Quiçama) lost much of its wildlife, with that which is left still impacted by poaching and deforestation. However, a project is attempting to bring the park back to life.
Most of the lush forested areas of Kissama National Park occurs in its eastern portion, comprising about 200,000 hectares. Of this forest cover, nearly seven percent disappeared from 2001-2013, according to data from Global Forest Watch.
A 2010 report written by Roland Goetz, Director of the Kissama National Park at Kissama Foundation, raised concern about poaching and illegal harvesting of trees for building material and charcoal production. It underlines the urgent need for mitigation.


Kissama National Park has lost nearly seven percent of its forest cover since 2001. Map courtesy of Global Forest Watch. Click to enlarge.


In the report, Goetz said Quiçama National Park is at a crossroads.
"Continuing as we have been is certain death for the park," he said. "With decisive action to save the park in the next year, the Ministry of Environment can show the international conservation community that Angola in a leader in protecting the biodiversity of the planet."
Illegal development is also a major threat to the park, including a housing development called Cabo Ledo and several roads.
Angola is one of Africa's most biologically diverse countries, boasting a long Atlantic coastline, dense equatorial forests, rivers thick with mangroves, vast desert expanses, rolling savannah grasslands and high-altitude rocky outcrops.
Forests still cover 35 percent of Angola, but clearing along coastal regions is massive and has led to desertification as trees no longer exist to hold moisture in the soil. One of the primary drivers behind Angola's deforestation is the wide use of wood as fuel as 80 percent of Angolans cook food over fire. In addition, timber is often sold and exported illegally.
Bringing wildlife back to Kissama
Forty years ago, Kissama was inhabited by an abundance of animals, including elephants (Loxodonta Africana) and the critically endangered giant sable (Hippotragus niger variani). Because of its plethora of wildlife, Kissama began as a hunting reserve, but was proclaimed a national park in 1975. That same year, the Angolan Civil War began, decimating most of its wildlife.
The war ended in 2002, but left lasting scars. Two-thirds of the country's infrastructure was destroyed during the war, 15 percent of the population was killed, and 4.5 million people fled the country.
Angola used to have six national parks. However, during the civil war, most — including Kissama — were abandoned. Without adequate administration and management, the parks lapsed into degradation.
Kissama National Park was the only park to be reopened after the end of the war, and is now in the midst of restoration. In addition to improving the modest infrastructure of the park, it is also involved in a project called Noah's Ark, in which wildlife is being reintroduced to the park from other areas of Africa.
Operation Noah's Ark is run partnership between the Kissama Foundation and the Angolan government, and seeks to rehabilitate the park by importing elephants and other animals from game reserves in South Africa and Botswana.
Noah's Ark began in earnest in 2000, when 16 elephants were flown in from South Africa to a 10,000-hectare, fenced, "soft release" area in the north of Kissama by collaborative team of conservation organisations and wildlife managers. One year later, more elephants, 12 zebras, 12 ostriches, 14 wildebeests and four giraffes were brought in.
| | |
| --- | --- |
| | Kissama National Park used to be home to the giant sable (Hippotragus niger variani), a critically endangered antelope endemic to a small region of Angola, and a subspecies of the sable (Hippotragus niger) seen here. It was extirpated from Kissama National Park during the Angolan Civil War (1975-2002), and only 200-400 are thought to remain elsewhere. Photo by Hein Waschefort. |
While still a far cry from the estimated 4,000 elephants and 5,000 forest buffalo that used to roam Kissama, the Angolan government and conservation organizations involved in the reintroduction project believe these animals will help to re-build a prospering wildlife community in the park.
Disappearing forests
According to Tatiana Lukoki, an ecologist based at the Agostinho Neto University (Universidade Agostinho Neto), valuable forest is disappearing at an accelerating rate, despite attempts by park management and government to control deforestation and poaching. She said it's hard to imagine a drive along the winding roads of the park without thinking of the disappearance of its iconic canopy.
"This is our country's most accessible and well-stocked wildlife park." Lukoki said. "It has a huge swathe of coastal savannah punctuated by gnarly baobab trees. It is also home to elephants, water buffalo, indigenous palanca antelopes and a precarious population of nesting sea turtles."
The reserve is faced by excessive human pressure on its natural resources.
"Most of the population here lives below the poverty line and depends on the natural resources for their livelihoods," Lukoki explained. "Firewood, charcoal, wood production, uncontrolled bush fires and illegal hunting are all contributing to the loss of biodiversity and degradation."
While charcoal production is known to be causing some of the deforestation in Kissama, other drivers remain unclear. Conservationists highlight the need for more research on the status of the park.
According to the National Biodiversity Strategies and Action Plans (NBSAP) 2007 report, the greatest threat to Kissama National Park and its wildlife continues to be poor institutional capacity. It states that although environmental control over the park has improved over the last decade, there is still a lack of trained field rangers to police it.
The construction of two national roads through the park has resulted in habitat fragmentation and development of shrimp farms, human encroachment, cultivation of palm oil plantations, livestock grazing and charcoal production, have all posed additional threats to the environmental integrity of Kassima National Park.
"What I see is that most nature reserves are becoming isolated or insularised because of a variety of disturbances beyond their boundaries," Lukoki said. "The big question now is how many more trees can we expect to disappear and what is the time period."
She said that as the human populations of nearby areas and cities like Luanda have grown, the park has changed to "a piece of natural habitat that has become isolated in a sea of manmade habitat."
Some environmentalists are proposing more careful management of lands adjacent to the park, as well as more involvement of local communities in its day-to-day management.
According to Goetz, community support is vital to the park in the long term.
"There is need to develop a plan to ensure communities within and near the park benefit from the park's success," he said. "There must be an integrated management system to reconcile biodiversity, tourism, and local community interests."
Related articles
Zebras for the win! Africa's longest land migration discovered
(05/29/2014) With food and water scarce in many parts of Africa, many species migrate long-distances in order to survive. A new study published in the journal, Oryx has found a new record-breaker for the continent's longest tracked terrestrial migration: a huge group of zebras that traveled a total distance of 500 kilometers (300 miles).
Worst drought in 30 years threatens millions in southern Africa with food insecurity
(08/19/2013) Around 2 million people face food insecurity in northern Namibia and southern Angola as the worst regional drought in decades takes its toll, according to the UN. Two years of failed rains have pushed families into desperate conditions in a region already known for its desert-like conditions. In Namibia alone, experts estimate that over 100,000 children under five are at risk for acute malnutrition.
Scientists discover new giant mole rat in Africa (photos)
(04/30/2013) Although the term "giant mole rat" may not immediately inspire love, the mole rats of Africa are a fascinating bunch. They spend practically their entire lives underground building elaborate tunnel systems and feeding on plant stems. This underground lifestyle has led them to evolve small ears, tiny eyes, forward-pointing teeth for digging, and nostrils they can shut at will while digging. Some species are quite social, such as the most famous, the naked mole rat (Heterocephalus glaber), while others live largely solitary lives. If that's not enough, the family of mole rats, dubbed Blesmols, may even help us find a cure for cancer.
Google Earth used to discover unknown forest in Angola, scientists find it full of rare birds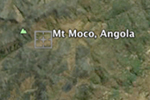 (07/09/2012) An expedition, followed up by some computer hunting on Google Earth, has discovered large remnants of old growth forest, including thriving bird communities, in the mountains of Angola. The Namba Mountains in Angola were expected to contain around 100 hectares of forest, but an on-the-ground survey, coupled with online research, has discovered numerous forest fragments totaling around 590 hectares in the remote mountains, boosting the chances for many rare species.
Indigenous people, forest communities in Africa control less than 2% of forest land
(05/28/2009) Less than 2 percent of Africa's tropical forests are under community control, hindering efforts to slow deforestation and alleviate rural poverty, reports a new assessment from the International Tropical Timber Organization (ITTO) and the Rights and Resources Initiative (RRI), a global coalition of non-governmental and community organizations.