In 1876—the same year that the first telephone call was made—the British scientist Albert Günther described a new species of frog from Sri Lanka, but the species, known as the webless shrub frog (Pseudophilautus hypomelas), was never seen again. Having disappeared into history, scientists considered the species extinct—that is until a 2010 expedition stumbled on 40 mystery frogs.
"During a nocturnal sampling on the 06 April 2010, about 40 frogs resembling Pseudophilautus hypomelas were noticed from the Peak Wilderness Sanctuary," write scientists, led by L.J. Mendis Wickramasinghe, in the Journal of Threatened Taxa.
The researchers first thought they had discovered a new species unknown to science. But when the researchers compared the mystery frogs to museum specimens they made a remarkable discovery: here was Günther's webless shrub frog back from the grave! The small frog is easily characterized by distinct markings on its back.

The rediscovered Pseudophilautus hypomelas. Photo by: L.J. Mendis Wickramasinghe.
Wickramasinghe, with the Herpetological Foundation of Sri Lanka, told mongabay.com that the webless shrub frog likely evaded notice for so long because the researchers found it in a part of the Peak Wilderness Sanctuary that had never been explored by scientists.
However, even though the webless shrub frog is found in a protected area, the scientists say that the species is hugely imperiled and given its small range should be listed as Critically Endangered.
"The habitat is under severe anthropogenic activities such as over exploitation of natural resources for tea cultivation, forest fragmentation, use of agrochemicals, soil erosion, inadequately planned constructions and illegal constructions, mini-hydro power plants, forest die back, and discharge of pollutants to the environment," the scientists write.
The webless shrub frog is not the first long-lost frog to be rediscovered in Sri Lanka. In fact, Wickramasinghe and his team have had amazing success in rediscovering lost amphibians in the super-biodiverse Peak Wilderness Sanctuary. Last year, they announced the rediscovery of the beautiful starry shrub frog (Pseudophilautus stellatus), which had been lost for over 160 years. In 2012, they also announced the rediscovery of the Kandyan dwarf toad (Adenomus kandianus), which like the webless shrub frog, had not been seen since 1876. Both these rediscovered species are thought to be Critically Endangered as well.
But it's not just rediscoveries: last year Wickramasinghe and his team also announced the discovery of eight new frog species, nearly all considered Critically Endangered and all from the Peak Wilderness Sanctuary. Wickramasinghe told mongabay.com that the sanctuary is so biodiverse because "it contains almost all possible different forest types with a varying altitude gradient."
The webless shrub frog is a member of the Pseudophilautus genus, which is only found in Sri Lanka and nearby India, but has a large diversity of 75 known species. The genus has been hit hard by extinctions over the last couple centuries: currently around 19 species in the genus are believed to have been lost for good in Sri Lanka and without rapid conservation efforts many more could follow.

The rediscovered Pseudophilautus hypomelas is easily distinguished by markings on its back. Photo by: L.J. Mendis Wickramasinghe.
Citations:
Wickramasinghe, L.J.M., D.R. Vidanapathirana, M.D.G. Rajeev & N. Wickramasinghe (2013). Rediscovery of Pseudophilautus hypomelas (Günther, 1876) (Amphibia: Anura: Rhacophoridae) from the Peak Wilderness, Sri Lanka, a species thought to be extinct!. Journal of Threatened Taxa 5(17): 5181–5193; http://dx.doi.org/10.11609/JoTT.o3547.5181-93
Related articles
Starry frog rediscovered after thought extinct for 160 years (photos)
(03/07/2013) In 1853 Edward Frederick Kelaart, a physician and naturalist, collected a strange frog on the island of Sri Lanka then a British colony known as Ceylon. The specimen was a large shrub frog (about 2 inches or 5.5 centimeters long) with black-outlined white specks on lime-green skin. He dubbed it "starry" after its pale specks, but that was last anyone heard of it. Even the holotype—the body of the amphibian collected by Kelaart—went missing. Fast forward nearly 160 years—two world wars, Sri Lanka's independence, and a man on the moon—when a recent expedition into Sri Lanka's Peak Wilderness rediscovered a beguiling frog with pinkish specks.
Extinct toad rediscovered after hiding for 133 years in Sri Lanka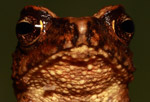 (06/18/2012) A small toad not seen since 1876, and considered by many to be extinct, has been rediscovered in a stream in Sri Lanka. First recorded in 1872, the Kandyan dwarf toad had (Adenomus kandianus) vanished for over a century before being found by scientists during a survey in 2009 in the Peak Wilderness Sanctuary, according to a new paper in Zootaxa.
Two new frogs discovered in Philippines spur calls for more conservation efforts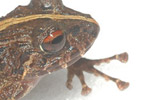 (04/19/2012) Two new frogs have been discovered on the Philippine island of Leyte during a biological survey last year by Fauna and Flora International, which also recorded a wealth of other species. Discovered in November on the island's Nacolod mountain range, the frogs have yet to be named. The Philippines is one of the world's global biodiversity hotspots, yet suffers from widespread deforestation and degradation.
Photos: the aye-aye of frogs rediscovered after 62 years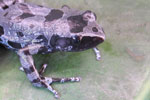 (03/27/2012) A pair of researchers have rediscovered a long-lost frog in the tiny African country of Burundi. Known as the Bururi long-fingered frog (Cardioglossa cyaneospila), the species hadn't been seen for over 60 years—since the Soviet Union tested its first nuclear weapon in 1949—but was rediscovered in Bururi Forest Reserve.