Technology that enables scientists to catalogue a rainforest's biodiversity in stunning detail by airplane was highlighted in a recent TED talk.
Speaking at TED Global in Edinburgh, Scotland this past June, researcher Greg Asner explained the science behind his ground-breaking forest mapping platform: the Carnegie Airborne Observatory (CAO), an airplane packed with advanced chemical and optical sensors. CAO allows Asner and his team to conduct extremely high-resolution "x-rays" of tropical forests, revealing information on their species richness, health, and ecosystem function. The system can also be used detect forest disturbance on an individual tree scale, revealing activities such as selective logging that would otherwise remain hidden from satellites and other conventional methods for monitoring forests.
Asner has used the system to map forests in Panama, Colombia, Peru, South Africa, Madagascar, and the United States.
More on Greg Asner's work
Gold mining in the Amazon rainforest surges 400%
(10/28/2013) The extent of gold mining in the Peruvian Amazon has surged 400 percent since 1999 due to rocketing gold prices, wreaking havoc on forests and devastating local rivers, finds a new study published in the Proceedings of the National Academy of Sciences (PNAS). The assessment, led by Greg Asner of the Carnegie Institution for Science, is based on a combination of satellite imagery, on-the-ground field surveys, and an advanced airplane-based sensor that can accurately measure the rainforest canopy and sub-canopy vegetation at a resolution of 1.1 meters (42 inches).
Researchers produce the most accurate carbon map for an entire country
(07/22/2013) Researchers working in Panama have produced the most accurate carbon map for an entire country. Using satellite imagery and extremely high-resolution Light Detection and Ranging (LiDAR) data from airplane-based sensors, a team led by Greg Asner produced a detailed carbon map across the Central American country's forests. The map reveals variations in forest carbon density resulting from elevation, slope, climate, vegetation type, and canopy coverage.
165,000 sq km of Colombian rainforest mapped in stunning detail using lasers, satellites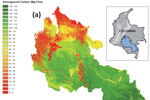 (07/25/2012) Scientists have created high-resolution carbon maps for 165,000 square kilometers (64,000 square miles) of forest across roughly 40 percent of the Colombian Amazon, greatly boosting the ability of the South American nation to measure emissions from deforestation and forest degradation, reports the Carnegie Institution for Science at Stanford University, which led the effort.
Breakthrough technology enables 3D mapping of rainforests, tree by tree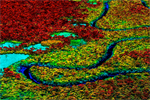 (10/24/2011) High above the Amazon rainforest in Peru, a team of scientists and technicians is conducting an ambitious experiment: a biological survey of a never-before-explored tract of remote and inaccessible cloud forest. They are doing so using an advanced system that enables them to map the three-dimensional physical structure of the forest as well as its chemical and optical properties. The scientists hope to determine not only what species may lie below but also how the ecosystem is responding to last year's drought—the worst ever recorded in the Amazon—as well as help Peru develop a better mechanism for monitoring deforestation and degradation.
New technology enables scientists to map rainforest biodiversity by airplane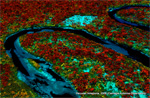 (06/02/2011) A new airplane-based remote-sensing and analysis system will enable scientists to catalog tree species as they create three-dimensional maps of tropical forests. Unveiled today at the Hiller Aviation Museum in San Carlos, California by Greg Asner of the Carnegie Institution's Department of Global Ecology, the newest version of the Carnegie Airborne Observatory (CAO) will offer powerful insights into the composition and biology of tropical forests.