Río Huepetuhe gold mine in Peru in the Peruvian Amazon. Photo by Rhett A. Butler
The extent of gold mining in the Peruvian Amazon has surged 400 percent since 1999 due to rocketing gold prices, wreaking havoc on forests and devastating local rivers, finds a new study published in the Proceedings of the National Academy of Sciences (PNAS).
The assessment, led by Greg Asner of the Carnegie Institution for Science, is based on a combination of satellite imagery, on-the-ground field surveys, and an advanced airplane-based sensor that can accurately measure the rainforest canopy and sub-canopy vegetation at a resolution of 1.1 meters (42 inches). The approach enabled the researchers to detect changes in forest cover in areas as small as 10 square meters, roughly 100 square feet, allowing them to map thousands of small, clandestine mines that had never before been detected at scale.

Gold mining in the Peruvian Amazon. Photo by Rhett A. Butler
The results are sobering: the extent of gold mines in the Madre de Dios region of Peru increased from less than 10,000 hectares in 1999 to more than 50,000 ha as of September 2012. The rate of expansion jumped from 5,350 acres (2,166 ha) per year before 2008 to 15,180 acres (6,145 ha) per year thereafter. Surging gold prices, combined with increased access to the region granted by new roads, are thought to be driving the spike in mining activity.
"Our results reveal far more rainforest damage than previously reported by the government, NGOs, or other researchers," said Asner, noting that small informal mines account for more than half of mining in the region.

TOP: The regional extent and occurrence of small and large mines throughout the southern Madre de Dios region. BOTTOM: New deforestation driven by small and large gold mining operations in the years 2008–2012, following the global financial recession and the rapid increase in gold prices. Courtesy of Asner et al 2013.
The findings are significant because environmental damage from mining extends far beyond forest loss — mining destroys rivers, exacerbates hunting, and sends toxic waste downstream toward villages and towns. Other studies have found high mercury levels in fish and human populations in and around Puerto Maldonado, a major city down-river from several major mining sites. Other research suggests that the effects of mining could last decades: a paper, also published today in PNAS, shows that mercury from the mid-19th century Gold Rush in California continues to contaminate agricultural areas in the state's rich central valley. The long-term ramifications for the Peruvian Amazon, which has some of the highest levels of biodiversity ever recorded, are still largely unknown.
"The gold rush in Madre de Dios, Perú, exceeds the combined effects of all other causes of forest loss in the region, including from logging, ranching and agriculture," said Asner. "This is really important because we're talking about a global biodiversity hotspot. The region's incredible flora and fauna is being lost to gold fever."

LEFT: (A) Confirmed and suspected deforestation caused directly by gold mining in the southern Madre de Dios region from 1999 to 2012. (B) Contribution of the three large mines compared with small mines from 1999 to 2012. Courtesy of Asner et al 2013. RIGHT: Gold mining in the Peruvian Amazon. Photo by Rhett A. Butler
Asner's paper, which is co-authored with researchers from Carnegie and Peru's Ministry of Environment, comes as tensions over illegal gold mining in Peru are rising. In late September several associations of informal gold miners launched a "strike" in Madre de Dios, blocking roads, threatening to attack a water processing plant, and assaulting a small farming town along the Interoceanic Highway. The Ministry of Environment had to deploy security forces to protect its offices in Lima and Puerto Maldonado.
Undeterred, study co-author Ernesto Raez Luna, a senior advisor to Peru's Minister of Environment, says the research will enable to government to take action against illegal mining.
"Obtaining good information on illegal gold mining, to guide sound policy and enforcement decisions, has been particularly difficult so far. Finally, we have very detailed and accurate data that we can turn into government action. We are using this study to warn Peruvians on the terrible impact of illegal mining in one of the most important enclaves of biodiversity in the world, a place that we have vowed, as a nation, to protect for all humanity. Nobody should buy one gram of this jungle gold. The mining must be stopped."

View of gold mining from the ground in Peru. Photo courtesy of Greg Asner
Informal gold mining isn't limited to Madre de Dios or even the Peruvian Amazon. High gold prices have spurred illicit mining in rainforests around the world, including Colombia, Brazil, Venezuela, the Guianas, Central America, Madagascar, Central and West Africa, and Southeast Asia.
Güido Lombardi voiceover detailing the damage caused by gold mining in Madre de Dios in southeastern Peru (Spanish).
Gregory P. Asner, William Llactayo, Raul Tupayachi, and Ernesto Ráez Luna. (2013). Elevated rates of gold mining in the Amazon revealed through high-resolution monitoring. PNAS
Related articles
Video of Amazon gold mining devastation goes viral in Peru
(09/26/2013) Video of illegal gold mining operations that have turned a portion of the Amazon rainforest into a moonscape went viral on Youtube after a popular radio and TV journalist in Peru highlighted the story. Last week Peruvian journalist and politician Guido Lombardi directed his followers to video shot from a wingcam aboard the Carnegie Airborne Observatory (CAO), an airplane used by researchers to conduct advanced monitoring and analysis of Peru's forests. The video quickly received more than 60,000 views on Youtube.
Scientists discover high mercury levels in Amazon residents, gold-mining to blame

(05/28/2013) The Madre de Dios region in Peru is recognized for its lush Amazon rainforests, meandering rivers and rich wildlife. But the region is also known for its artisanal gold mining, which employs the use of a harmful neurotoxin. Mercury is burned to extract the pure gold from metal and ore producing dangerous air-borne vapors that ultimately settle in nearby rivers. 'Mercury in all forms is a potent neurotoxin affecting the brain, central nervous system and major organs,'Luis Fernandez, an ecologist and research associate at the Carnegie Institution's Department of Global Ecology, told mongabay.com. 'At extremely high exposure levels, mercury has been documented to cause paralysis, insanity, coma and death.'
(12/08/2012) The world's largest rainforest is in the midst of a mining boom fueled by high mineral prices, reveals a new assessment of the Amazon's resources.
165,000 sq km of Colombian rainforest mapped in stunning detail using lasers, satellites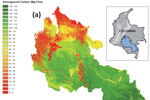 (07/25/2012) Scientists have created high-resolution carbon maps for 165,000 square kilometers (64,000 square miles) of forest across roughly 40 percent of the Colombian Amazon, greatly boosting the ability of the South American nation to measure emissions from deforestation and forest degradation, reports the Carnegie Institution for Science at Stanford University, which led the effort.
Gold mining in the Peruvian Amazon: a view from the ground

(03/15/2012) On the back of a partially functioning motorcycle I fly down miles of winding footpath at high-speed through the dense Amazon rainforest, the driver never able to see more than several feet ahead. Myriads of bizarre creatures lie camouflaged amongst the dense vines and lush foliage; flocks of parrots fly overhead in rainbows of color; a moss-covered three-toed sloth dangles from an overhanging branch; a troop of red howler monkeys rumble continuously in the background; leafcutter ants form miles of crawling highways across the forest floor. Even the hot, wet air feels alive.
High gold price triggers rainforest devastation in Peru

(10/11/2011) As the price of gold inches upward on international markets, a dead zone is spreading across the southern Peruvian rain forest. Tourists flying to Manu or Tambopata, the crown jewels of the country's Amazonian parks, get a jarring view of a muddy, cratered moonscape … and then another … and another in what the country boasts is its capital of biodiversity. While alluvial gold mining in the Amazon is probably older than the Incas, miners using motorized suction equipment, huge floating dredges and backhoes are plowing through the landscape on an unprecedented scale, leaving treeless scars visible from outer space. Sources close to the Peruvian Environment Ministry say the government is considering declaring an environmental emergency in the region, but emergency measures passed two years ago were not enough to contain the destruction, and some observers doubt that a new decree would have any more impact.
Picture of the day: the high price of gold for the Amazon rainforest
(08/11/2011) The surging price of gold is impacting some of the world's most important ecosystems: tropical forests.
Demand for gold pushing deforestation in Peruvian Amazon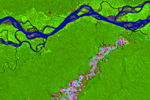 (04/19/2011) Deforestation is on the rise in Peru's Madre de Dios region from illegal, small-scale, and dangerous gold mining. In some areas forest loss has increased up to six times. But the loss of forest is only the beginning; the unregulated mining is likely leaching mercury into the air, soil, and water, contaminating the region and imperiling its people. Using satellite imagery from NASA, researchers were able to follow rising deforestation due to artisanal gold mining in Peru. According the study, published in PLoS ONE, Two large mining sites saw the loss of 7,000 hectares of forest (15,200 acres)—an area larger than Bermuda—between 2003 and 2009.
Breakthrough technology enables 3D mapping of rainforests, tree by tree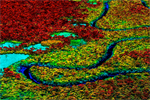 (10/24/2011) High above the Amazon rainforest in Peru, a team of scientists and technicians is conducting an ambitious experiment: a biological survey of a never-before-explored tract of remote and inaccessible cloud forest. They are doing so using an advanced system that enables them to map the three-dimensional physical structure of the forest as well as its chemical and optical properties. The scientists hope to determine not only what species may lie below but also how the ecosystem is responding to last year's drought—the worst ever recorded in the Amazon—as well as help Peru develop a better mechanism for monitoring deforestation and degradation.
High mineral prices drive rainforest destruction
(08/13/2008) The surging price of minerals is contributing to degradation and destruction of rainforests worldwide, warns a researcher writing in the current issue of New Scientist.
Mining in Venezuelan Amazon threatens biodiversity, indigenous people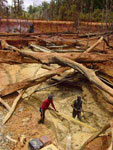 (11/09/2006) Troubles are mounting in one of Earth's most beautiful landscapes. Deep in the Venezuelan Amazon, among ancient forested tabletop mountains known as tepuis, crystalline rivers, and breathtaking waterfalls, illegal gold miners are threatening one of world's largest remaining blocks of wilderness, one that is home to indigenous people and strikingly high levels of biological diversity. As the situation worsens — a series of attacks have counted both miners and indigenous people as victims — a leading scientific organization has called for the Venezuelan government to take action.