New analysis of forest cover in Riau Province reveals the outsized role industrial plantations play in driving deforestation and associated haze.
The analysis, conducted by Eyes on the Forest, a coalition of Sumatran environmental groups, finds that up to 56 percent of deforestation in Riau between 2007 and 2012 can be linked to timber plantations for pulp and paper production. The figure for oil palm plantations may be as high as 31 percent.
Eyes on the Forest also found widespread overlap between cleared areas and 8,055 hotspots detected this month by NASA satellites, including 2,432 hotspots (30 percent) within pulpwood concessions owned by Sinar Mas Group / Asia Pulp & Paper and Royal Golden Eagle / APRIL and 696 (9 percent) in large, well-managed oil palm plantations. 29 percent of hotspots occurred in areas of exposed soil, while 20 percent show up in areas that were natural forest as recently as 2012. 88 percent of all hotspots are in peatland areas, according to the analysis.

Fate of deforested lands in Riau, 2007-2012
Eyes on the Forest notes that 449 hotspots were detected in logging concessions in the Tesso Nilo forest complex, which the group says has "serious encroachment issues" including illegal oil palm plantations. Yesterday Eyes on the Forest released a report documenting sales of palm oil produced illegally within the complex's boundaries to Asian Agri and Wilmar, two of the world's largest palm oil companies.
The new findings are presented as data layers on Eyes on the Forest's interactive Google Earth platform. The maps provide a detailed analysis of forest loss between 1990 and 2012, including the conversion of some 3.9 million hectares of natural forests in Riau. Only 2 million hectares of forest remain in the province.

Screenshot from Eyes on the Forest's mapping platform showing NASA fire data overlaid on peat areas. Drained peatlands are especially vulnerable to fire and generate large amounts of emissions when burned.

Screenshot from the Google Earth plantation layer on Eyes on the Forest's mapping platform.
Haze from the fires has been affecting the region since mid-June. Singapore and Malaysia have closed schools and warned residents to stay indoors due to hazardous levels of air pollution. Last Friday, Singapore's air pollution index hit the highest level ever recorded.
While the fires in Sumatra are the worst since 2006, they have become an annual event since the 1990s when the rate of deforestation in Sumatra accelerated. Overall Sumatra lost 7.5 million hectares of forest — 36 percent of its cover — between 1990 and 2010. Plantation development has been the biggest driver of deforestation over that period.
Primary forest and total forest cover by province in Sumatra: Aceh, North Sumatra, West Sumatra, Riau, Jambi, South Sumatra, Bengkulu, and Lampung.

Related articles
Wind, not big increase in forest fires, driving haze in Singapore
(06/26/2013) Wind patterns, rather than a sharp increase in fires, is to blame for the record setting air pollution affecting Singapore and Malaysia, finds new analysis by the World Resources Institute (WRI).
Palm oil companies linked to haze see share prices drop
(06/24/2013) Three firms linked to fires in Sumatra saw their share prices decline since the haze crisis worsened a week ago.
Greenpeace releases dramatic pictures of haze and fires in Indonesia (photos)
(06/24/2013) Greenpeace has released a series of photos from the front lines of the peat fires that are casting a pall of haze and triggering health warnings across Singapore and Malaysia. The images were taken by Getty photographer Ulet Infansasti in Sumatra, where the fires are burning. Analysis of NASA hotspot data has revealed that the majority of fires are occurring within plantation concessions operated by palm oil and timber companies.
5 RSPO companies linked to haze
(06/24/2013) Five members of the Roundtable and Sustainable Palm Oil (RSPO) will be asked to submit digital maps of their plantations after media reports linked them to fires in Sumatra that are driving the haze across Singapore and Malaysia. The RSPO has given the companies — PT Jatim Jaya Perkasa, Tabung Haji Plantations, Sinar Mas, Kuala Lumpur Kepong, and Sime Darby — 48 hours to submit maps of their plantations in Sumatra and Kalimantan so the eco-certification body can compare them to fire hotspot data from NASA and NOAA.
Indonesia drops water bombs on fires, may resort to cloud-seeding
(06/22/2013) In an effort to control peat fires casting a pall of haze over neighboring Singapore and Malaysia, Indonesia is using airplanes to drop water across hotspots in Riau Province on the island of Sumatra, reports AFP. Officials say they may try cloud-seeding — dumping silver iodide at high altitude — if current fire-fighting efforts fall short.
Singapore air pollution hits worst level on record, government blames palm oil and timber plantations in Sumatra
(06/21/2013) Singapore's Pollutant Standards Index hit the highest level on record Friday as 'haze' driven by fires burning across plantations, peatlands, and forest areas continued to rage across Sumatra. The air pollution gauge touched a record 400 at 11 am local time on Friday, according to the National Environment Agency's website. The level is considered "very unhealthy" with people advised to 'minimize all outdoor exposure' and wear masks when outside.
Singapore chokes on haze from deforestation fires
(06/17/2013) Singapore and Malaysian officials have asked Indonesia to take 'urgent measures' to address forest fires in Sumatra that are sending choking haze northward, reports AFP.
New fire record for Borneo, Sumatra shows dramatic increase in rainforest destruction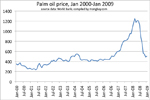 (02/22/2009) Destruction of rainforests and peatlands is making Indonesia more susceptible to devastating forest fires, especially in dry el Niño years, report researchers writing in the journal Nature Geoscience. Constructing a record of fires dating back to 1960 for Sumatra and Kalimantan (on the island of Borneo) using airport visibility records to measure aerosols or "haze" prior to the availability of satellite data, Robert Field of the University of Toronto and colleagues found that the intensity and scale of fires has increased substantially in Indonesia since the early 1990s, coinciding with rapid expansion of oil palm plantations and industrial logging.