Oil extraction in the Amazon rainforest has been linked to severe environmental degradation — including deforestation and pollution — which in some areas has spurred violent social conflict. Yet a vast extent of the Colombian, Peruvian, Ecuadorian, Bolivian, and Brazilian Amazon is currently under concession for oil and gas exploration and production — hundreds of billions of dollars are potentially at stake. It seems clear that much of this hydrocarbon development is going to proceed whether environmentalists and human rights groups like it or not.
A new paper, published in the journal PLoS ONE, argues that some of the most harmful effects of oil and gas drilling can be mitigated through a set of comprehensive guidelines. This framework includes both "engineering-based criteria and key ecological and social factors", according to the authors, who have worked extensively on documenting the extent and impact of energy development in the region.
Less damaging oil and gas development starts at the planning phase, argues the paper, which uses the department of Loreto in northeastern Peru as a case study.

Hydrocarbon concessions in Loreto Department, Peru. Click image to enlarge.



Oil and gas blocks in the western Amazon. Solid yellow indicates blocks already leased out to companies. Hashed yellow indicates proposed blocks or blocks still in the negotiation phase. Protected areas shown are those considered strictly protected by the IUCN (categories I to III). Image modified from Finer at al (2008).
"The vast majority of planned drilling wells, production platforms and pipeline routes overlap sensitive areas such as protected areas, indigenous territories, critical ecosystems and vital watersheds," said Clinton Jenkins, a North Carolina State University biologist and co-author of the study. "Identifying these types of potentially conflictive overlaps early in the planning process is essential to avoiding future conflicts."
"Loreto makes an ideal case study because it is one of the largest and most dynamic hydrocarbon zones in the Amazon. Following the state of emergency, there is an added urgency to develop methods to minimize the impacts of any future development," added study lead author Dr. Matt Finer of the Center for International Environmental Law. "We developed such a method that identifies specific areas where the use of best practice would drastically reduce impacts."
The paper goes on to list several techniques for reducing the impacts of operations. For example, extended reach drilling (ERD) would allow developers to greatly reduce the number of drill holes, access roads, and infrastructure without sacrificing production. A broader ban on new access roads and reduced pipeline right-of-way could cut project-related deforestation by 75 percent.
Surprisingly these measures would not add substantially to the overall cost relative to conventional drilling. In some cases, it could even reduce costs, by cutting the need for infrastructure and reparing environmental damage.
"The engineering section of the guidelines addresses the full range of key project components," said co-author Bill Powers of E-Tech International. "In addition to greatly reducing negative impacts such as deforestation, we found that best practice does not impose substantially greater costs than a conventional project, and may in fact reduce overall costs."
Of course reducing the impact of energy extraction in the Amazon does not eliminate the emissions associated with its use once it is brought to the surface. But that issue is beyond the scope of the paper, which looks specifically at the direct on-the-ground impact.
The paper is timely: a report published late last year reveleaed that over 100 million hectares of the Amazon is currently under concession for oil and gas exploration and extraction. Peru has the largest number of potential oil zones covering 659,937 sq km or 84 percent of the Peruvian Amazon. Colombia (193,414 sq km – 40 percent of the Colombian Amazon), Brazil (127,862 sq km – 21 percent), and Bolivia (73,215 sq km – 15 percent) follow.
| | | | | | | | | | | | | | | |
| --- | --- | --- | --- | --- | --- | --- | --- | --- | --- | --- | --- | --- | --- | --- |
| | | | | Potential | | Bid | | Exploration | | Extraction | | Total | | % country's Amazon land |
| Country | | Blocks | | sq km | | sq km | | sq km | | sq km | | sq km | | |
| Perú | | 92 | | 253,447 | | 133,336 | | 262,385 | | 10,770 | | 659,937 | | 84% |
| Colombia | | 102 | | 170,003 | | | | 21,367 | | 2,044 | | 193,414 | | 40% |
| Brasil | | 55 | | | | | | 126,843 | | 1,019 | | 127,862 | | 3% |
| Bolivia | | 55 | | 53,837 | | | | 17,879 | | 1,500 | | 73,215 | | 15% |
| Ecuador | | 14 | | | | | | | | 24,957 | | 24,957 | | 21% |
| Venezuela | | 9 | | | | 2,892 | | | | 427 | | 3,319 | | 1% |
| total | | 327 | | 477287 | | 136228 | | 428474 | | 40717 | | 1082704 | | |
Rapid scaling-up of the industry has contributed to conflict in the region. In Peru there have been several violent clashes between indigenous groups and interests associated with energy development, including a 2009 incident in Bagua that left 31 dead. Meanwhile in Ecuador, the location of a decades-long law suit against Chevron-subsidiary Texaco over damage from oil drilling, indigenous leaders have threatened war over planned extraction.
CITATION: Finer M, Jenkins CN, Powers B (2013) Potential of Best Practice to Reduce Impacts from Oil and Gas Projects in the Amazon. PLoS ONE 8(5): e63022. doi:10.1371/journal.pone.0063022
Related articles
New map reveals the most biodiverse place on Earth, but already threatened by oil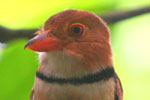 (09/22/2011) A new map highlights the importance of conserving Yasuni National Park as the most biodiverse ecosystem in the Western Hemisphere, and maybe even on Earth. Scientists released the map to coincide with the United National General Assembly in support of a first-of-its-kind initiative to save the park from oil exploration through international donations to offset revenue loss. Known as the Yasuni-ITT Initiative, the plan, if successful, would protect a 200,000 hectare bloc in Yasuni National Park from oil drilling in return for a trust fund of over $3 billion.
Report: 90 oil spills in Peruvian Amazon over 3 years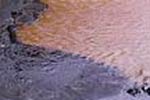 (03/03/2011) A new report has uncovered 90 oil spills by Pluspetrol in northern Peru's Amazon rainforest over the past 3 years. Covering two oil blocs—1-AB and 8—the report, complied by the Federation of Indigenous Communities of the Corrientes River (FECONACO), recorded 18 major oil spills in just the last year. "A week after the landmark ruling against Chevron in Ecuador for $9 billion of
damage from operations in the 1970's and 80's, this new report highlights
the ongoing devastation caused by the oil industry on the fragile Amazon
ecosystem and the people that live there," said Atossa Soltani, Executive
Director at Amazon Watch, in a press release.
Report: indigenous people deserve right to refuse big companies
(02/04/2011) As large-scale mining, logging, and plantations threaten indigenous communities worldwide, a new report from the indigenous rights NGO Amazon Watch states that when extractive industries work in indigenous people's territories, the peoples' rights must be respected. The report argues that all indigenous groups have the right to 'free, prior, and informed consent' of any resource extraction occurring on their lands, and that this international standard should be upheld not only for obvious moral reasons, but for sound business.
Oil, indigenous people, and Ecuador's big idea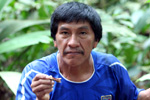 (11/23/2010) Ecuador's big idea—potentially Earth-rattling—goes something like this: the international community pays the small South American nation not to drill for nearly a billion barrels of oil in a massive block of Yasuni National Park. While Ecuador receives hundred of millions in an UN-backed fund, what does the international community receive? Arguably the world's most biodiverse rainforest is saved from oil extraction, two indigenous tribes' requests to be left uncontacted are respected, and some 400 million metric tons of CO2 is not emitted from burning the oil. In other words, the international community is being asked to put money where its mouth is on climate change, indigenous rights, and biodiversity loss. David Romo Vallejo, professor at the University of San Francisco Quito and co-director of Tiputini research station in Yasuni, recently told mongabay.com in an interview that this is "the best proposal so far made to ensure the protection of this incredible site."
More of the Amazon opened to oil development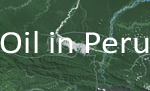 (05/24/2010) Perupetro, the Peruvian government's oil and gas corporate leasing body, announced last week that it will open an additional 25 lots for oil and gas exploration in the Amazon covering an area of 10 million hectares (nearly 25 million acres). Peru's national Amazon indigenous group, AIDESEP, criticized the move calling it a 'new threat' to Peru's indigenous group. According to Amazon Watch these new lots mean that 75 percent of the Peruvian Amazon is now open to oil and gas exploration and drilling.
Under siege: oil and gas concessions cover 41 percent of the Peruvian Amazon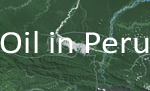 (02/16/2010) A new study in the Environmental Research Letter finds that the Peruvian Amazon is being overrun by the oil and gas industries. According to the study 41 percent of the Peruvian Amazon is currently covered by 52 separate oil and gas concessions, nearly six times as much land as was covered in 2003. "We found that more of the Peruvian Amazon has recently been leased to oil and gas companies than at any other time on record," explained co-author Dr. Matt Finer of the Washington DC-based Save America's Forests in a press release. The concessions even surpass the oil boom in the region during the 1970s and 80s, which resulted in extensive environmental damage.
Amazonian natives say they will defend tribal lands from Hunt Oil with "their lives"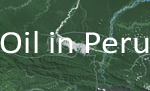 (10/25/2009) Indigenous natives in the Amazon are headed to the town of Salvacion in Peru with a plan to forcibly remove the Texas-based Hunt Oil company from their land as early as today. Peruvian police forces, numbering in the hundreds, are said to be waiting in the town. The crisis has risen over an area known as Lot 76, or the Amarakaeri Communal Reserve. The 400,000 hectare reserve was created in 2002 to protect the flora and fauna of the area, as well as to safeguard watersheds of particular importance to indigenous groups in the region.
Oil road transforms indigenous nomadic hunters into commercial poachers in the Ecuadorian Amazon

(09/13/2009) The documentary Crude opened this weekend in New York, while the film shows the direct impact of the oil industry on indigenous groups a new study proves that the presence of oil companies can have subtler, but still major impacts, on indigenous groups and the ecosystems in which they live. In Ecuador's Yasuni National Park—comprising 982,000 hectares of what the researchers call "one of the most species diverse forests in the world"—the presence of an oil company has disrupted the lives of the Waorani and the Kichwa peoples, and the rich abundance of wildlife living within the forest.
Peru to proceed with oil and gas auctions in the Amazon despite indigenous protests
(08/07/2009) Despite violent protests by indigenous groups over plans to expand oil and gas exploration in the Peru's Amazon rainforest, energy investments in the South American country are expected to increase to $1.5 billion in both 2009 and 2010, reports Reuters.
(06/06/2009) More than 70% of the Peruvian Amazon has been allocated for oil and gas extraction, and the current government of Alan Garcia has been pushing for more. Unfortunately, as usual, these policies are promoted by and only benefit a handful of people, but negatively impact the lives of many. However, Garcia's government did not foresee the potential consequences of their actions.
Oil development could destroy the most biodiverse part of the Amazon
(08/12/2008) 688,000 square kilometers (170 million acres) of the western Amazon is under concession for oil and gas development, according to a new study published in the August 13 edition of the open-access journal PLoS ONE. The results suggest the region, which is considered by scientists to be the most biodiverse on the planet and is home to some of the world's last uncontacted indigenous groups, is at great risk of environmental degradation.