An American company has halted work on a controversial palm oil project in Cameroon due to opposition from local communities and environmentalists, reports Reuters.
Herakles Capital, a U.S.-based investment firm, said it has stopped development of its 73,000-hectare oil palm planation and laid of 690 workers pending a government review of the 2009 deal that granted the land to the firm. The move came weeks after an order from the Forestry Ministry and a day after a joint report from Greenpeace and the Oakland Institute alleged that Herakles failed to obtain the proper permits prior to clearing rainforest for palm nurseries and was selling timber that was supposed to go the Cameroonian government.
Herakles denied the allegations and said it is working with the government to resolve the issue.

Oil palm nursery in a Herakles Farm's concession area. Last year Herakles Farms said it had permission to set up three nurseries covering 100 hectares even before producing a Social and Environmental Impact Assessment (SEIA). Photo: © Greenpeace/Alex Yallop.
The project has proved contentious due to opposition from villagers who say they will lose access to hunting groups and community forest plots. Conservationists have argued that the plantation puts endangered wildlife at risk. Nearly 90 percent of the plantation area is covered by "dense" forest, according to aerial surveys conducted by Greenpeace, which has campaigned against the project since last year.
Herakles maintains that the project will bring money to the cash-strapped region and serve as a "buffer" around protected forest areas. But the company's commitment has been questioned since its decision to not seek eco-certification under the Roundtable on Sustainable Palm Oil (RSPO) for the project. Herakles has also made dubious claims about the environmental benefits of palm oil plantations, including asserting that converting rainforests for oil palm plantations would help mitigate climate change. The company has further been caught making contradictory statements about its project, according to Greenpeace.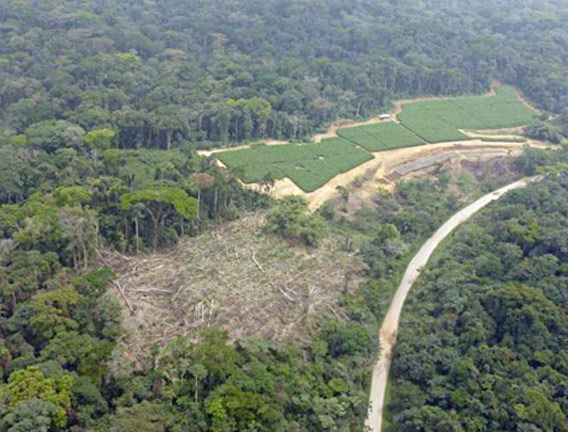 Aerial photographs of Talangaye oil palm nursery in Nguti subdivision of Herakles Farms planned oil palm plantation. Photographs taken in February 2012. Photographer wishes to remain anonymous.
Related articles
Controversial palm oil project concession in Cameroon is 89 percent 'dense natural forest'
(02/21/2013) Satellite mapping and aerial surveys have revealed that a controversial palm oil concession in Cameroon is almost entirely covered by "dense natural forest," according to a new report by Greenpeace. The activist group alleges that the concession, owned by Herakles Farms, is under 89 percent forest cover. The U.S.-based corporation intends to build a 70,000 hectare palm oil plantation in a region surrounded by four protected areas, including Korup National Park, but has faced stiff criticism from numerous environmental groups as well as conflict with locals.
Photos reveal destruction of Cameroon rainforest for palm oil
(11/26/2012) Newly released photos by Greenpeace show the dramatic destruction of tropical forest in Cameroon for an oil palm plantation operated by SG Sustainable Oils Cameroon (SGSOC), a subsidiary of the U.S. company Herakles Farm. The agriculture company is planning to convert 73,000 hectares to palm oil plantations on the edge of several protected areas, but has faced considerable opposition from environmentalists and some local communities. In addition to the aerial photos, Greenpeace alleges that ongoing forest clearing by Herakles is illegal since the companies 99-year lease has yet to be fully approved by the Cameroonian government.
Palm oil, poverty, and conservation collide in Cameroon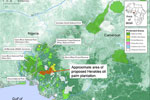 (09/13/2011) Industrial palm oil production is coming to Africa, its ancestral home. And like other places where expansion has occurred rapidly, the crop is spurring hope for economic development while generating controversy over its potential impacts. The world's most productive oil seed has been a boon to southeast Asian economies, but the looming arrival of industrial plantations in Africa is raising fears that some of the same detriments that have plagued leading producers Malaysia and Indonesia—deforestation, greenhouse gas emissions, biodiversity loss, conflicts with local people, social displacement, and poor working conditions—could befall one of the world's most destitute regions. While there is no question that oil palm is a highly lucrative crop that can contribute to economic development, there is also little doubt that conversion of native forests for plantations exacts a heavy toll on the environment. The apparent conflict seems to pit agroindustrial goliaths against greens, with communities falling somewhere in between. But Herakles, a New York-based investment firm planning to construct a 60,000-hectare plantation in the Central African country of Cameroon, says its approach will bridge this gap between economic development and the environment. Social and environmental campaigners are skeptical.