Last Saturday, an oil pipeline carrying tar sands oil from Canada ruptured in Mayflower, Arkansas spilling between 3,500-5,000 barrels of crude (at most 210,000 gallons) into neighborhood streets and lawns. Families from 22 homes have been evacuated while clean-up crews have scrambled to contain the spill. ExxonMobil, which runs the 65-year-old Pegasus pipeline, has stated it will pay for any damage, however critics say the oil spill is more evidence that the Obama Administration should turn down the Keystone XL tar sands pipeline.
The spill—although small compared to the Enbridge tar sands oil spill in Kalamazoo, Michigan in 2010 (which spilled over a million gallons)—has already taken a toll on local wildlife. The Associated Press reports that officials have collected a number of oiled animals from a nearby marsh that was befouled, including 16 birds, nine reptiles, a beaver, and a muskrat. Seven ducks have been found dead.
Unlike regular oil, tar sands oil (made up of bitumen and natural gas liquids) does not float on water but sinks, making clean-up efforts more difficult and costly. To date, the oil spill in Kalamazoo has cost over $700 million and cleaning is still going on.
Environmental groups say that the spill in Mayflower raises more red flags about the proposed Keystone XL pipeline, which would bring 800,000 barrels a day of tar sands oil 1,700 miles from Canada to the Gulf of Mexico for international trade.
"These oil pipelines inevitably spill again and again, fouling our rivers, neighborhoods and wildlife habitat," Jerry Karnas, field director at the Center for Biological Diversity, said in a statement. "Building even more pipelines like Keystone XL across the heart of the American Midwest is only courting more trouble and more terrible spills."
The state of Arkansas has said it will investigate the spill and Attorney General Dustin McDaniel has ordered that ExxonMobil hand over all documents related to the spill by April 10th.
In March, ExxonMobil was fined $1.7 million for an oil spill on the Yellowstone River in 2011.

Tar sands oil spill from the Pegasus pipeline contaminates marsh, killing wildlife. Photo by: Karen E. Seagrave/Greenpeace.

Mayflower neighborhood after oil spill. Photo by: Karen E. Seagrave/Greenpeace.
Related articles
After decades of turning a blind eye, Peru declares state of emergency due to oil contamination in Amazon
(03/26/2013) The Peruvian government has declared an environmental state of emergency after finding elevated levels of lead, barium, and chromium in the Pastaza River in the Amazon jungle, reports the Associated Press. Indigenous peoples in the area have been complaining for decades of widespread contamination from oil drilling, but this is the first time the Peruvian government has acknowledged their concerns. Currently 84 percent of the Peruvian Amazon is covered by potential oil blocs, leading to conflict with indigenous people and environmental degradation.
Over 35,000 march on Washington demanding climate action and rejection of Canada's 'carbon bomb'
(02/18/2013) Yesterday over 35,000 people rallied in Washington D.C. for urgent action on climate change, which, according to organizers, was the largest climate march in U.S. history. Activists called on the Obama Administration to do much more to tackle climate change, including rejecting the Keystone XL Pipeline, which would bring carbon-heavy tar sands oil from Canada through the U.S. to a world market.
Featured Video: the true cost of the tar sands
(03/15/2012) What's the big deal about the tar sands? Canadian photographer Garth Lenz presents the local environmental and social concerns presented by the tar sands in a concise, impassioned speech in a TEDx talk in Victoria, Canada.
Tar sands emit more carbon than previously estimated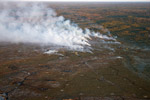 (03/12/2012) Environmentalists have targeted the oil-producing tar sands in Canada in part because its crude comes with heftier carbon emissions than conventional sources. Now, a new study in the Proceedings of the National Academy of Sciences (PNAS) has found an additional source of carbon that has been unaccounted for: peatlands. Mining the oil in the tar sands, dubbed "oil sands" by the industry, will require the wholesale destruction of nearly 30,000 hectares of peatlands, emitting between 11.4 and 47.3 million metric tons of additional carbon.
NGOs call on Obama Administration to suspend Arctic oil drilling after series of blunders
(01/10/2013) A coalition of 17 conservation groups are calling on the Obama Administration to suspend offshore oil and gas drilling in the Arctic after Shell's attempt to drill there has been undermined by a series of mishaps. Shell's long stream of problems was capped this month when the company lost control of its drilling rig which ran aground on Sitkalidak Island in southern Alaska. Officials have now warned that up to 272 gallons of diesel fuel may have spilled from the rig's lifeboats.
Oil drilling approved for national park in Belize
(11/20/2012) The Belizean government has approved an application by US Capital Energy to drill exploratory wells for oil in the Sarstoon Temash National Park in southern Belize. The decision is believed to have been taken on November 1st by the National Environmental Assessment Committee (NEAC) of the Department of Environment, but the exact terms of the settlement have not yet been made public. The oil company, backed by US energy investment group Aspect Holdings, has applied to drill at five points in the Sarstoon Temash National Park and adjacent areas.
BP fined $4.5 billion for Gulf of Mexico oil spill, but company may spend more buying its own stocks
(11/19/2012) Last week the U.S. federal government fined BP $4.5 billion for the Deepwater Horizon disaster in 2010, which killed 11 workers and leaked nearly 5 million barrels of oil into the Gulf of Mexico. The oil giant also plead guilt to 12 felonies and two misdemeanors. However, even this fine—the largest in U.S. history—failed to dampen shareholder support of BP: stocks actually rose one percent following the announcement. Meanwhile, according to the Sunday Times, BP plans to spend $5.9 billion (over a billion more than the fine) buying back its own shares in order to boost stock prices.