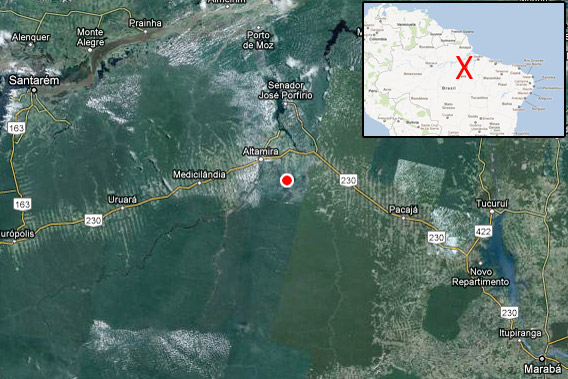 Belo Monte location. Courtesy of Google Earth.
Brazil's Federal Public Ministry rejected a proposed gold mining project adjacent to a controversial dam site in the heart of the Amazon rainforest, reports Amazon Watch, an environmental activist group that is campaigning against both the mine and the dam.
Last week Federal Public Ministry (MPF) wrapped up a five-month investigation into the "Volta Grande Project", a gold mining project proposed by the Belo Sun Mining Corporation, a Canadian mining company. It concluded that Belo Sun has not prepared adequate socio-environmental impact studies and has failed to properly consult with indigenous communities that might be affected by the project. Accordingly, the MPF has petitioned the the Pará state environmental agency SEMA to withhold issuing environmental licenses for the mine.
The MPF's recommendation factored in the potential impacts of the Belo Monte dam, a mega-dam that if completed would divert about 80 percent of the Xingu River's flow into an artificial canal to generate electricity. Controversially, the dam will flood tens of thousands of hectares of rainforest and displace thousands of residents, including indigenous communities highly dependent on fishing.
The MPF said any evaluation of the mine's viability must "be assessed based on whether the fragility imposed by the Belo Monte dam to the Big Bend of the Xingu permits the presence of another large project in the region, especially one that provokes people's displacement, the intensive use of polluting substances, and recognized environmental impacts," according to Amazon Watch, which welcomed the decision.
"We applaud the MPF for taking vigorous steps to uphold Brazilian environmental and human rights legislation, putting the brakes on a project that would heap further tragedy on the communities already faced with the disastrous Belo Monte dam," said Amazon Watch's Christian Poirier in a statement.
The MPF's recommendation was based partly an analysis by the Socio-Environmental Institute (ISA), a Brazilian NGO, which pointed out the social and environmental risks of the project, which would be located directly downstream of the Belo Monte dam and less than 10 kilometers away from an indigenous reserve.
"The population of the Xingu's Big Bend is already living with uncertainties caused by the reduced flow of the river, resulting from the construction of Belo Monte. They should not have to live with the installation of a large mine and with the imminent risk of accidents that further pollute an already weakened environment," said Biviany Rojas, an attorney at ISA, in a statement. "What type of extreme situation is the Brazilian State willing to impose upon the indigenous and riverine people of the Xingu in exchange for energy and gold for private companies?"
News of MPF's ruling pushed down Belo Sun's thinly-traded stock (TSE:BSX). Investors currently value the company at about $370m, down from around $420m at the beginning on the month.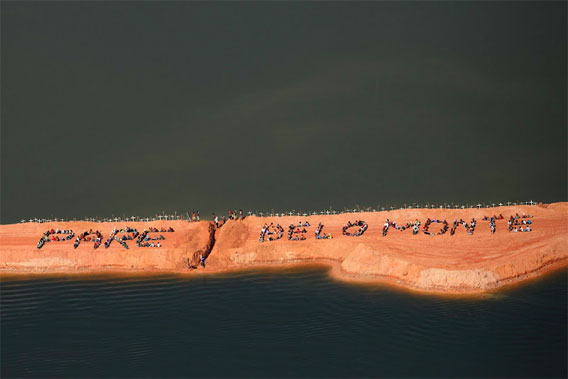 Belo Monte protest. Photo credit: Atossa Soltani/ Amazon Watch / Spectral Q.
Related articles