Scientists come face-to-face with giant squid.

Photo of a giant squid captured in 2004. Photo by: Dr Tsunemi Kubodera, of the National Science Museum in Tokyo, and Kyoichi Mori, of the Ogaswara Whale Watching Association.
Last summer, after 55 dives, three scientists in a submarine off the coast of Japan encountered an animal people have mythologized and feared for thousands of years: the giant squid. According to the researchers with Japan's National Science Museum they managed to capture the first footage ever (see below) of a giant squid in its natural habitat, although photos were also released in 2005 of a giant squid feeding.
"It was shining and so beautiful," Tsunemi Kubodera from Japan's National Science Museum told the AFP of the encounter with the kraken. "I was so thrilled when I saw it first hand, but I was confident we would because we rigorously researched the areas we might find it, based on past data."
Descending over 2,000 feet below sea level, the scientists were able to attract the giant squid—mentioned both in 20,000 Leagues Under the Sea and Moby Dick—with a smaller squid as bait. They first encountered the giant squid at 2,066 feet below sea level and then followed it down to 2,952 feet. Interestingly, the individual caught on film had lost its two longest tentacles, making it far shorter than other specimens.
Giant squid have been referred to by scientists going as far back as Aristotle, but thousands of years later and we still know little about them. To date, scientists have described several species of giant squid, all in the Architeuthis genus. These squid have the largest eyes of any animal on the planet, often compared to a dinner plate. As large as they are, giant squid are actually preyed on by sperm whales, encounters that artists have imaginatively depicted for centuries.
In addition, scientists now know that even the giant squid of lore is actually outclassed by the colossal squid (Mesonychoteuthis hamiltoni) found only in the Southern Ocean.
The full footage of the giant squid won't be released until later this month. In Japan it will air on January 13th on the country's public broadcasting organization NHK, while the Discovery Channel will air the footage on January 27th in the U.S.
Given their elusive-nature and their deep sea habitat, scientists have no idea if these animals are endangered or currently face any human-related threats.

Illustration of a very fictional giant squid attack in 20,000 Leagues Under the Sea.
Related articles
Photos – researchers study largest squid ever captured
(04/29/2008) Marine biologists in New Zealand are thawing the corpse of the largest squid ever caught in order to learn more about one of the ocean's most mysterious creatures.
Giant squid use bioluminescence to hunt prey, communicate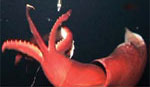 (02/23/2007) The giant squid uses bioluminescence to hunt its prey, according to new deap-sea observations using a high definition underwater video camera system. The findings are published in the online edition of the roceedings of the Royal Society B.
Photos of world's largest squid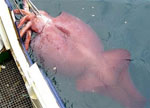 (02/22/2007) Fishermen in New Zealand may have captured the largest Colossal squid ever recorded. It may be the first time a Colossal squid has ever been seen alive. The beast, weighing 450 kilograms (990 pounds), was eating a Patagonian toothfish (Chilean sea bass) hooked by fishermen when it was captured in the deep, frigid waters in the Ross Sea near Antarctica. The squid was reported to be 10 meters (33 feet) in length and took more than two hours to land.
(12/22/2006) Japanese researchers captured a small female giant squid near the Ogasawara islands, 1,000 km (620 miles) south of Tokyo. The squid, which measured 3.5 meters (11 ft 6 in) long and weighed 50 kg (110 lb), was hooked at a depth of 650 meters (2,150 ft). The capture comes a year after researchers produced the first photographs and video of living squid.
First picture of live giant squid
(09/28/2005) For the first time ever, scientists have observed a giant squid in the wild.