Lesser flamingoes in Kenya. One third of the world's lesser flamingoes nest in Tanzania's Lake Natron. Photo by: Steve Garvie.
In a choice between flamingoes and a soda ash plant, a new report shows that local residents near Lake Natron, Tanzania prefer flamingoes. This is good news for conservationists as the area is the most important breeding site in the world for lesser flamingos (Phoenicopterus minor). While the report shows agreement between residents and conservation groups that the project isn't worth its cost or risk, the Tanzanian government is not giving up yet.
Viewed as a threat to nesting flamingoes (between 1.5-2.5 million, amounting to three-quarters of global population), the proposed plant has been actively resisted for years by conservation experts, tourists who travel to the area and spend money locally, and residents that work in the tourism industry.
To assist decision makers, Birdlife International and the Wildlife Conservation Society of Tanzania weighed the potential costs of the plant against the benefits. Such a cost/benefit analysis (CBA) is frequently used to measure, in financial terms, the potential impacts of such a project. Environmental and social costs and benefits were also included in this report.
"Cost benefit analysis is a good method of boosting scientific arguments against damaging developments," Ken Mwathe, of Birdlife International told mongabay.com.
| | |
| --- | --- |
| | Lake Natron as viewed from satellites. Image by: NASA. |
Mwathe and his Tanzanian team examined three possible options for Lake Natron: soda ash mining, business-as-usual, and ecotourism and livelihood promotion. Conducted between September 2011 and May 2012, the team found that mining of soda ash at Lake Natron in Northern Tanzania is not economically viable, projecting a loss on investment between $44 and $492 million over the next 50 years.
"At the present levels of soda ash prices and investment costs the benefits of ecosystem conservation outweigh the benefits of soda ash mining," CBA team economist, Reuben Kadigi, said in a press release. For Kadigi, the report findings were clear: "The soda ash plant would deliver far worse returns for local people."
On the bright side, the report suggests that Tanzania has much to gain by supporting ecotourism and conservation in the Lake Natron area. Results from the CBA show that Tanzania could earn between $1.28 and $1.57 billion in 50 years through investments in tourism, protection of the environment, and promotion of local employment alternatives. Even without such investments residents and the environment would experience greater benefits compared to soda ash mining if the government continued managing and investing in the environment at current levels.
The CBA process attempted to capture all the costs of such a project, not just financial. To that end, researchers conducted an extensive outreach effort to collect the opinions of local residents and stakeholders.
"A good CBA should look not only at goods that have a market value but also those that do not," Mwathe told mongabay.com. "It is great the fact that all stakeholders including local communities and government agencies were involved in the process."
The report illustrated that support among residents for the plant is negligible, with 85 percent of 175 local community respondents strongly opposed to the soda ash plant.
But the government argues that the soda ash of Lake Natron is too economically enticing to ignore. Tanzania's President Jakaya Kikwete set an ambitious goal of nearly doubling Tanzania's industrial sector by 2025. On a tour in 2011, he reminded reporters that Lake Natron's natural soda ash deposit was one of the richest in the world and he portrayed the plant as a path to national prosperity.
"We cannot continue to mourn about our country being poor while our minerals are lying untapped," he said, adding that "at times I wonder whether those who are opposing this move are really patriotic."
The Tanzanian government (represented in the project as The National Development Corporation) continues to see the soda ash project as a way to reduce poverty, provide jobs, become self-sufficient, and increase revenues.
On his 2011 tour to the area, President Kikwete acknowledged that "what matters here is the application of sophisticated technology which is not harmful to flamingo's breeding" and to that end, a representative from The National Development Corporation said in a September public meeting in Dar es Salaam that their intention was to find a way to mine soda ash using safe technology that does not harm flamingoes.
"We are still carrying out research to find out the best mining methods," they said.
Residents and opponents of the project spoke at the meeting as well. Local resident, Sophia Ndakarr, Chair of the Ngare Sero cultural boma, said, "Tourists come to see our beautiful culture and enjoy nature. In the process our lives are better. We cannot say the same of a soda ash plant."
Mr. Deo Gamassa, the CEO of the Wildlife Conservation Society of Tanzania insisted that "the Lake Natron communities are better off without the soda ash plant. Investment should now focus on promoting ecotourism which is now proved to be the economically better option."
The Permanent Secretary in the Ministry of Natural Resources and Tourism, Mrs. Maimuna Tarishi, said the precautionary principle (which favors acting according to an assumption of worst case scenarios) should be applied.
"The value of the pride that we have as a country; the cultural sense and self-worth of the Maasai; the breathtaking sceneries of the Rift Valley and the debt to future generations cannot be monetized and may never be know… Therefore, if we lose Lake Natron, we may never truly know what we will have lost."
For conservationists, any delay in construction is a good thing. The project remains on hold until fail-safe methods of soda ash extraction from Lake Natron can be agreed upon. For Ken Mwathe, the publishing of this report and delay of construction are both victories to celebrate but he remains vigilant for the upcoming battles over the future of Lake Natron; he told mongabay.com, "We are very delighted about the result of the CBA study but we are not complacent."
Related articles
Fight for flamingos: Tanzania to mine in world's most important flamingo breeding ground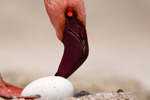 (05/09/2011) It's not easy to find a single word to describe witnessing hundreds of thousands of flamingos filling up a shallow lake in the Great Rift Valley of East Africa. 'Spectacle' comes to mind, but even this is not wholly accurate for the surreal pink crowd. However one describes it, this biological wonder may be under threat as Tanzania plans to mine in a flamingo breeding ground that is not only regionally important, but globally. Astoundingly, over half of the world's lesser flamingos (between 65-75%) are born in a single lake in northern Tanzania: Lake Natron.
From the Serengeti to Lake Natron: is the Tanzanian government aiming to destroy its wildlife and lands?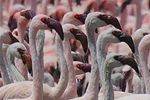 (04/14/2011) What's happening in Tanzania? This is a question making the rounds in conservation and environmental circles. Why is a nation that has so much invested in its wild lands and wild animals willing to pursue projects that appear destined not only to wreak havoc on the East African nation's world-famous wildlife and ecosystems, but to cripple its economically-important tourism industry? The most well known example is the proposed road bisecting Serengeti National Park, which scientists, conservationists, the UN, and foreign governments alike have condemned. But there are other concerns among conservationists, including the fast-tracking of soda ash mining in East Africa's most important breeding ground for millions of lesser flamingo, and the recent announcement to nullify an application for UNESCO Heritage Status for a portion of Tanzania's Eastern Arc Mountains, a threatened forest rich in species found no-where else. According to President Jakaya Kikwete, Tanzania is simply trying to provide for its poorest citizens (such as communities near the Serengeti and the Eastern Arc Mountains) while pursuing western-style industrial development.