Activists protest climate silence in New York City ahead of Hurricane Sandy. Photo courtesy of 350.org.
On Sunday, as Hurricane Sandy roared towards the coast of the Eastern U.S., activists took to the streets in New York City to highlight the issue of climate change. Activists organized by 350.org unfurled a huge parachute in Times Square with the words, "End Climate Silence," a message meant to call attention to the fact that there has been almost zero mention of climate change during the presidential campaign, including not a single reference to the issue in the four presidential debates.
"Meteorologists have called [Hurricane Sandy] 'the biggest storm ever to hit the U.S. mainland,' which is a reminder of how odd our weather has been in this hottest year in American history," 350.org founder Bill McKibben said in a statement. 350.org contends that a "serious discussion" on climate change is missing both from the presidential campaigns and the media.
To date, this has been the hottest year in the U.S. going back to when record keeping started in the 1880s. In addition, July was the hottest month ever in the U.S., even beating records set during the Dust Bowl.
This record heat is a having an impact. Recent studies have found that climate change is likely increasing the chances of especially intense hurricanes, although the jury is still out on whether or not climate change will increase the chances of more hurricanes in general.
Rising sea levels are also increasing the chances of catastrophic storm surges, like those seen during Hurricane Sandy in New York City. According to preliminary reports, lower Manhattan suffered a storm surge of 14 feet. In addition, warmer oceanic waters increase evaporation, meaning storms like Hurricane Sandy pick up more precipitation leading to greater rainfall. Finally warmer weather is also increasing the chances of hurricanes at the very beginning and end of the normal hurricane season.
The waters of the Atlantic Ocean were particularly warm ahead of Hurricane Sandy, around 3 degrees Celsius (5.4 degrees Fahrenheit) above average, allowing the storm to pick up extra water vapor ahead of landfall.
"We hope everyone will pitch in with the Red Cross, and with local relief efforts," MicKibben added. "Community is our greatest source of energy, and our cleanest!"
Worldwide, global temperature have risen by around 0.8 degrees Celsius (1.44 degrees Fahrenheit) over the past century due to anthropogenic climate change. Greenhouse gas emissions worldwide, which trap heat in the atmosphere, continue to rise despite decades of warnings. The last decade was the warmest on record with 2005 and 2010 generally considered tied for the warmest year.
The U.S. has long dragged its feet on climate action, especially compared to other wealthier nations. Although comprehensive climate and energy legislation was passed by the U.S. House of Representatives in 2009, it could not find the needed votes in the U.S. Senate and died quietly in 2010. Since then President Barack Obama has only infrequently mentioned climate change, while many Republicans continue to deny that climate change is occurring or is caused by greenhouse gas emissions. Mitt Romney, for his part, recently stated he didn't know if climate change was caused by greenhouse gas emissions despite scientific consensus. He also turned President Obama's pledge to "begin to slow the rise of the oceans" into punchline during his Republican National Convention speech, while a surrogate for Romney's campaign has stated that the ex-governor does not see regulating greenhouse gas emissions as a legitimate concern of the federal government.

Activists protest climate silence in New York City ahead of Hurricane Sandy. Photo courtesy of 350.org.
Related articles
How climate change may be worsening Hurricane Sandy
(10/29/2012) While scientists are still debating some fundamental questions regarding hurricanes and climate change (such as: will climate change cause more or less hurricanes?), there's no debating that a monster hurricane is now imperiling the U.S. East Coast. A few connections between a warmer world and Hurricane Sandy can certainly be made, however: rising sea levels are likely to worsen storm surges; warmer waters bring more rain to increase flooding; and hotter temperatures may allow the hurricane to push both seasonal and geographic boundaries.
Over 70 percent of Americans: climate change worsening extreme weather
(10/10/2012) According to a new poll, 74 percent of Americans agree that climate change is impacting weather in the U.S., including 73 percent who agreed, strongly or somewhat, that climate change had exacerbated record high temperatures over the summer. The findings mean that a large majority of Americans agree with climatologists who in recent years have found increasingly strong evidence that climate change has both increased and worsened extreme weather events.
Arctic sea ice is 'toast' as old record shattered
(09/19/2012) Some twenty days after breaking the record for the lowest sea ice extent, the Arctic sea ice has hit a new rock bottom and finally begun its seasonal recovery. In the end, the Arctic sea ice extent fell to just 3.4 million square kilometers (1.32 million square miles) when only a few months ago scientists were wondering if it would break the 4 million square kilometers. The speed of the sea ice decline due to climate change has outpaced all the computer models, overrun all expert predictions, and shocked even the gloomiest scientists.
Sea ice falls to record low with over two weeks of melting left
(08/27/2012) One of the most visible impacts of climate change—melting summer sea ice in the Arctic—just hit a new milestone. Scientists with the U.S. National Snow and Ice Data Center (NSIDC) have declared that this year's Arctic sea ice extent dipped below the previous record set in 2007 as of yesterday. The record is even more notable, however, as it occurred more than a fortnight before the Arctic's usual ice melt season ends, meaning the old record will likely not just be supplanted, but shattered.
Extreme heatwaves 50 to 100 times more likely due to climate change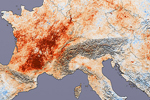 (08/05/2012) A recent rise in deadly, debilitating, and expensive heatwaves was caused by climate change, argues a new statistical analysis published in the Proceedings of the National Academy of Sciences (PNAS). Climatologists found that extreme heatwaves have increased by at least 50 times during the last 30 years. The researchers, including James Hansen of NASA, conclude that climate change is the only explanation for such a statistical jump.
Featured video: climate change bringing on the extremes
(07/24/2012) Focusing on extreme weather events in the U.S. this summer, a new compilation video highlights the connection between climate change and increasing and worsening extremes, such as heatwaves, droughts, and floods.
U.S. drought could set in motion global food crisis
(07/23/2012) The U.S. is suffering drought levels not seen in over 50 years—and drawing comparisons to the Dust Bowl—with 56 percent of the contiguous U.S. in moderate to extreme drought. Some experts fear that the drought, and resulting hikes in food prices, could propel another global food crisis like those seen in 2008 and 2010.
Deja vu: U.S. undergoes hottest 12 months on record…again and again
(07/12/2012) According to new data from the National Oceanic and Atmospheric Administration (NOAA)'s National Climatic Data Center, the last twelve months have been the warmest on record for the contiguous United States. This record, set between July 2011 through June 2012, beat the last consecutive twelve month record set only a month earlier between June 2011 and May 2012, which in turn beat the previous record holder, you guessed it: May 2011 through April 2012.
Climate change increased the probability of Texas drought, African famine, and other extreme weather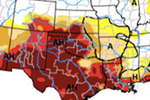 (07/11/2012) Climate change is here and its increasing the chances for crazy weather, according to scientists. A prestigious group of climatologists have released a landmark report that makes the dramatic point that climate change is impacting our weather systems—and in turn our food crops, our economies, and even our lives—here-and-now. The new report in the American Meteorological Society is first of what is intended to be an annual offering that will attempt to tease out the connections between climate change and individual extreme weather events, such as heatwaves, droughts and floods.
"Strong evidence" linking extreme heatwaves, floods, and droughts to climate change
(03/28/2012) As North America recovers from what noted meteorologist Jeff Masters has called "the most incredible spring heatwave in U.S. and Canadian recorded history," a new paper argues that climate change is playing an important role in a world that appears increasingly pummeled by extreme weather. Published in Nature Climate Change, the paper surveys recent studies of climate change and extreme weather and finds "strong evidence" of a link between a warming world and the frequency and intensity of droughts, floods, and heatwaves—such as the one that turned winter into summer in the U.S.