Photo by Rhett A. Butler
Following the July 24 massacre of dozens of elephants in southwestern Chad, President Idriss Deby Itno sent helicopters to the Mayo Lemie – Chari Baguiri area to catch the poachers, according to Stephanie Vergniault, president of SOS Elephants, a wildlife NGO. President Deby also gave orders to check all the country's exit points for both the poachers and smuggled ivory.
Reputedly, President Deby is personally concerned about elephant poaching and was unhappy to learn of last week's incident. The poaching incident occurred while Deby was in Congo (Brazzaville) for the 11th Heads of State Summit of the Central African Economic and Monetary Community (CEMAC).
The President's action followed international reporting on the incident. Mongabay.com broke the story on July 26. Following this, Chad's Minister of Environment and Fisheries Resources, Mr. Mahamat Bashir Okormi, issued a statement on July 27 saying that a group of poachers was operating around the cities of Massenya, Bug-Moro and Guélendeng and asking for "the cooperation of the people to facilitate their arrest."
| | |
| --- | --- |
| | Paramount Chief Oumar Mamadi protecting the elephants with SOS Elephants of Chad team members. Photo courtesy of SOS Elephants (Stephanie Vergniault) |
According to Vergniault of SOS Elephants, the initial effort by government troops was unsuccessful since the poachers were likely camping deep in the bush and were supported by a local well-organized syndicate. She said the local ivory smuggling group uses "cars with tinted glasses with no numbers on their cars to supply the poachers with weapons and food." As a result, the poachers "do not necessarily need to go to the local villages to buy what they need" and are thus difficult to find. While many Chadians may know about the ivory trafficking, Vergniault says "they are so afraid to lose their life that their shut their mouth."
Earlier this week, according to Vergniault, President Deby sent 200 soldiers in two helicopters and 15 pickup trucks to patrol the area. He also sent investigators to search for information around Zakouma National Park, presumably to ascertain if there might be a connection between the poachers operating there, who are said to be from the Janjaweed militia, and those operating into the Mayo Lemie and Chari Baguirmi region.
| | |
| --- | --- |
| | Vergniault overlooks carcass with soldiers for protection. Photo courtesy of Stephanie Vergniault. |
The President's involvement made Vergniault more optimistic that the poachers will be apprehended. "I really believe he will catch some poachers soon," she said.
SOS Elephants is calling for the establishment of a permanent Mobile Brigade for the Protection of Wildlife and a security cordon around the area where the massacre occurred or establishment of a formal protected area in the Chari-Baguirmi-Mayo- Lemié area. SOS Elephants, with its camp in the area, monitors the region. This week it reported that the elephant herds that had been chased by poachers have now "crossed the river [and] are again nearby our camp and apparently they are looking for protection."
UPDATE Editor's note: On August 4, there were unconfirmed reports of more poaching, with several dead elephants found near Baguirmi. Details are still emerging.
Related articles
Elephant numbers halved in Central Africa in 5 years
(06/08/2012) Elephant numbers in areas surveyed by the Wildlife Conservation Society (WCS) in Central Africa halved between 2006 and 2011, hinting at the carnage wrought by the surging commercial ivory trade and demonstrating a need to boost protection efforts, said the Bronx Zoo-based conservation group.
Banning ivory sales to China could save elephants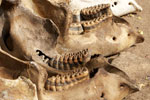 (03/24/2012) Although the international ivory trade has been banned since 1989, last year was the worst ever for elephant poaching, and this year has begun little better as reports come out of Cameroon of hundreds of elephants slaughtered in a single park. What went wrong? According to a new briefing by the Environmental Investigation Agency (IEA), approved legal auctions of ivory by the Convention on International Trade in Endangered Species (CITES) to Japan and, especially, China has fueled, rather than abated as promised, the illegal trade along with mass deaths of elephants across Africa.
Military called in to stop Cameroon elephant slaughter – but may be too late
(03/05/2012) Cameroon's military has been called in to Bouba Ndjida National Park to take on foreign poachers that have slaughtered hundreds of elephants for their ivory, according to the World Wide Fund for Nature (WWF). Reports vary, but between 200-480 elephants have been killed in recent weeks in the park by what is widely assumed to be poachers from Sudan.
Elephant death-toll rises to almost 500 in one park in Cameroon (warning: graphic photo)
(02/29/2012) Wildlife officials have found 458 dead elephants in Cameroon's embattled Bouba Ndjida National Park, reports the AFP. However officials fear the actual number is even higher around 480. Over the last six weeks a well-organized group of poachers has run free in the park, slaughtering elephants for their ivory tusks which will make their way to markets in Asia.
A nation of tragedies: the unseen elephant wars of Chad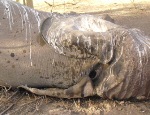 (05/12/2010) Stephanie Vergniault, head of SOS Elephants in Chad, says she has seen more beheaded corpses of elephants in her life than living animals. In the central African nation, against the backdrop of a vast human tragedy—poverty, hunger, violence, and hundreds of thousands of refugees—elephants are quietly vanishing at an astounding rate. One-by-one they fall to well-organized, well-funded, and heavily-armed poaching militias. Soon Stephanie Vergniault believes there may be no elephants left. A lawyer, screenwriter, and conservationist, Vergniault is a true Renaissance-woman. She first came to Chad to work with the government on electoral assistance, but in 2009 after seeing the dire situation of the nation's elephants she created SOS Elephants, an organization determined to save these animals from local extinction.