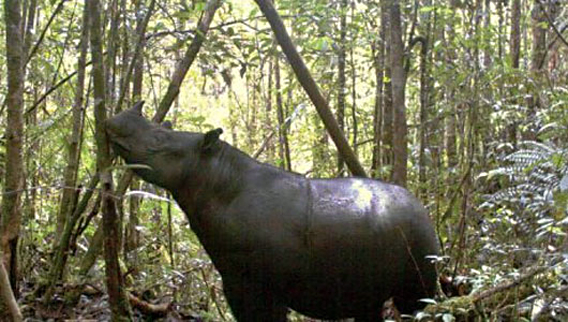 Camera trap photo of Sumatran rhino in the Leuser ecosystem. Photo by: Leuser International Foundation (LIF).
With the help of remote camera traps, wildlife rangers have confirmed that the Sumatran rhino (Dicerorhinus sumatrensis) still inhabits the Leuser ecosystem in northern Sumatra, making the forest the only place on the Earth where Sumatran tigers, orangutans, elephants, and rhinos survive in a single ecosystem, though all remain Critically Endangered.
An ongoing survey by the Leuser International Foundation (LIF), with funding from the U.S. Fish & Wildlife Service (USFWS), has so far revealed that at least seven and up to 25 Sumatran rhinos survive. The camera traps, to date, have photographed one male and six females. Other possible rhino areas in Leuser remain to be surveyed. The population was last surveyed in 1985 when officials estimated a total population of 60-70 animals in Leuser.
The camera traps and surveying also found evidence of illegal logging, poaching, and encroachment in protected areas of Leuser, putting the already-fragile population at risk. Even when rhinos aren't targeted by poachers, they can easily become injured in snares.
While Sumatran rhinos are imperiled worldwide by habitat loss and poaching, the gravest concern, according to some experts, is that the populations are too small and scattered to maintain healthy breeding populations. Given this, scientists are now attempting to breed Sumatran rhinos in large, semi-wild enclosures where they can be carefully monitored. Just such a rhino sanctuary at Way Kambas National Park in Sumatra has recently made good: producing its first offspring in June.
It is thought that less than 200 Sumatran rhinos survive worldwide with scattered populations in parts of Sumatra and a few dozen on the island of Borneo.
Related articles
New Sumatran rhino mama filmed giving birth and nursing
(06/25/2012) On early Saturday morning, scientists were elated when first-time Sumatran rhino mother, Ratu, gave birth to a healthy male calf. The birth was filmed as well footage has been taken of the little tike—with massive eyes—nursing (see videos below). The new calf gives hope to a species on the very brink of extinction.
Historic birth for the Sumatran rhino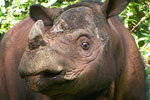 (06/24/2012) After two miscarriages and a pregnancy that lasted 15 months, Ratu, a female Sumatra rhino, has given birth to a healthy male calf, conservationists happily announced this weekend. The birth at a rhino sanctuary in Way Kambas National Park in Sumatra is the culmination of years of hard work, dedication, and the best reproductive rhino science in the world. This is the first captive birth in Indonesia, and only the fourth captive birth for the Sumatran rhino (Dicerorhinus sumatrensis) in the last hundred years. The successful birth brings new hope for one of the world's rarest mammals: less than 200 Sumatra rhinos are thought to survive in the world.
Organizations target rhino horn consumption in China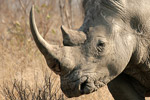 (05/07/2012) Last year nearly 450 rhinos were killed for their horns in South Africa, which has become the epicenter for the global rhino poaching epidemic. Rhinos are dying to feed rising demand for rhino horn in Asia, which is ground up and sold as traditional Chinese medicine, even though scientific studies have shown that rhino horn has no medicinal benefit. Now, two organizations, the African Wildlife Foundation (AWF) and Wildaid have announced a partnership to move beyond anti-poaching efforts and target rhino horn consumption in China.
How a crippled rhino may save a species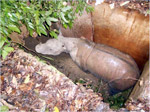 (04/09/2012) On December 18th, 2011, a female Sumatran rhino took a sudden plunge. Falling into a manmade pit trap, the rhino may have feared momentarily that her end had come, but vegetation cushioned her fall and the men that found her were keen on saving her, not killing her. Little did she know that conservationists had monitored her since 2006, and for her trappers this moment had been the culmination of years of planning and hope. A few days later she was being airlifted by helicopter to a new home. Puntung, as she has become called, was about to enter a new chapter in her life, one that hopefully will bring about a happy ending for her species.
A final farewell: the Western Black Rhino goes extinct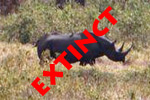 (11/12/2011) The western black rhinoceros (Diceros bicornis longipes) roams the woodlands of Africa no more. The rhino, one of four sub-species of black rhino, was declared extinct this week by the IUCN, five years after the last extensive survey of its habitat in Cameroon. The rhino becomes the second declared extinct this year. All rhinos are threatened by the rhino horn trade.
South Africa hits record poaching of rhinos—again
(11/03/2011) Two months before the end of the year, the number of rhinos killed for their horns in South Africa has surpassed last year's breaking record, reports conservation organizations WWF and TRAFFIC. So far, 341 rhinos have been lost to poaching this year; while last year saw a total record of 333. The news follows last week's announcement that the Vietnamese rhino (Rhinoceros sondaicus annamiticus), a subspecies of the Javan rhino, has gone extinct—the last individual killed by a poachers' bullet. Rhinos are killed for their horns which are used in traditional Chinese medicine, even though numerous studies have shown there is no medicinal benefit to consuming rhino horn.
The last goodbye: Vietnam's rhino goes extinct (PICTURES)
(10/26/2011) In 2009 poachers shot and killed the world's last Vietnamese rhinoceros (Rhinoceros sondaicus annamiticus), a subspecies of the Javan rhino. The Vietnamese rhino was the last rhino species that survived on the southeast Asia mainland.