Researchers are treating tadpoles in Kings Canyon National Park with a bacteria they hope will provide immunity to an infamous fungal disease, reports the San Francisco Gate. The bacteria could be key not only to saving California's mountain yellow-legged frog (Rana muscosa), which is listed as Endangered by the IUCN Red List, but also frog species around the planet, many of which have been decimated by the chytrid fungal disease.
Scientists are pouring the anti-fungal bacterium, known as Janthinobacterium lividum, into high altitude lakes where the mountain yellow-legged frogs and their tadpoles live. Researchers with San Francisco State University have already treated some populations of mountain yellow-legged frogs with the bacterium and will be checking up on these populations while dosing new ones.
| | |
| --- | --- |
| | Mountain yellow-legged frog. Photo by: Chris Brown, USGS. |
The bacterium was first discovered on the the red-backed salamander, and is believed to have provided that amphibian with protection against the chytrid fungus. The disease, also called chytridiomycosis, hinders the flow of sodium and other electrolytes across the frog's skin, resulting in heart failure.
The disease is believed to be responsible for a number of extinctions of amphibians in recent decades. At least 120 amphibians have gone extinct in the last 30 years, while 41 percent of the world's 7,000 known amphibians are considered threatened by the IUCN.
Related articles
New colorful rainforest frog named after Prince Charles (PICTURES)
(07/04/2012) Researchers have discovered a previously unknown species of frog and named it in honor of Price Charles, according to a paper published in the journal Zootaxa.
Vampire and bird frogs: discovering new amphibians in Southeast Asia's threatened forests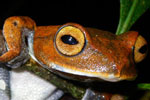 (02/06/2012) In 2009 researchers discovered 19,232 species new to science, most of these were plants and insects, but 148 were amphibians. Even as amphibians face unprecedented challenges—habitat loss, pollution, overharvesting, climate change, and a lethal disease called chytridiomycosis that has pushed a number of species to extinction—new amphibians are still being uncovered at surprising rates. One of the major hotspots for finding new amphibians is the dwindling tropical forests of Southeast Asia.
California city bans bullfrogs to safeguard native species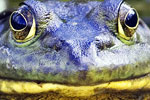 (01/26/2012) Santa Cruz, California has become the first city in the U.S. to ban the importation, sale, release, and possession of the American bullfrog (Rana catesbeiana). Found throughout Eastern and Central U.S., the frogs have become an invasive threat to wildlife in the western U.S. states and Canada.
(01/03/2012) The chytrid fungus, which is responsible for the collapse of numerous amphibian populations as well as the extinction of entire species, has been located for the first time in India, according to a paper in Herpetological Review. Researchers took swabs of frog in the genus Indirana in the Western Ghats and found the killer fungus known as chytridiomycosis.
Effort to save world's rarest frogs recognized with conservation award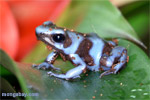 (12/05/2011) An effort to save the world's most endangered amphibians has won mongabay.com's 2011 conservation award. Amphibian Ark — a joint effort of the World Association of Zoos and Aquariums, the IUCN/SSC Conservation Breeding Specialist Group, and the IUCN/SSC Amphibian Specialist Group — is working to evaluate the status of threatened amphibians, raise awareness about the global amphibian extinction crisis, and set up captive breeding programs. The initiative is targeting 500 species that will not survive without captive breeding efforts.