The Indonesian arm of Kentucky Fried Chicken (KFC) has suspended purchases from Asia Pulp & Paper (APP) due to concerns over deforestation, says Greenpeace, which is campaigning to reform the paper giant's forestry practices and fiber sourcing policy.
"Following a first meeting between KFC Indonesia and Greenpeace, KFC Indonesia has issued a statement to address the issues of deforestation in its supply chain and declared its decision to suspend purchases from Asia Pulp & Paper (APP) at this time," Greenpeace campaigner Rolf Skar wrote in a blog post Wednesday. Mongabay.com was unable to independently confirm the suspension with KFC Indonesia by publication time.
The move is significant because Greenpeace is in the midst of a campaign to pressure KFC to drop APP as a supplier after an investigation by the activist group found rainforest fiber in the form of mixed tropical timber — which in the case of APP, comes only from natural forests — in KFC products. Greenpeace says KFC has yet to implement a forest policy for its global operations that would ensure its packaging does not contribute to deforestation in Indonesia.
"Greenpeace welcomes KFC Indonesia's commitment to address the issues of deforestation in its supply chain and the decision to suspend purchases from APP," Greenpeace told mongabay.com. "However, as yet no memorandum of understanding has been reached and Greenpeace has made it clear that our campaign against KFC globally will continue until the company implements global commitments to remove deforestation from its supply chain."
| | |
| --- | --- |
| | Greenpeace activists dressed as tigers, perform street theater in front of a KFC outlet in Quezon City, the Philippines. © Matimtiman / Greenpeace |
"We very much hope that the decisions made by KFC in Indonesia can positively influence the international HQ of KFC to make immediate commitments to remove APP from supply chains and to tackle the deforestation issue. KFC Indonesia must be a leader and set the example for KFC globally to follow, immediately cutting ties with forests destruction."
APP has been hard hit by ongoing complaints from environmental groups, conservation organizations, and scientists over its forest management practices which have been linked to destruction of tropical forests and carbon-dense peatlands on the island of Sumatra. In recent years, dozens of companies have stopped buying from APP, which rivals Asia Pacific Resources International Limited (APRIL) as Indonesia's largest pulp and paper producer.
In an effort to counter criticism, APP has engaged in an aggressive public relations campaign against Greenpeace, WWF, and other NGOs directly and through proxies abroad, but in recent months the paper giant has softened its tone. In May APP announced it would have the capacity to phase out sourcing fiber from conversion of natural forests by 2015. It also committed to conducting high conservation value assessment of all of its plantations by 2015 and introducing a system for measuring carbon emissions from its forestry operations. So far the moves have been met with a tepid response from NGOs, which noted APP failed to meet past targets for phasing out logging of natural forests.
APP's sister company, palm oil producer Golden-Agri Resources (GAR), last year adopted a forest policy that has been generally viewed positively by environmentalists. The policy prohibits conversion of land with more than 35 tons of carbon, a stipulation that excludes development of most forests and peatlands for plantations. APP would be challenged to adopt the policy because its concessions contain large areas of forest and peatland, but continuing pressure from environmentalists and customer defections could eventually force it to implement and maintain stronger safeguards.
Related articles
Another red herring from Asia Pulp & Paper on its deforestation problem
(05/29/2012) In a press release issued last Thursday, Asia Pulp & Paper (APP) asserted that the presence of mixed tropical hardwood fiber (MTH) in its products 'does not come from the felling of virgin tropical rainforest trees in Indonesia'. The embattled paper giant goes on to say that 'the presence of MTH fiber says nothing about whether the product is sustainable or not" and that "MTH can be found easily in recycled paper.' All these points are true. But what APP doesn't tell you is that its response is yet another facade in its effort to deflect criticism from its forestry practices.
KFC linked to destruction of Indonesia's rainforests
(05/23/2012) Fast food giant Kentucky Fried Chicken (KFC) is linked to the destruction of Indonesia's rainforests through its packaging sourcing practices, alleges a new report published today by Greenpeace.
Asia Pulp & Paper to temporarily suspend rainforest clearing in Indonesia
(05/16/2012) Asia Pulp & Paper (APP), a forestry giant that has been heavily criticized for destroying rainforests and peatlands in Indonesia, will temporarily suspend clearing of natural forest areas until conservation assessments have been conducted.
New attack on Greenpeace in Indonesia
(05/01/2012) As fallout from its campaign against Asia Pulp & Paper grows, Greenpeace's critics have opened a new front on the environmental group, accusing it of "embezzlement", reports Mongabay-Indonesia.
Ongoing deforestation puts APP in breach of debt restructuring agreements, finds report
(03/27/2012) Asia Pulp & Paper (APP) has broken "legally binding" debt restructuring agreements by continuing to clear native forests in Sumatra, alleges a new report from Eyes on the Forest, a coalition of Indonesian environmental groups.
Xerox: we no longer buy from Asia Pulp & Paper
(03/21/2012) Xerox no longer buys paper products from Asia Pulp & Paper (APP), a Singapore-based paper giant under fire for its forest management practices in Indonesia, according to a statement published on the company's official blog late last week.
APP affiliates in U.S., Australia, pledge to drop controversial pulp supplier linked to deforestation
(03/17/2012) Two affiliates of Asia Pulp & Paper (APP) have announced they are severing at least some ties with the beleaguered paper giant, according to the Northern Virginia Daily and Greenpeace, an environmental group whose recent undercover investigation found ramin, a protected species, at APP's pulp mill in Sumatra.
Paper giant hammered on forest certification claims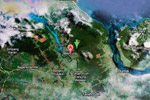 (02/15/2012) Beleaguered paper giant Asia Pulp & Paper was sharply criticized Wednesday for its claims that its operations are certified sustainable by independent auditors. WWF said its survey of certifiers and certification schemes shows that none apply to 'the most controversial operations' of APP's suppliers: clearing of rainforests and peatlands that are home to endangered tigers, elephants, and orangutans. In responding to complaints from environmentalists that its operations are responsible for large-scale destruction of native forests, APP often touts various certification standards which it says demonstrate its commitment to sustainability. Yet the new WWF survey found that these standards don't apply across all of the paper giant's operations — APP's suppliers in Indonesia continue to harvest and convert natural forests. Nor do the certification standards necessarily prove that APP's forest management practices are 'sustainable'.
WWF: Asia Pulp & Paper misleads public about its role in destroying Indonesia's rainforests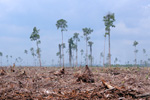 (12/16/2011) Asia Pulp & Paper (APP) continues to mislead the public about its role in destroying rainforests and critical tiger habitat across the Indonesian island of Sumatra, alleges a new report from Eyes on the Forest, a coalition of Indonesian environmental groups including WWF-Indonesia. The report, titled The truth behind APP's Greenwash, is based on analysis of satellite imagery as well as public and private documentation of forest cleared by logging companies that supply APP, which is owned by the Indonesian conglomerate, Sinar Mas Group (SMG). The report concludes APP's fiber suppliers have destroyed 2 million hectares of forest in Sumatra since 1984.
Report questions legitimacy of Asia Pulp & Paper's conservation initiatives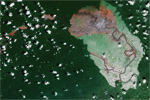 (11/22/2011) A new report by an Indonesian environmental group casts doubt on Asia Pulp & Paper's commitment to sustainability. In its corporate social responsibility reports and advertisements, Asia Pulp & Paper (APP), one of Indonesia's largest pulp and paper suppliers, has touted several forest reserves as indicators of its commitment to environmental stewardship. APP has portrayed these as voluntary, goodwill efforts to conserve Sumatra's endangered wildlife. But in a new report, Greenomics-Indonesia, a Jakarta-based NGO, says that at best these projects represent compliance with existing Indonesian laws or are in areas where commercial exploitation isn't viable.
War of words between Greenpeace, Asia Pulp & Paper over deforestation allegations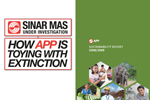 (11/16/2011) Greenpeace and Asia Pulp & Paper (APP), a giant global paper supplier, are locked in a heated battle over the activist group's allegations that APP products contain fiber sourced from the destruction of forests in Indonesia. At stake is APP's access to some of the world's most lucrative markets. Until APP provides solid evidence refuting Greenpeace's accusation that its pulp and paper production isn't coming at the expense of natural forests in Indonesia, APP will have a difficult time winning over critics.