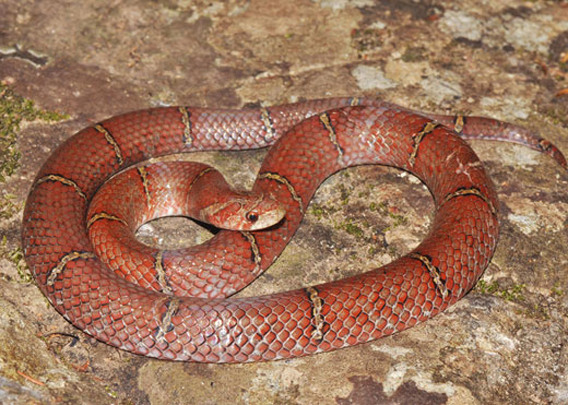 New species: the Cambodian kukri. Photo by: Photo: Neang Thy/FFI.
Scientists have discovered a new snake species in the biodiverse rainforests of the Cardamom Mountains, reports Fauna & Flora International (FFI). The new reddish-hued serpent has been named after its country of origin by native herpetologist Neang Thy: the Cambodian kukri (Oligodon kampucheaensis).
"Cambodian science was smashed under the Pol Pot regime, and only now are we picking up the pieces. It gave me a great sense of pride to both discover and describe this species, and to name it in honor of my country," Thy, a Ministry of Environment officer who also works with FFI, said in a press release. Last year, Thy discovered a new species of legless lizard, also in the Cardamom Mountains.
He adds that, "Most kukri snakes are dull-colored, but this one is dark red with black and white rings, making it a beautiful snake."
Kukri snakes are named after distinctive daggers from Nepal, due to the similarity between the knives' shapes and the kukri snakes' fangs. Harmless to humans, kukri snakes use their fangs to puncture eggs, which they then swallow whole.
Spreading over some 2 million hectares (5 million acres), the Cardamom Mountains include some of the best rainforest remaining in Indo-China as well as startling biodiversity, including some 250 bird species. Rare animals such as Malayan sun bears, Indochinese tigers, pileated gibbons, and Siamese crocodiles inhabit the region (see more below). The largest population of Asian elephants in Cambodia, numbering about a hundred individuals, also roams the forest.
However, the rainforest is imperiled by deforestation, including the ever-present threat of land concessions for monoculture plantations. Recently the Cambodian government has announced it would not be granting any new economic land concessions—which have cut out swathes of forest for plantation even in protected areas—but since then has announced several concessions.
"The Cambodian kukri snake is the second new reptile we have described this year in Cambodia," said Berry Mulligan, FFI's Cambodia Program Country Manager. "This shows how important it is that we fight to conserve this area."
A selection of endangered species found in the Cardamom Mountains according to the IUCN Red List:
Asian elephant (Elephas maximums): Endangered
Banteng (Bos javanicus): Endangered
Burmese python (Python molurus): Near Threatened
Clouded leopard (Neofelis nebulosa): Vulnerable
Dhole (Cuon alpinus): Endangered
Frog-faced softshell turtle (Pelochelys cantorii): Endangered
Gaur (Bos gaurus): Vulnerable
Green peafowl (Pavo muticus): Endangered
Indochinese tiger ( Panthera tigris corbetti): Endangered
Malayan sun bear (Helarctos malayanus): Vulnerable
Pileated gibbon (Hylobates pileatus): Endangered
Siamese crocodile (Crocodylus siamensis): Critically Endangered
Smooth-coated otter (Lutrogale perspicillata): Vulnerable
Southwest Chinese serow (Capricornis sumatraensis): Near Threatened
Related articles
The Cardamom Conundrum: Reconciling Development and Conservation in the Kingdom of Cambodia – Book Review
(07/04/2012) Tim Killeen's new engaging book, The Cardamom Conundrum: Reconciling Development and Conservation in the Kingdom of Cambodia, describes decision-making options that the Government of Cambodia could engage in to develop their nation along a path of sustainability through resolving the sustainable economic development paradox, or "conundrum". Dr. Killeen's analysis demonstrated that this conundrum could be resolved based on a green economy with four pillars.
Flouting moratorium, Cambodia approves four land concessions in protected areas
(06/27/2012) A month-and-a-half after Cambodian Prime Minister, Hun Sen, declared a moratorium on on new economic land concessions, the government has announced four new concessions, each located in protected areas. Economic land concessions have come under the microscope in Cambodia after large-scale protests by local people and the recent murder of forest activist Chut Wutty. Critics say the concessions, which last year totaled two million hectares (4.9 million acres) sold off to foreign corporations, have resulted in local land conflict and environmental degradation.
Cambodia suspends economic land concessions
(05/07/2012) Cambodian Prime Minister Hun Sen announced today that Cambodia would be temporarily suspending new economic land concessions and would revoke any concessions from companies involved in illegal logging, the evictions of locals or land-grabbing. The announcement comes two week after the high-profile death of local forest activist, Chut Wutty, who was shot and killed by military police while investigating illegal logging with two journalists.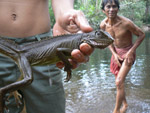 (05/03/2012) Abandoned by NGOs and the World Bank, carved out for rubber plantations and mining by the Cambodian government, spiraling into a chaos of poaching and illegal logging, and full of endangered species and never-explored places, Virachey National Park may be the world's greatest park that has been written off by the international community. But a new book by explorer and PhD student, Greg McCann, hopes to change that. Entitled Called Away by a Mountain Spirit: Journey to the Green Corridor, the book highlights expeditions by McCann into parts of Virachey that have rarely been seen by outsiders and have never been explored scientifically, including rare grasslands that once housed herds of Asian elephants, guar, and Sambar deer, before poachers drove them into hiding, and faraway mountains with rumors of tigers and mainland Javan rhinos.
Assassinated forest activist Chut Wutty: 'I want to see people live with freedom'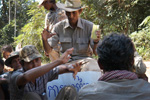 (05/02/2012) Chut Wutty, a dedicated Cambodian activist, was shot dead at an illegal logging site by military police, last Thursday. At the time Wutty was driving with two journalists, who wrote a shocking eye-witness account of his death, revealing that he was physically and verbally abused, then shot whilst trying to drive away, and left to die. His death reveals the brutal power of logging syndicates and companies, which are looting the country's natural wealth, and employing the military to silence their opponents.
Forest activist shot dead in Cambodia allegedly over photos of illegal logging
(04/26/2012) Chut Wutty, a prominent activist against illegal logging and deforestation, has been killed in the Koh Kong province of Cambodia. Wutty was shot dead at a military police checkpoint while traveling with two journalists with The Cambodia Daily. The journalists are currently being held for questioning by the military police.