On early Saturday morning, scientists were elated when first-time Sumatran rhino mother, Ratu, gave birth to a healthy male calf. The birth was filmed with footage also taken of the little tike—with massive eyes—nursing (see videos below). The new calf gives hope to a species on the very brink of extinction.
"We are overjoyed that Ratu delivered a healthy calf, and cautiously optimistic that the calf will continue to thrive," said Dr. Susie Ellis, executive director of the International Rhino Foundation, said in a press release. "The little guy is absolutely adorable and none of us has been able to stop smiling since the moment we were sure he was alive and healthy."
The newborn is the offspring of a wild Sumatran rhino, Ratu, and a male that was born in captivity in the U.S. The new baby is only the fourth Sumatran rhino born in captivity in the past century, and the first one to be born in Indonesia.
"We have been waiting for this moment since the sanctuary was built in 1998. The International Rhino Foundation is honored to play an important role in protecting rhinos. We are hopeful the Sumatran rhino population will thrive once again," Ellis adds.
The new baby has been named, Andatu, which combines his father's name Andalas and his mother's name Ratu. The name also refers to "Anugerah Dari Tuhan," which in Indonesian Bahasa means 'A Gift from God.'
"[Ratu] gave birth after two hours of second-stage labor and several days of restlessness. The calf stood in about an hour and began nursing almost immediately," head veterinarian Dr. Dedi Candra said. "Ratu is a very good mother."
Sumatran rhinos are listed as Critically Endangered by the IUCN Red List. Scientists believe less than 200 may survive. Decimated by habitat loss and poaching, the remaining survivors are now most threatened by their low population and fertility problems.
For more on the birth of Andatu: Historic birth for the Sumatran rhino
Related articles
Historic birth for the Sumatran rhino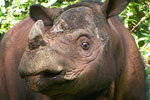 (06/24/2012) After two miscarriages and a pregnancy that lasted 15 months, Ratu, a female Sumatra rhino, has given birth to a healthy male calf, conservationists happily announced this weekend. The birth at a rhino sanctuary in Way Kambas National Park in Sumatra is the culmination of years of hard work, dedication, and the best reproductive rhino science in the world. This is the first captive birth in Indonesia, and only the fourth captive birth for the Sumatran rhino (Dicerorhinus sumatrensis) in the last hundred years. The successful birth brings new hope for one of the world's rarest mammals: less than 200 Sumatra rhinos are thought to survive in the world.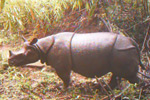 (06/04/2012) Trekking through deep mud and sawgrass we find a stinking wallow. The elite rangers, dressed completely in black despite the tropical heat, mark the site with the GPS unit, measure the mucky puddle's depth, and move on. This is the first sign of one of the planet's rarest animals—the Javan rhino. Only 35 or so remain, including none in captivity. This patch of rainforest and swamp in Ujung Kulon National Park—on the very tip of West Java—is their last and only refuge.
Organizations target rhino horn consumption in China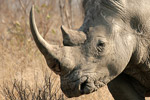 (05/07/2012) Last year nearly 450 rhinos were killed for their horns in South Africa, which has become the epicenter for the global rhino poaching epidemic. Rhinos are dying to feed rising demand for rhino horn in Asia, which is ground up and sold as traditional Chinese medicine, even though scientific studies have shown that rhino horn has no medicinal benefit. Now, two organizations, the African Wildlife Foundation (AWF) and Wildaid have announced a partnership to move beyond anti-poaching efforts and target rhino horn consumption in China.
New video documents nearly all the world's remaining Javan rhinos
(05/01/2012) Nearly all the world's remaining Javan rhino have been documented on video via camera traps in Indonesia's Ujung Kulon National Park, according to a montage put together by park authorities.
How a crippled rhino may save a species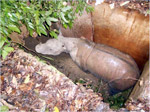 (04/09/2012) On December 18th, 2011, a female Sumatran rhino took a sudden plunge. Falling into a manmade pit trap, the rhino may have feared momentarily that her end had come, but vegetation cushioned her fall and the men that found her were keen on saving her, not killing her. Little did she know that conservationists had monitored her since 2006, and for her trappers this moment had been the culmination of years of planning and hope. A few days later she was being airlifted by helicopter to a new home. Puntung, as she has become called, was about to enter a new chapter in her life, one that hopefully will bring about a happy ending for her species.
Sumatran rhino pregnant: conservationists hope third time's the charm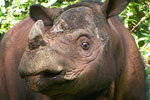 (02/07/2012) Ratu, a female Sumatra rhino (Dicerorhinus sumatrensis), is in the eleventh month of her third pregnancy raising hopes for a successful birth of one of the world's most imperiled big mammals. Ratu suffered two prior miscarriages, but researchers believe the current pregnancy—which still has four to five months to go (for a total term of around 15-16 months)—could produce what Indonesian officials have long hoped for: a bundle of joy at the Sumatran Rhino Sanctuary in Sumatra. With only around 200 Sumatran rhinos surviving today in Indonesia and Bornean Malaysia, many conservationists see such breeding efforts as the last and best chance to save the Critically Endangered species from extinction.