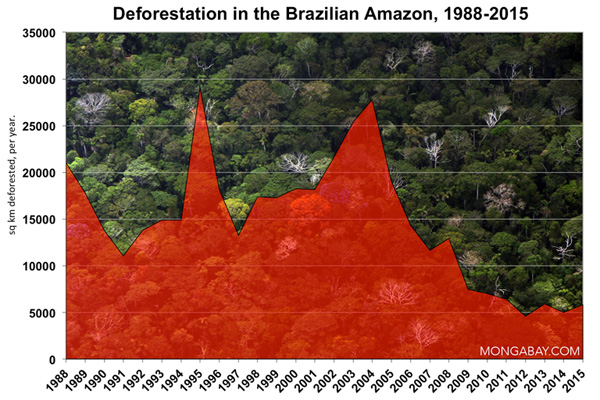 Brazil's National Institute for Space Research (INPE) on Tuesday finalized its 2011 estimate for deforestation in the Amazon region.
After analyzing 213 satellite images, the agency said 6,418 square kilometers of Amazon forest were cleared entirely between August 1, 2010 and July 31, 2011. While the number is 3 percent higher than the estimate released last December, it nonetheless marks the lowest extent of forest clearing since annual record keeping began in the late 1980s.
Deforestation in the Brazilian Amazon has fallen by 75 percent since last peaking in 2004. The trend appears to be continuing into 2012. Last month Imazon, an NGO, reported a further decline in deforestation this year based on preliminary data. It also noted a fall in forest degradation.
The Brazilian government did not release data on forest degradation caused by selective logging during the 2010-2011 period.
Related articles