Logs in Gabon. Photo by: Rhett A. Butler.
It's tempting to think of illegal logging as an environmental crisis but it takes a serious human toll too. Just ask the wife and children of Chut Wutty, an environmental activist who was murdered last week for investigating rampant illegal logging in Cambodia.
Wutty was far from alone. Criminal gangs increasingly control illegal logging, and don't hesitate to kill those who dare to oppose them.
In the Peruvian Amazon, a community leader alerted police to a truckload of illegal logs. Within an hour he was dead from six gunshots. The American nun Dorothy Stang, who fought to protect local communities in the Amazon from illegal loggers and land grabbers, was executed by hired killers. The legendary Brazilian conservationist Chico Mendes was also killed in cold blood.
These are but a few of the fallen. As documented in a 2012 report by the World Bank, Justice for the Forests, illegal logging is now a massive criminal enterprise, rivaling the illegal drug trade and robbing developing nations of up to $US15 billion in revenues annually.

Illegal logging in Indonesian Borneo. Photo by: Rhett A. Butler.
Of the 15 top timber-producing nations in the tropics, two-thirds lose over half of their timber to illegal loggers. In Indonesia, 70-80 per cent of the timber harvest is illegal, according to Interpol and the World Bank.
It's time to get tough with the timber thieves. The World Bank is urging authorities to follow the trail of money – tracking down illegal timber barons with the same strategies used to catch drug kingpins and human traffickers. The bank also wants law enforcers to use electronic surveillance, undercover operations and witness protection. It's the only way, the report concludes, to combat international criminal syndicates and go after the big fish.
And it's about time. The World Bank estimates that illegal logging promotes the destruction of tropical forest at a rate of 30 football fields a minute.
This is an enormous threat to biodiversity and local and indigenous cultures. And it causes billions of tons of greenhouse gases to be spewed into the atmosphere each year. According to the bank, if all the environmental and social costs are tallied along with the economic losses, the actual cost of illegal logging is around $US60 billion per year – a whopping figure. It's a problem that affects us all. As awareness of the crisis grows, industrial nations – which ultimately consume much of the world's illicit timber as products such as flooring, furniture and plywood – are taking measures to combat illegal timber imports.
These measures include the European Union's Timber Action Plan and new provisions to the Lacey Act in the United States, which are putting teeth into measures designed to fight illegal imports. Under the US law the worst offenders can face up to five years in jail. In Australia, lawmakers have been debating a similar law for several years.
In February I briefed senators on the Illegal Logging Prohibition Bill 2011, which would help staunch the flood of illegal timber and wood products coming from places like Indonesia, Papua New Guinea and China.
Unfortunately, the Liberal-National Coalition, which originally supported the bill because it would help level the playing field for domestic timber producers, has done an about-face and is now opposing the bill.

Logging truck in Malaysia. Photo by: Rhett A. Butler.

Insidiously, the conservatives have diverted the bill to a Joint Parliamentary Committee, even though there have already been two parliamentary Inquiries in the past year on this exact policy. As a result, the bill is stalled and might be derailed.
This is bad news for anyone who cares about the environment and legal commerce. In addition to the Coalition and its misguided policies, blame former Australian trade ambassador Alan Oxley, who has lobbied hard against the bill. Oxley is now a well-heeled lobbyist funded by some of the world's biggest timber and oil palm corporations, mostly from Asia. Last year I debated Oxley at the Australian National University, in a forum on trade and forest conservation in the Asia-Pacific. It was not a friendly encounter. Then, as now, Oxley argued that an illegal logging bill would be "anti-free-trade" and "green protectionism".
Now Julie Bishop, deputy leader of the Coalition, says we shouldn't risk upsetting Indonesia, one of the biggest sources of illegal timber imports into Australia. But these arguments are bunk. Indonesian President Yudhoyono is trying desperately to fight illegal logging, which is robbing his country of billions of dollars annually. And the bill before Parliament won't harm legitimate traders and timber producers – just those profiting from illegal logging.
If the illegal logging bill falters, the Coalition will have a lot to answer for – because Australia should be part of the solution to illegal logging, not part of the problem.
Dithering while the forests fall empowers the criminals who are plundering, bribing and even killing to enrich themselves with the profits from illegal logging. The Coalition needs to get out of the way so Australia can help fight this scourge.
EDITOR'S NOTE: This op-ed originally appeared May 11, 2012 in the Canberra Times as As we dither, forests fall and criminals plunder and kill. It has been posted here with the permission of the author and the Canberra Times.
Related articles
Forest activist shot dead in Cambodia allegedly over photos of illegal logging
(04/26/2012) Chut Wutty, a prominent activist against illegal logging and deforestation, has been killed in the Koh Kong province of Cambodia. Wutty was shot dead at a military police checkpoint while traveling with two journalists with The Cambodia Daily. The journalists are currently being held for questioning by the military police.
Fight illegal logging by going after criminal masterminds
(03/22/2012) Illegal logging has never been a high priority for criminal investigators, but a new report by the World Bank says it should be. Worldwide, the illegal logging epidemic is decimating natural resources, imperiling biodiversity, emitting carbon, and undercutting the livelihoods of local and indigenous people. But the lucrative funds from these ill-gotten gains is just as problematic: top organized criminals rake in $10-15 billion annually from illegal logging and largely use the funds to drive corruption.
Tropical ecologist: Australia must follow U.S. and EU in banning illegally logged wood
(02/09/2012) Australia should join the widening effort to stamp out illegal logging, according to testimony given this week by tropical ecologist William Laurance with James Cook University. Presenting before the Australian Senate's rural affairs committee, Laurance argued that the massive environmental and economic costs of illegal logging worldwide should press Australia to tighten regulations against importing illegally logged timber at home.
Pro-deforestation group calls for weakening of U.S. law against illegal logging
(04/14/2011) A group that lobbies on behalf of forestry conglomerates in Indonesia and Malaysia is calling on the U.S. to roll back legislation intended to fight illegal logging. World Growth International, a Washington D.C.-based group that portrays itself as a humanitarian organization, yet consistently pushes policies that favor industrial forestry interests over those of rural communities, has submitted formal comments to the United States Department of Agriculture, Animal and Plant Health Inspection Service's (APHIS) review of the implementation of the revised Lacey Act provisions that prohibit trade in illegally logged wood products, including timber and paper.
Debate over rainforest conservation gets heated
(05/18/2011) A debate over the need to conserve forests versus converting them for industrial use grew heated last week at Australian National University (ANU). A forum brought together policy experts, scientists, and a forestry lobbyist to discuss Australia's role in overseas forestry. But an exchange between William F. Laurance, an ecologist at James Cook University, and Alan Oxley, a former former Australian trade ambassador who lobbies on behalf of forestry interests, became the focus of the event.
Assassinations of environmentalists continue in Brazil's Amazon, deforestation rises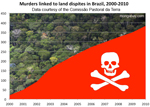 (05/28/2011) A community leader in the Brazilian Amazon was slain Friday just three days after two environmentalists were killed in a neighboring state, reports Reuters. Adelino "Dinho" Ramos, the president of the Movimento Camponeses Corumbiara e da Associação dos Camponeses do Amazonas, a small farmers association, was gunned down front of his family Friday morning in Rondônia. Brazil's Special Secretariat for Human Rights, an office of the president, said it was unclear who killed Ramos, who had received death threats from loggers.
Killing in the name of deforestation: Amazon activist and wife assassinated
(05/24/2011) José Cláudio Ribeiro da Silva and his wife, Maria do Espírito Santo da Silva, were gunned down last night in an ambush near their home in the Brazilian state of Pará. Da Silva was known as a community leader and an outspoken critic of deforestation in the region. Police believe the da Silvas were killed by hired assassins because both victims had an ear cut off, which is a common token for hired gunmen to prove their victims had been slain, according to local police investigator, Marcos Augusto Cruz, who spoke to Al Jazeera. Suspicion immediately fell on illegal loggers linked to the charcoal trade that supplies pig iron smelters in the region.
Is Indonesia losing its most valuable assets?
(05/16/2011) Deep in the rainforests of Malaysian Borneo in the late 1980s, researchers made an incredible discovery: the bark of a species of peat swamp tree yielded an extract with potent anti-HIV activity. An anti-HIV drug made from the compound is now nearing clinical trials. It could be worth hundreds of millions of dollars a year and help improve the lives of millions of people. This story is significant for Indonesia because its forests house a similar species. In fact, Indonesia's forests probably contain many other potentially valuable species, although our understanding of these is poor. Given Indonesia's biological richness — Indonesia has the highest number of plant and animal species of any country on the planet — shouldn't policymakers and businesses be giving priority to protecting and understanding rainforests, peatlands, mountains, coral reefs, and mangrove ecosystems, rather than destroying them for commodities?
Indonesian climate official: palm oil lobbyist is misleading the public
(12/29/2010) Alan Oxley, a lobbyist for industrial forestry companies in the palm oil and pulp and paper sectors, is deliberately misleading the public on deforestation and associated greenhouse gas emissions, said a top Indonesian climate official.
Nobel Prize winner, anti-poverty group, scientists fire back at logging lobbyist
(11/01/2010) An industrial lobbyist is facing mounting criticism for his campaign to reduce social and environmental safeguards in Indonesia.
Scientists blast greenwashing by front groups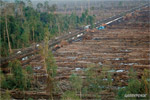 (10/27/2010) A group of prominent scientists has published an open letter challenging the objectivity of World Growth International, an NGO that claims to operate on behalf of the world's poor, and its leader Alan Oxley, a former trade diplomat who also chairs ITS Global, a marketing firm. The letter, published online in several forums, slams World Growth and ITS Global as a front groups for forestry companies. The scientists note that while the groups have not disclosed their sources of funding, they assert ITS receives funding from Sinar Mas, an Indonesian conglomerate that controls Asia Pulp & Paper (APP), a forest products brand, and Sinar Mas Agro Resources & Technology, a palm oil firm, among other companies.
Misleading claims from a palm oil lobbyist
(10/23/2010) In an editorial published October 9th in the New Straits Times ("Why does World Bank hate palm oil?"), Alan Oxley, a former Australian diplomat who now serves as a lobbyist for logging and plantation companies, makes erroneous claims in his case against the World Bank and the International Finance Corp (IFC) for establishing stronger social and environmental criteria for lending to palm oil companies. It is important to put Mr. Oxley's editorial in the context of his broader efforts to reduce protections for rural communities and the environment.
Peru fails to investigate murder of Amazon environmental leader
(04/22/2008) Peruvian authorities failed to respond to requests for protection from Julio Garcia Agapito, the environmental leader who was gunned down in southeastern Peru in late February, according to a new petition which calls for an investigation into his murder. Julio Garcia's killing at the hands of an illegal logger set off international outcry and highlighted rising tensions over the paving of a highway in the Amazon rainforest.
Rainforest chief killed in Borneo for his opposition to logging
(01/03/2008) Keleasu Naan, a Penan chieftain and longtime activist against logging, disappeared in October while checking animal traps. His tribes' worst fears were confirmed when they found what they believed to be Naan's remains last month. According to the Associated Press, the chieftain's nephew, Michael Ipa, has stated that the body had several broken bones, leading Ipa to believe that "he has been killed by people involved in logging".