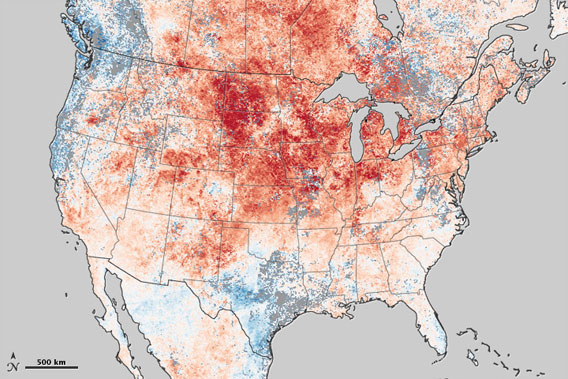 NASA map shows temperature anomalies from March 13-19, 2012 as compared to the same eight day period during the past 12 years. The map is based on data captured by the Moderate Resolution Imaging Spectroradiometer (MODIS) instrument on the Terra satellite. Click to enlarge.
Americans would not be remiss in asking, "is it getting hot in here?" According to new data from the National Oceanic and Atmospheric Administration (NOAA)'s National Climatic Data Center, the last twelve months (from May 2011 through April 2012) were the warmest on record for the lower 48 U.S. states since record keeping began in the late 19th Century.
During the last 12 months, which included the warmest March ever, temperatures ran an average of 13.16 Celsius (55.7 degrees Fahrenheit), which is 1.5 degrees Celsius (2.8 degrees Fahrenheit) warmer than the 20th Century average during the same time period. This April in the lower 48 states was the third warmest on record.
The previous warmest 12 months in the contiguous U.S. occurred from November 1999 to October 2000.
Since the U.S. comprises only around two percent of the world's land surface, it should not be seen as a proxy for global trends. Instead global changes are undoubtedly impacting both U.S. weather and climate. Climate change due to rising greenhouse gas emissions has warmed the entire planet 0.8 degrees Celsius (1.44 degrees Fahrenheit) since the early Twentieth Century. Worldwide, the last decade was the hottest on record with 2005 and 2010 generally considered tied for the warmest year.
The International Energy Agency (IEA) has warned governments worldwide that without rapid action to cut greenhouse gas emissions the world would warm 6 degrees Celsius (10.8 degrees Fahrenheit).
"With the current policies in place, the world is perfectly on track to six degrees Celsius increasing the temperature, which is very bad news. And everybody, even school children, know this will have catastrophic implications for all of us," the chief economist with the International Energy Agency, Faith Birol, recently said.
Related articles
Mexico passes aggressive climate bill
(04/23/2012) Last week, Mexico's Senate passed an aggressive and comprehensive climate change bill, making it the first developing nation and only the second country to do so, after the UK. The bill, which far outshines anything achieved by its far wealthier northern neighbors, sets ambitious targets for cutting emissions while creating new incentive programs for clean energy. Largely dependent on fossil fuels, Mexico is approximately the 11th highest greenhouse gas emitter in the world.
For Earth Day, 17 celebrated scientists on how to make a better world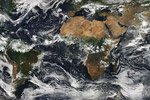 (04/22/2012) Seventeen top scientists and four acclaimed conservation organizations have called for radical action to create a better world for this and future generations. Compiled by 21 past winners of the prestigious Blue Planet Prize, a new paper recommends solutions for some of the world's most pressing problems including climate change, poverty, and mass extinction. The paper, entitled Environment and Development Challenges: The Imperative to Act, was recently presented at the UN Environment Program governing council meeting in Nairobi, Kenya.
U.S. suffers warmest March, breaking over 15,000 record temperatures
(04/11/2012) March was the warmest ever recorded in the U.S. with record-keeping going back to 1895, according to new data by the National Oceanic and Atmospheric Administration (NOAA). But the month wasn't just a record-breaker, it was shockingly aberrant: an extreme heatwave throughout much of the eastern and central U.S. shattered 15,272 day and nighttime records across the U.S. In all March 2012 was 0.5 degrees Fahrenheit above the previous warmest March in 1910, and an astounding 8.6 degrees Fahrenheit above the 20th Century average for March in the U.S.
Oceans heating up for over 100 years
(04/02/2012) In 1872 the HMS Challenger pulled out from Portsmouth, England to begin an unprecedented scientific expedition of the world's oceans. During its over three year journey the HMS Challenger not only collected thousands of new species and sounded unknown ocean depths, but also took hundreds of temperature readings—data which is now proving invaluable to our understanding of climate change.
"Strong evidence" linking extreme heatwaves, floods, and droughts to climate change
(03/28/2012) As North America recovers from what noted meteorologist Jeff Masters has called "the most incredible spring heatwave in U.S. and Canadian recorded history," a new paper argues that climate change is playing an important role in a world that appears increasingly pummeled by extreme weather. Published in Nature Climate Change, the paper surveys recent studies of climate change and extreme weather and finds "strong evidence" of a link between a warming world and the frequency and intensity of droughts, floods, and heatwaves—such as the one that turned winter into summer in the U.S.
NASA image shows decline in maximum sea ice extent
(03/28/2012) Data released by the National Snow and Ice Data Center (NSIDC) shows that Arctic sea ice for the winter of 2011-2012 reached its maximum extent on March 18 at 15.24 million square kilometers (5.88 million square miles). The mark is well below the 1979–2000 average, but was above the record low of the 2010–2011 winter.