Indigenous people of the Amazon produced rich agricultural soil by adding charcoal, manure, and animal bones to the otherwise nutrient-poor dirt of the world's greatest rainforest. The inputs allowed early indigenous people to farm their terra preta, or dark earth, sustainably in the Amazon. To date such practices are only known from the the Amazon and parts of Africa. But in a recent paper in the open access journal Forests scientists in Indonesian Borneo report on the first evidence of terra preta in Asia.
"Our surveys in East Kalimantan identified several sites where soils possess an anthropogenic [human-caused] development and context similar in several respects to the Amazon's Anthropogenic Dark Earths. Similarities include riverside locations, presence of useful fruit trees, spatial extent as well as soil characteristics such as dark color, high carbon content (in some cases), high phosphorus levels, and improved apparent fertility in comparison to neighboring soils," the researchers write, adding that, "local people value these soils for cultivation but are unaware of their origins."
| | |
| --- | --- |
| | Left: nutrient-poor Amazon natural soil. Right: terra preta, rich dark earth, produced by human impacts in the Amazon. Photo by: Bruno Glaser. |
Scientists and experts have become profoundly intrigued by terra preta since replicating the complex and still beguiling process could be a major solution to many of the world's environmental and hunger problems. Enhancing nutrient-poor tropical soil could decrease deforestation through slash-and-burn agriculture, produce more food on less land, sequester significant amounts of carbon, and lessen the need for environmentally-damaging fertilizer.
Sampling several hundred sites near Malinau, Kalimantan researchers found intriguing evidence of possible terra preta on the island of Borneo, but say further research is necessary.
"Human activity appears to be the only plausible explanation, yet we are uncertain about the age of the soils, who created them, by what processes and in what historical period(s)," the researchers write. "Farmers recognize the dark soils and favor them for both annual and perennial crops, yet they do not know what led to their formation."
CITATION: Douglas Sheil, Imam Basuki, Laura German, Thomas W. Kuyper, Godwin Limberg, Rajindra K. Puri, Bernard Sellato, Meine van Noordwijk, and Eva Wollenberg. Do Anthropogenic Dark Earths Occur in the Interior of Borneo? Some Initial Observations from East Kalimantan. Forests. 2012. doi:10.3390/f30x000x.
Related articles
Scientists unlock indigenous secret to sustainable agriculture in the Amazon's savannas
(04/11/2012) Indigenous populations in the Amazon successfully farmed without the use of fire before the arrival of Europeans, demonstrating a potentially sustainable approach to land management in a region that is increasingly vulnerable to man-made fires.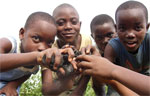 (08/16/2010) Biochar—the agricultural application of charcoal produced from burning biomass—may be one of this century's most important social and environmental revolutions. This seemingly humble practice—a technology that goes back thousands of years—has the potential to help mitigate a number of entrenched global problems: desperate hunger, lack of soil fertility in the tropics, rainforest destruction due to slash-and-burn agriculture, and even climate change. "Biochar is a recalcitrant form of carbon that will stay almost entirely unaltered in soils for very long periods of time. So you can sequester carbon in a simple, durable and safe way by putting the char in the soil. Other types of carbon in soils rapidly turn into carbon dioxide. Char doesn't," managing director of the Biochar Fund, Laurens Rademakers, told mongabay.com in a recent interview.
Congo biochar initiative will reduce poverty, protect forests, slow climate change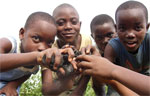 (05/19/2009) An initiative using soil carbon enrichment techniques to boost agricultural yields, alleviate poverty, and protect endangered forests in Central Africa was today selected as one of six projects to win funding under the Congo Basin Forest Fund (CBFF). The scientific committee of the CBFF awarded Belgium's Biochar Fund and its Congolese partner ADAPEL €300,000 to implement its biochar concept in 10 villages in the Equateur Province of the Democratic Republic of Congo. The approach improves the fertility of soils through the introduction of "biochar" — charcoal produced from the burning of agricultural residues and waste biomass under reduced oxygen conditions — thereby increasing crop yields and reducing the need to clear forest for slash-and-burn agriculture.
Biochar and its Role in Mitigating Climate Change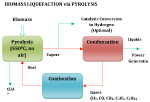 (12/17/2008) The growing concerns about climate change have brought biochar, a charcoal produced from biomass combustion, into limelight. Biochar is a carbon-rich, fine-grained residue which can be produced either by ancient techniques (such as covering burning biomass with soil and allowing it to smolder) or state-of-the-art modern pyrolysis processes. Combustion and decomposition of woody biomass and agricultural residues results in the emission of a large amount of carbon dioxide. Biochar can store this CO2 in the soil leading to reduction in GHGs emission and enhancement of soil fertility. Biochar holds the promise to tackle chronic human development issues like hunger and food insecurity, low agricultural productivity and soil depletion, deforestation and biodiversity loss, energy poverty, air pollution and climate change. Thus, biochar could make a difference in the energy-starved countries of Asia, Africa and Latin America as well as the industrialized world with its vast array of benefits.
Pre-Colombian Amazonians lived in sustainable 'urban' society
(08/28/2008) Researchers have uncovered new evidence to support the controversial theory that parts of the Amazon were home to dense "urban" settlements prior to the arrival of Europeans in the 15th century. The study is published this Friday in the journal Science. Conducting archeological excavations and aerial imagery across a number of sites in the Upper Xingu region of the Brazilian Amazon, a team of researchers led by Michael Heckenberger found evidence of a grid-like pattern of 150-acre towns and smaller villages, connected by complex road networks and arranged around large plazas where public rituals would take place. The authors argue that the discoveries indicate parts of the Amazon supported "urban" societies based around agriculture, forest management, and fish farming.