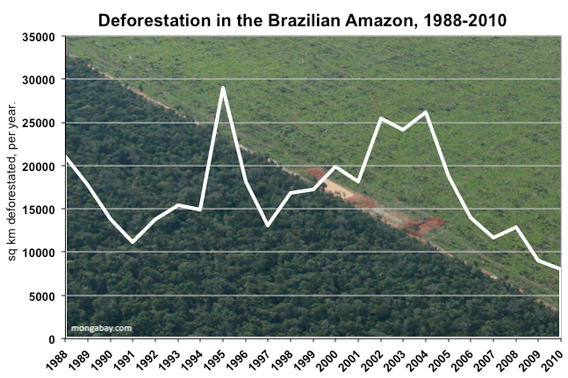 Annual deforestation in the Brazilian Amazon. Click image to enlarge


Researchers have developed a methodology for accurately predicting where deforestation will occur in the Amazon up to a year in advance, enabling law enforcement agencies and officials to take preventative action before trees are actually chopped down, a forestry expert told mongabay.com on the sidelines of the Skoll World Forum for Social Entrepreneurship.
The system, which is based on historical deforestation patterns in the Brazilian Amazon, existing infrastructure and illegal roads, socio-economic drivers and biophysical conditions was developed by Imazon, a Brazil-based group that creates tools to track and analyze deforestation and makes policy recommendations for reducing forest clearing.
"This tool is used for anticipating where forest clearing and degradation is likely to occur in the next deforestation year, which ends in July" said Imazon's Carlos Souza, who won the Skoll Award for Social Entrepreneurship in 2010. "We are using it in conjunction with our near real-time deforestation monitoring system."
Imazon's deforestation detection system — which is known as SAD — provides monthly updates on where deforestation is occurring. It also offers a source of monitoring and reporting that is independent of the Brazilian government's system, fostering transparency.
Data released by Imazon this month showed that deforestation in the Brazilian Amazon is down relative to the same period last year, when deforestation levels were the lowest since annual record-keeping began in the late 1980s. A combination of government policies and macroeconomic trends have contributed to a 77 percent decline in deforestation in the Brazilian Amazon since 2004.
Souza said the deforestation forecasting tool could be useful for prioritizing areas for interventions under a program for reducing emissions from deforestation and degradation (REDD+).
"Funds could go toward conservation interventions in areas where deforestation is highly likely to occur, thereby preventing those emissions" he said.
The drop in Brazil's deforestation since 2004 has resulted in the largest single short-term reduction in greenhouse gas emissions (more than 600 million tons of carbon dioxide) in modern history.
Related articles