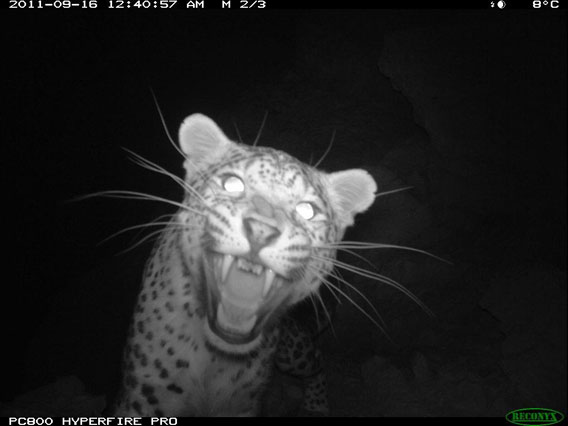 Persian leopard captured on camera trap in Afghanistan. Photo by: WCS Afghanistan Program.
When biologists with the Wildlife Conservation Society (WCS) reviewed recent photos from camera traps in the Hindu Kush region of Afghanistan they were shocked to find a snarling image of the world's largest leopard: the Persian leopard (Panthera pardus saxicolor). Listed as Endangered by the IUCN Red List, the subspecies was thought long-vanished from the Hindu Kush. Photos from the camera traps—automated cameras that use an infrared trigger to catch wildlife—also showed lynx (Lynx lynx), wild cat (Felis silvestris), Eurasian wolf (Canis lupus lupus), red fox (Vulpes vulpes), and stone marten (Martes foina).
"The presence of leopards and lynxes in Afghanistan tells us that these big cats are finding enough prey to survive," said Ghani Ghuriani, Deputy Minister of Agriculture, Irrigation and Livestock. "This means that the rangelands can still support ibex, urial, and other species, which is a good sign for both wildlife and the people of this region who also depend on these grasslands for grazing."
Though WCS says it is thrilled with the discovery it also notes that the photos show one of the primary threats to Persian leopards, also known as Caucasian leopards.
"We were sobered by the fact that the cameras also took photographs of local people walking past with guns. Poaching is still a very real threat, and WCS is committed to helping the Afghan government and local communities protect these rare and beautiful animals," Peter Zahler, deputy director of WCS's Asia Program explains.
Persian leopards, a subspecies of the leopard, are found in Iran, Turkmenistan, Armenia, Azerbaijan, Georgia, Afghanistan, and parts of Russia and Turkey. They are imperiled by poaching for their skin, a decline in prey, and habitat loss. They are sometimes persecuted and killed for suspected preying on livestock. Scientists believe there are less than 1,200 Persian leopard surviving and that the population is in decline.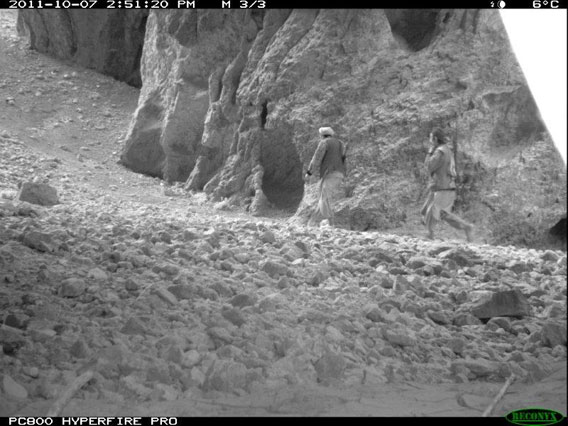 A pair of poachers caught by camera trap. Unsustainable hunting is a threat to many of Afghanistan's wildlife. Photo by: WCS Afghanistan Program.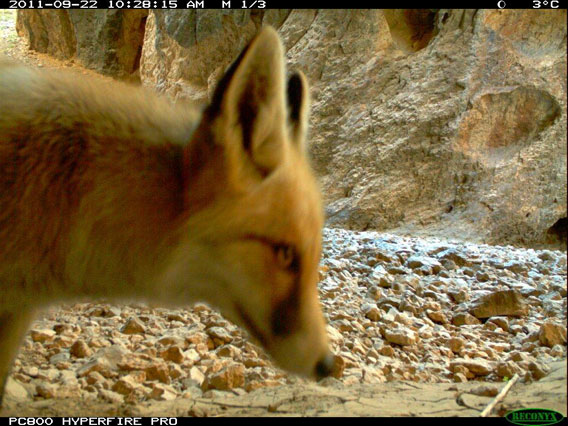 A red fox inspects the camera trap. Photo by: WCS Afghanistan Program.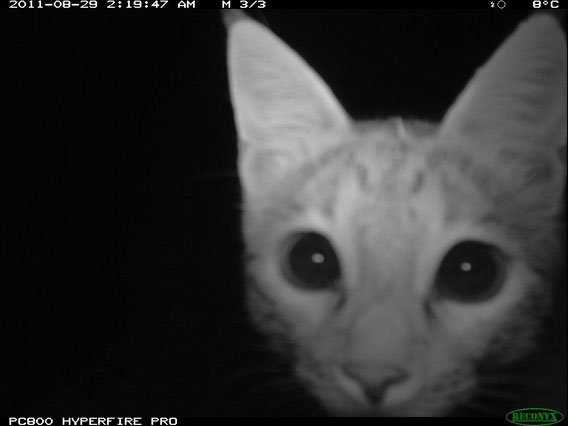 The wild cat, distant relative to the domestic house cat. Photo by: WCS Afghanistan Program.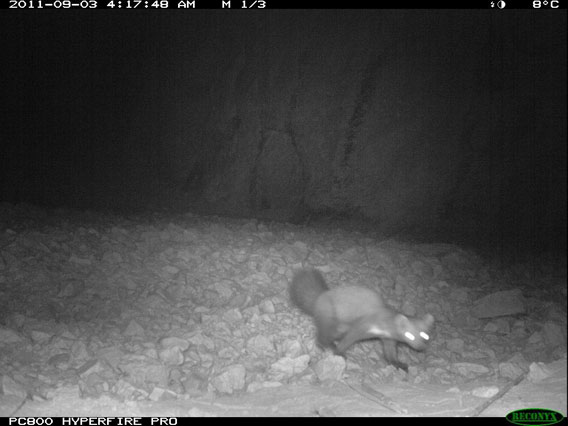 A stone marten—a member of the weasel family—inquisitively approaches the camera trap. Photo by: WCS Afghanistan Program.
Related articles
Viable population of snow leopards still roam Afghanistan (pictures)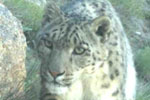 (07/13/2011) Decades of war and poverty has not exterminated snow leopards (Panthera uncia) in Afghanistan according to a new paper in the International Journal of Environmental Studies, written by researchers with the Wildlife Conservation Society (WCS). Instead the researchers report a healthy population of the world's most elusive big cat in Afghanistan's remote and peaceful Wakhan Corridor region. Monitored by camera trap in the region, WCS researchers were able to identify 30 snow leopards in 16 different locations.
Photos: wildlife survives warfare in eastern Afghanistan
(06/27/2011) Despite ongoing warfare and strife, wildlife is surviving in Afghanistan, reports a new study published in the journal Oryx.
Pictures: Massive natural arch discovered in Afghanistan
(03/31/2011) Researchers in Afghanistan have discovered one of the world's largest natural arches, reports the Wildlife Conservation Society (WCS).