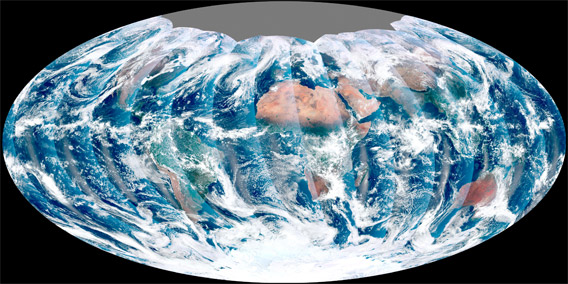 Image by NASA's NPP Land Product Evaluation and Testing Element. Click image to enlarge.
NASA has released the first images from its new NPOESS Preparatory Project (NPP) satellite, which captures images from the entire planet on a daily basis.
The NPP satellite, which launched October 28, 2011, includes a sensor known as the Visible Infrared Imager Radiometer Suite (VIIRS). It is similar to the existing Moderate Resolution Imaging Spectroradiometer (MODIS), but flies at a higher altitude (824 km) to capture the entire globe without gaps. The higher altitude has a tradeoff however — VIIRS's resolution is 375 meters per pixel, compared with 250 for MODIS.
Scientists plan to use VIIRS to capture a variety of measurements including ocean temperature, cloud movement, and locations of fires.
NPP was placed in a Sun-synchronous orbit, which, according to NASA "takes the satellite over the equator at the same local (ground) time in every orbit".
When NPP flies over Kenya, it is about 1:30 p.m. on the ground. When NPP reaches Gabon—about 3,000 kilometers to the west—on the next orbit, it is close to 1:30 p.m. on the ground. This orbit allows the satellite to maintain the same angle between the Earth and the Sun so that all images have similar lighting.

The consistent lighting is evident in the daily global image. Stripes of sunlight (sunglint) reflect off the ocean in the same place on the left side of every swath. The consistent angle is important because it allows scientists to compare images from year to year without worrying about extreme changes in shadows and lighting.
VIIRS is still operating in test mode. Once it begins full operations, the sensor will measure 22 different wavelengths of light, including thermal infrared light.
Related articles