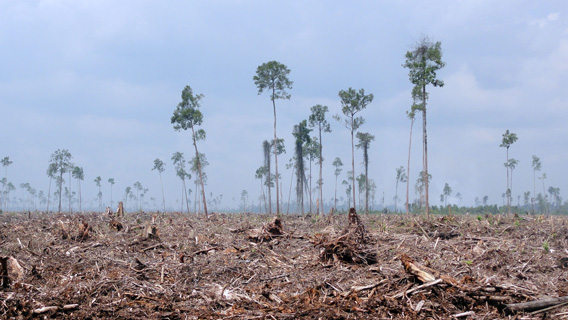 Peat draining and large-scale clearance of natural forest by APP wood supplier PT. Ruas Utama Jaya. Eyes on the Forest said the clearing occurred inside APP's Senepis Tiger Sanctuary, but the paper giant says the clearing is in an area that was allocated for conversion — and signed off by the Indonesian government — in 2008. APP claims the Senepis Tiger Sanctuary — more than 85 percent of which belongs to another company — remains intact. © Eyes of the Forest / WWF-Indonesia
Asia Pulp & Paper (APP)'s supplier PT Ruas Utama Jaya has indeed cleared an area of forest it pledged to set aside as a tiger conservation reserve in Sumatra reports a legal analysis by Greenomics [PDF], an Indonesian environmental group. The Greenomics' analysis supports allegations originally set forth in a report published last week by Eyes on the Forest, a coalition of green groups, and seems to refute a press release issued by APP that called the deforestation allegations "fiction".
"If we adhere to this map, then the EoF statement that 'By June 2011, RUJ had even begun clearing the tiny block of natural forest (less than 5,000 ha) APP had set aside for its own 'Senepis Tiger Sanctuary' simply cannot be denied by APP," states the concession analysis by Greenomics. "At the commitment level, it is only reasonable for EoF to say that RUJ, an APP wood supplier, had cleared its own Senepis Tiger Sanctuary."
However APP continues to maintain that its tiger reserve is intact.
"The map presented by WWF/EOF is out of date," APP told mongabay.com via email. "The plans for Senepis were revised after this map was produced."
"The final map, approved by the government, has been published by APP. It shows clearly that the co-ordinates provided by WWF/EOF are outside of the Senepis Tiger Sanctuary, and point to a legal pulpwood plantation operated by our supplier."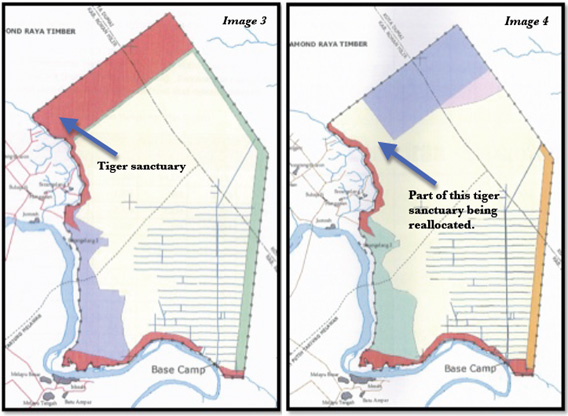 (LEFT) The map of RUJ's previous legal concession map prior to being changed as a result of "micro-delineation" — a process required for pulp plantations which specifies how concession land will be managed. (RIGHT) RUJ concession map after micro-delineation, showing an area of the tiger conservation reserve being allocated for an acacia plantation. EoF charges this change reflects APP's failure to respect its conservation pledge. APP says the government signed off on the reallocation. Images courtesy of Greenomics.
But Greenomics says APP's map is misleading, reflecting only the current state of the RUJ concession rather than its original commitment. As of press time, APP had not responded for request for comment on Greenomics report.
Damaging Eyes on the Forest report
The Eyes on the Forest report criticized APP for marketing a "commitment to conservation" while it continues to source fiber through deforestation and conversion of carbon-dense peatlands. The report noted that APP has missed three self-imposed deadlines for phasing out conversion of natural forests for pulp plantations.
APP has lost a number of prominent customers over the past five years due to its poor environmental record. The paper giant has recently expanded operations overseas, including acquiring pulp suppliers in Canada and Latin America and buying paper products brands in the United States, New Zealand, and Australia. Environmentalists have since begun targeted these companies and brands, in addition to APP.
REFERENCES
Related articles