Re-examining beetle specimens from 19 museums has led to the discovery of 84 new beetle species in the Macratria genus. The new species span the islands of Indonesia, New Guinea, and the Solomon Islands, tripling the number of known Macratria beetles in the region.
"Species of the genus Macratria are cosmopolitan, with the highest species diversity in the tropical rainforests. Only 28 species of this genus were previously known from the territory of the Indo-Australian transition," Dr. Dmitry Telnov with the Entomological Society of Latvia, who discovered the new species, told mongabay.com, adding that "these 28 species were described mostly at the end 19th–beginning 20th century, and this group remained obscure and almost unstudied in this region of Earth."
| | |
| --- | --- |
| | One of 84 new species discovered in the Indo-Australian islands: Macratria riedeli. Photo by: Dmitry Telnov. |
Described by Telnov as "ant-like flower beetles," it is often difficult to distinguish between Macratria species.
"Most of small beetle species can only be surely identified on base of their sex organs, whose are very variable in shapes and are very specific for each species," explains Telnov, whose work can be found in the book Biodiversity, Biogeography and Nature Conservation in Wallacea and New Guinea.
Prior to Telnov's work, Macratria beetles were known only from 8 islands in the region, but now they are recorded on 23 islands.
Telnov says he was surprised to find that "only two of the species are shared with neighboring Oriental region (Greater Sundas and Asian mainland) and not a single species is shared with Australian mainland. Consequently, 98 percent of these species are endemics of the Indo-Australian transitional region."
He adds that the "proportion of endemic species is also extremely high for certain islands and only a few of the species have distribution areas larger than 20-30 kilometers in length. Most species occurs on just a single island or single mountain system."
These Indo-Australian islands cover less than 1 percent of the world's total land area. But, says Telnov, "[they] now bear 36% of all known ant-like flower beetles species of the genus Macratria. This fact confirms extreme importance of Sulawesi, New Guinea and surrounding smaller islands as one of the 'hottest' biodiversity hotspots on our planet."
Much of the region's forests are imperiled by logging, mining, and agriculture for commodities, such as palm oil.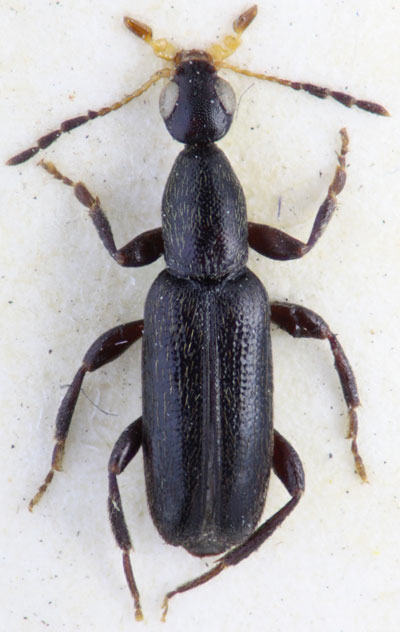 New species: Macratria moluccense. Photo by: Dmitry Telnov.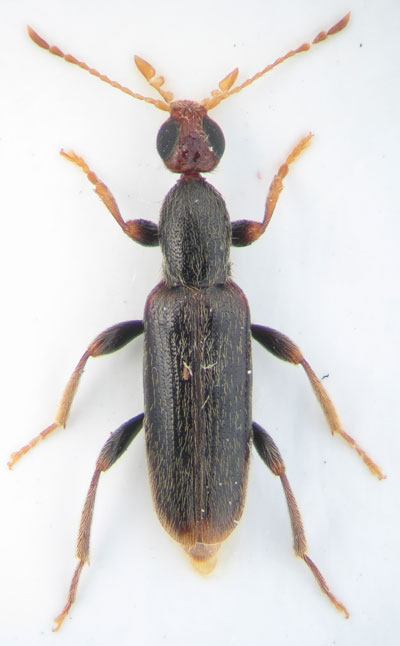 New species: Macratria sanguiceps. Photo by: Dmitry Telnov.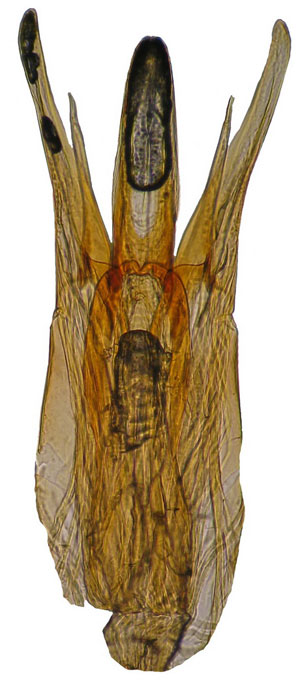 New species are identified largely by sex organs such as the one photographed here. Photo by: Dmitry Telnov.
Related articles
Photos: three bizarre bats discovered in Southeast Asia
(10/30/2011) In the forests of Cambodia and Vietnam, researchers have discovered three new species of tube-nosed bats, known for extraordinary nostrils that look like blooming flowers. The new bats, described in the Journal of Mammalogy, are likely imperiled by deforestation. "They all possess specially shaped nostrils (hence the name for the group) the exact role of which not known yet," Gabor Csorba, lead author of the paper with the Hungarian Natural History Museum, told mongabay.com.
Scientists confirm ancient Egyptian knowledge: Nile crocodile is two species
(09/20/2011) DNA has shown that the Nile crocodile is in fact two very different species: a bigger, more aggressive crocodile and a smaller, tamer species that today survives only in West Africa. While the taxonomy of the Nile crocodile has been controversial for over a century, the new study points out that the ancient Egyptians recognized the differences in the species and avoided the big crocodile for its rituals.
Pictures: 12 new species of frog discovered in India
(09/15/2011) Scientists have discovered 12 new species of frogs in the rainforests of India's Western Ghats, according to a paper published in the latest issue of ZooTaxa.