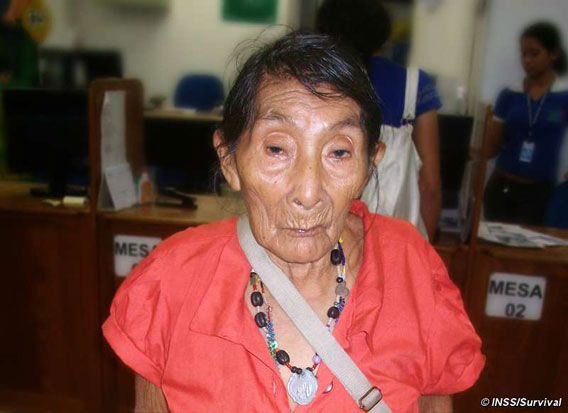 Maria Lucimar Pereira turns 121 on Saturday. Photo courtesy of Survival International .
Maria Lucimar Pereira is arguably the world's oldest living person: a member of the Kaxinawá tribe, Pereira lives in the Brazilian Amazon and will be soon celebrating her 121st birthday, according to Survival International.
Pereira has had an official birth certificate approved in 1985 that states her year of birth as 1890, meaning she would have been 24 when World War I broke out, 49 when World War II commenced, and 79 when the first man set foot on the moon.
According to Survival International, Pereira believes her longevity is due to her lifestyle. She eats no salt, sugar or processed food, but sticks to Amazonian staples like monkey, fish, manioc, and banana porridge.
"All too often we witness the negative effects forced change can have on indigenous peoples. It is refreshing to see a community that has retained strong links to its ancestral land and enjoyed the undeniable benefits of this," said Stephen Corry, Survival International director. Of 80 people in the Kaxinawá village, four are over 90.
Pereira's remarkably long life was first noticed by the staff of Brazil's National Institute of Social Security (INSS) when they were checking birth certificates. Her status as the world oldest person still needs to be 'verified' if possible. If it is officially verified, she would be the oldest living person on Earth by 6 years. The oldest person every verified was Jeanne Calment who died at the age of 122.
Pereira's 121st birthday is on Saturday and she says she'll be spending it with her family.
Related articles
Peru passes landmark indigenous rights legislation
(08/24/2011) A new administration in Peru is moving toward granting indigenous people long-sought legal rights, reports Survival International. Yesterday, the Peruvian congress approved new legislation that gives indigenous people free, prior and informed consent (FPIC) for any project on their land. If signed into law and enforced, the legislation would provide indigenous groups considerable clout in keeping industry off their lands if they choose.
Indigenous protestors embark on 300-mile walk to protest Amazon road in Bolivia
(08/21/2011) Indigenous protesters are targeting a new road in the Bolivian Amazon, reports the BBC. The 190-mile highway under construction in the Bolivian Amazon will pass through the Isiboro-Secure Indigenous Territory and National Park (Tipnis), a 4,600-square mile (11,900 square kilometers) preserve which boasts exceptional levels of rainforest biodiversity, including endangered blue macaws and fresh-water dolphins. Indigenous peoples who live in Tipnis are participating in a month-long protest march against the road, which they claim violates their right to self-governance.
Uncontacted tribe missing after armed drug dealers storm their forest
(08/09/2011) Concern is rising for the welfare of uncontacted natives in the Brazilian Amazon after armed marauders stormed the area where they were last documented. Last week men with rifles and machine guns, believed to be drug traffickers from Peru, overran a remote government guard post run by FUNAI (Brazil's Indigenous Affairs Department) on the Envira River, near the uncontacted indigenous people's location on the border of Brazil and Peru. The uncontacted indigenous people in question made headlines worldwide earlier this year after photos and film of them were released from flyovers.