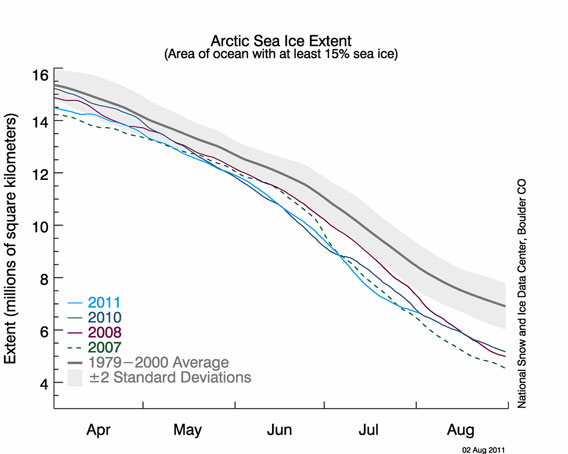 Graph courtesy of the National Snow and Ice Data Center (NSIDC).
Average Arctic sea ice extent hit a new record low for July according to the National Snow and Ice Data Center (NSIDC).If the melt continues apace, the sea ice extent could hit its lowest point since record keeping by satellite began 32 years ago. However, ice loss slowed through the second half of July as weather grew colder in the Arctic, and by the end of the month was slightly above conditions in 2007, in which the lowest sea ice extent ever was measured.
During July average ice extent was 3.06 million square miles (7.92 million square kilometers), which is 842,000 square miles (2.18 million square kilometers) below the 1979 to 2000 average. The NSIDC also found that old sea ice continues to decline.
Sea ice hits its nadir in September before rebounding during the long Arctic winter. The loss of sea ice in the Arctic, which imperils a number of key species, is linked to climate change from global greenhouse gas emissions. Predictions range widely, but many experts expect the Arctic to be free of sea ice entirely within a few decades. By almost all standards, however, sea ice is disappearing faster than expected.
The loss of sea ice is also driving more exploitative industries, such as gas and oil, into once untouchable regions; however burning the fossil fuels lying beneath the Arctic will only worsen climate change, and thereby exacerbate ice loss in the Arctic.
Related articles
'Heatwave' in Arctic decimating sea ice
(07/21/2011) Arctic sea ice could hit a record low by the end of the summer due to temperatures in the North Pole that are an astounding 11 to 14 degrees Fahrenheit (6 to 8 degrees Celsius) above average in the first half of July, reports the National Snow and Ice Data Center (NSIDC). Already the sea ice extent is tracking below this time in 2007, which remains the record year for the lowest sea ice extent. The sea ice hits its nadir in September before rebounding during the Arctic winter.
Arctic open for exploitation: Obama administration grants Shell approval to drill
(08/08/2011) Less than a year and a half after the oil spill in the Gulf of Mexico, the Obama administration has bucked warnings from environmentalists to grant preliminary approval to oil giant, Royal Dutch Shell, to drill off the Arctic coast. Exploratory drilling will occur just north of the western edge of the Arctic National Wildlife Refuge (ANWR) in the Beaufort Sea, home to bowhead and beluga whales, seals, walruses, polar bears, and a wide variety of migrating birds.
The truth about polar bears and climate change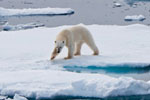 (06/21/2011) Although scientists say innumerable species are threatened by climate change, polar bears have been the global symbol of the movement to rein-in greenhouse gas emissions. This is perhaps not surprising, since polar bears are well known to the public—even though they inhabit a region largely absent of humans—and they make a big impression. Their glaringly white coat contrasts with their deadly skills: as the world's biggest terrestrial predators, they are capable of killing a seal with single blow. When young they are ridiculously adorable, but when adults they are stunning behemoths. But that's not all. Unlike many other species, the perils of climate change are also easy to visualize in connection with polar bears: their habitat is literally melting away.