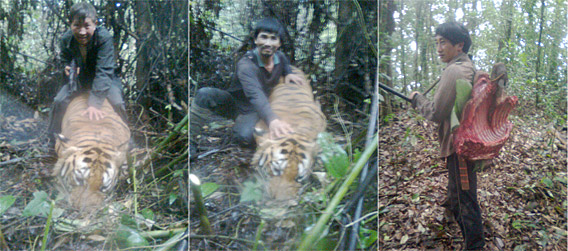 Some of the cell phone images are "trophy" pictures, with poachers posing above a dead tiger. The tiger from the cell phone images was then identified as the same tiger captured by a camera trap image the year before, a method made possible by the unique stripe patterns possessed by each individual animal. The image adds to the evidence against the poachers. Image and caption courtesy of WCS Thailand Program
Two poachers were arrested in Thailand after a cell phone they left behind in the forest provided evidence of tiger poaching, reports the Wildlife Conservation Society (WCS).
WCS explains:
A few weeks ago, park rangers patrolling the forests came face to face with a group of poachers, an encounter that led to gunfire. The poachers soon fled, retreating back into the forest and leaving some of their belongings behind. One of the items was a cell phone filled with images that would help government officials and park rangers build a case against the illegal hunters. The rangers also found other evidence of poaching, including animal body parts and insecticides that are sometimes used to poison tigers.

Eventually, two poachers were arrested. A third poacher was tracked to his home, but was able to escape the authorities before being apprehended. Interestingly, the cell phone images proved invaluable in disproving the accounts of the captured poachers. When confronted with "trophy" images of themselves posing over a dead tiger, the suspects claimed the big cat was poached in Myanmar in 2003. According to WCS Thailand staff, however, the tiger (identified by its unique stripe patterns) was a well-known male tiger that researchers had tracked with camera traps in Thailand for at least three years between 2008-2011. The database of tiger images not only helps researchers understand the ecological needs of tigers, but also gives law enforcement an important resource in successfully prosecuting illegal hunters. The cell phone images also contained evidence that the poachers were involved in the elephant ivory trade as well.
WCS says the suspects may have killed as many as ten tigers in the region and are involved in an organized crime ring.
Tigers are increasingly endangered due to habitat destruction, loss of prey, and poaching for the Traditional Chinese Medicine market. Scientists estimate some 3,500 tigers remain in the wild, down from around 100,000 a century ago. Three of the nine tiger subspecies went extinct during that period.
Related articles
Camera traps reveal no tigers, but other carnivores in Khao Yai National Park
(06/27/2011) A four-year camera trap project has revealed that Khao Yai National Park in Thailand is still home to a wide-variety of carnivore species, but tigers may be on their way out or already gone finds a new study from mongabay.com's open access journal Tropical Conservation Science. Photographing with 15 cameras the study snapped photos of 14 carnivore species in the park. However, the photographic evidence implies that predator populations have fallen in the park over the past decade due to human activities, including poaching.
Camera traps capture tiger bonanza in Sumatra forest slated for logging
(05/09/2011) Camera traps set in an area of forest slated for logging for paper production captured photos of a dozen critically endangered Sumatran tigers, reports the World Wildlife Fund for Nature (WWF).
New road project to run through Laos' last tiger habitat
(03/15/2011) A new road project in Laos will run through the nation's only protected area inhabited by breeding tigers, Nam Et Phou Louey National Park, reports the Vientiane Times. With only about two dozen tigers (Panthera tigris) left in the nation, conservationists fear that the road will harm the fragile population, which is known to be breeding. However, local officials say the road is necessary to improve access to remote villages and alleviate poverty in the region, which is among the worst in the province.
Asia's last lions lose conservation funds to tigers
(01/24/2011) The last lions of Asia and the final survivors of the Asiatic lion subspecies (Panthera leo persica) are losing their federal conservation funding to tiger programs, reports the Indian media agency Daily News & Analysis (DNA). While the Asiatic lion once roamed Central Asia, the Middle East, and even Eastern Europe, today the subspecies survives only in India's Gir Forest National Park in the north-western state of Gujarat.
Tiger summit reaches bold agreement and raises $300 million
(11/24/2010) The summit to save the world's biggest cat, and one of the world's most popular animals, has agreed to a bold plan dubbed the Global Tiger Recovery Program. Meeting in St. Petersburg, 13 nations have set a goal to double the wild tiger's (Panthera tigris) population worldwide by 2022. Given that tiger numbers continue to decline in the wild, this goal is especially ambitious, some may even say impossible. However, organizations and nations are putting big funds on the table: around $300 million has already been pledged, including $1 million from actor, and passionate environmental activist, Leonardo Dicaprio.
Rebuttal: Slaughtering farmed-raised tigers won't save tigers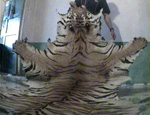 (11/18/2010) A recent interview with Kirsten Conrad on how legalizing the tiger trade could possibly save wild tigers sparked off some heated reactions, ranging from well-thought out to deeply emotional. While, we at mongabay.com were not at all surprised by this, we felt it was a good idea to allow a critic of tiger-farming and legalizing the trade to officially respond. The issue of tiger conservation is especially relevant as government officials from tiger range states and conservationists from around the world are arriving in St. Petersburg to attend next week's World Bank 'Tiger Summit'. The summit hopes to reach an agreement on a last-ditch effort to save the world's largest cat from extinction.
Authorities confiscated over 1000 tigers in past decade
(11/09/2010) Highlighting the poaching crisis facing tigers, a new report by the wildlife trade organization, TRAFFIC, found that from 2000-2010 authorities have confiscated the parts of 1,069 tiger individuals, many of them dead. The tigers, or their body parts, were confiscated from 11 of the species' 13 range countries, according to the report entitled Reduced to Skin and Bones. Yet the number only hints at the total number of tigers (Panthera tigris) vanishing in the wild due to the illegal trade in tiger parts for traditional Asian medicine and decorative items, such as skins.
Interpol pounces on tiger traffickers
(10/11/2010) INTERPOL, the world's largest international police organization, is stepping up the fight to end the illegal tiger trade.
Illegal hunting in Laos takes toll on wildlife
(04/20/2009) Deep in the rugged mountains of Nam Et-Phou Louey National Protected Area (NEPL) on the Laos–Vietnam border, men smoke cigarettes and talk in hushed voices as they tramp through the forest. Approaching a baited trap, they hear the frantic snarls of an ensnared tiger. The tiger hangs by its front foot, suspended by a cable attached to a tree. The men shoot and make quick work of the tiger, removing its bones but leaving some of its carcass, including parts of its pelt, behind. The real money is no longer in tiger skins, but bones: the 10 to 12 kilograms of bone harvested from the adult tiger will yield $12,000-$15,000 in a region where per capita income is around $400 a year. Though the authorities are able to trace the weapon shells back to their village and locals know of the hunters' haul, two years later the evidence has not been enough to hold the men accountable for their crimes.
Rash of tiger attacks linked to deforestation by large paper corporation APP
(03/18/2009) The Sumatran tiger, a critically-endangered subspecies, is hanging on by a thread in its island home. Biologists estimate that at most 500 individuals remain with some estimates dropping as low as 250. Despite the animal's vulnerability, large-scale deforestation continues in its habitat mostly under the auspices of one of the world's largest paper companies, Asian Pulp and Paper (APP). Shrinking habitat and human encroachment has led to a rise in tragic tiger encounters, causing both human and feline mortalities.