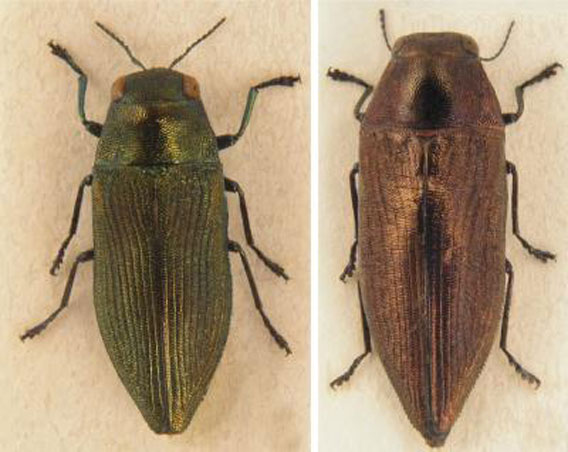 Philanthaxia jakli (left) is from Sumatra and Philanthaxia chalcogenoides (right) is from Borneo. Philanthaxia lombokana (not pictured) is from Lombok and Philanthaxia pseudoaenea (not pictured) is from Thailand. Photo by: Svatopluk Bílý and Oto Nakládal.
Researchers have discovered four new species of jewel beetles, one from Thailand and three from Indonesia. Jewel beetles, in the beetle family Bupretidae, are known for their iridescent colors.
The new species were brought to researchers by local people, so nothing is known about their habitat or ecology. All four are from the genus, Philanthaxia, making the number of known beetles in that genus to 65.
Globally, jewel beetles are some of the most diverse: over 15,000 species have been described.
Beetles are the undisputed champions of diversity, sporting more species than any other order of animals. Nearly half of all known insects in the world are beetle. Researchers have cataloged over 350,000 species. Yet, their diversity does not protect them from extinction. Oto Nakládal, a co-author of the study that describes the new beetles, warns that many beetles may be extinct before they are even known.
"Mankind is not even able to evaluate the real losses associated with species extinction, because every individual species is, as a rule, a result of millions of years of evolution and adaptation and has therefore its unique role in the ecosystems" he said in a press release.
CITATION: Bílý S, Nakládal O (2011) Four new species of the genus Philanthaxia Deyrolle, 1864 from Southeast Asia and comments on P. iris Obenberger, 1938 (Coleoptera, Buprestidae, Thomassetiini).ZooKeys 116 : 25–36, doi: 10.3897/zookeys.116.1403.
Related articles
Dung beetles: a sewage SWAT team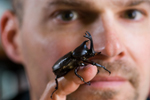 (06/21/2011) Biology Professor Doug Emlen speaks with Laurel Neme on her 'The WildLife' radio show and podcast about the biology and armaments of dung beetles. An expert on the evolution and development of bizarre shapes in insects, Emlen notes that dung beetles are one of the 'kings' of odd morphology.
Pictures: Turquoise 'dragon' among 1,000 new species discovered in New Guinea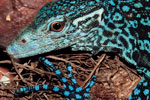 (06/27/2011) Scientists discovered more than 1,000 previously unknown species during a decade of research in New Guinea, says a new report from WWF. While the majority of 1,060 species listed are plants and insects, the inventory includes 134 amphibians, 71 fish, 43 reptiles, 12 mammals, and 2 birds. Among the most notable finds: a woolly giant rat, an endemic subspecies of the silky cuscus, a snub-fin dolphin, a turquoise and black 'dragon' or monitor lizard, and an 8-foot (2.5-m) river shark.
Photos: 300 species discovered during expedition to Philippines
(06/26/2011) Scientists believe they have discovered more than new 300 species during a six-week expedition to the Philippines.