A snowstorm engulfed parts of the driest place on earth this month: the Atacama desert in South America. Images captured by NASA's Moderate Resolution Imaging Spectroradiometer (MODIS) on Terra Satellite show parts of the landscape covered in white.
Although cold Antarctic fronts do bring snowfall from time to time to the Atacama, this is the biggest the desert has seen in 50 years bringing up to 32 inches of snow in places. The average precipitation for the region is 2 inches annually (50 milimeters), though parts of the Atacama see only 1 to 3 millimeters on average every year. Despite this the desert is not wholly lifeless. Plants and animals survive in coastal parts of the desert due to moisture brought in by marine fog.
The Atacama desert lies in Chile, Peru, Bolivia, and Argentina.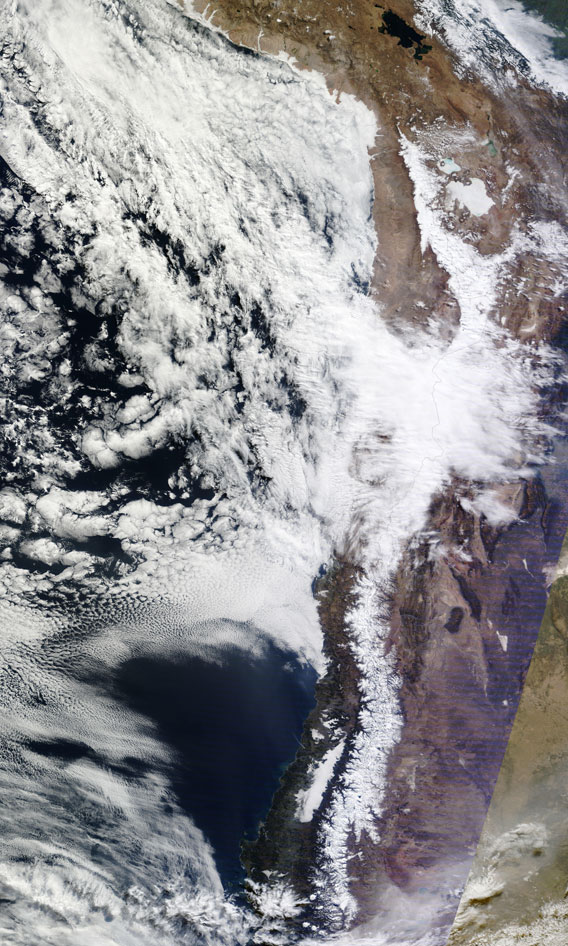 A cold front brought snow to the Atacama desert. Photo courtesy of NASA.
Related articles
Great Green Wall gets go ahead
(02/28/2011) Spanning the entire continent of Africa, including 11 nations, the Great Green Wall (GGW) is an ambitious plan to halt desertification at the Sahara's southern fringe by employing the low-tech solution of tree planting. While the Great Green Wall was first proposed in the 1980s, the grand eco-scheme is closer to becoming a reality after being approved at an international summit last week in Germany as reported by the Guardian.
Desertification threatens 38 percent of the world
(02/10/2010) Over one third of the world's land surface (38 percent) is threatened with desertification, according to a new study published in theInternational Journal of Life Cycle Assessment. The study found that eight of fifteen eco-regions are threatened by desertification, including coastal areas, the prairies, the Mediterranean region, the savannah, the temperate steppes, the temperate deserts, tropical and subtropical steppes, and the tropical and subtropical deserts.
Global warming threatens desert life
(11/09/2009) There have been numerous studies showing how climate change is impacting a variety of environments—from the Arctic to coral reefs to alpine—but how could a warmer world damage deserts, already the world's warmest and driest environments?